How Long Does it Take to Become a Loan Officer?
3 Major Steps
Do you have your heart set on becoming a loan officer? What a wonderful career move!
You've probably heard that loan officers make a very generous salary. But just how long does it take to become a loan officer?
A few sources say 45 days. A few others say 4 years.
Let's settle this right now!
We're going to walk you through the 3 major steps to becoming a Mortgage Loan Officer and how long each one should take.
This is based on real-world feedback from loan officers who've been through the process.
Let's see what they have to say!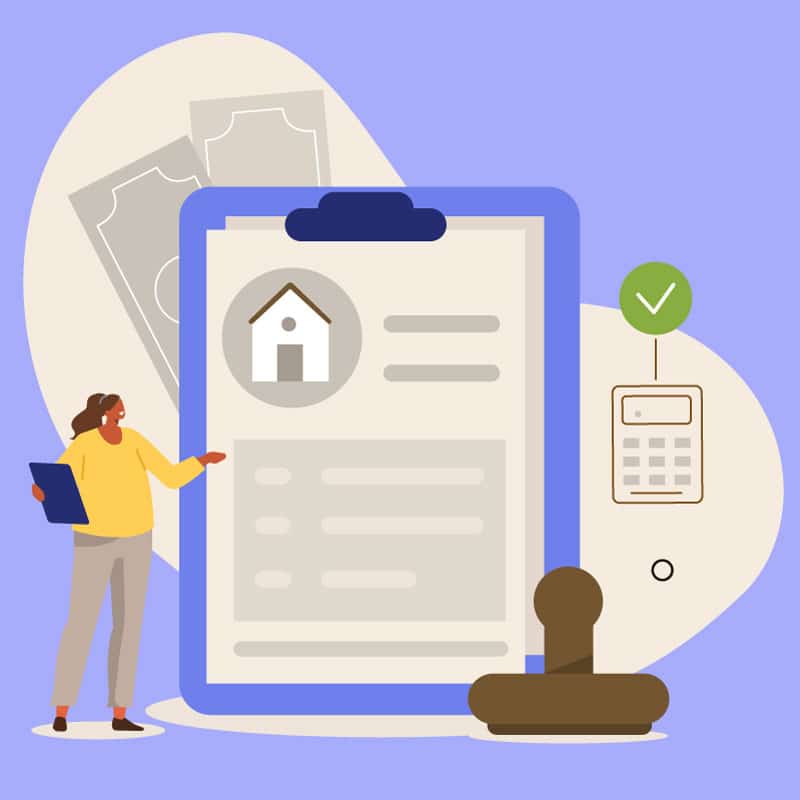 chapter 1:
Loan Officer Schooling and Training Programs
"Education is not the filling of a pot but the lighting of a fire" —W.B. Yeats
We couldn't agree more! Being a successful loan officer goes way beyond your natural talents.
You also have to have the right educational background and licensing to set yourself up for a very lucrative career.
We got you covered!
In this section, we go through the exact MLO educational and training requirements, along with how long it takes to complete each step.
Keep scrolling!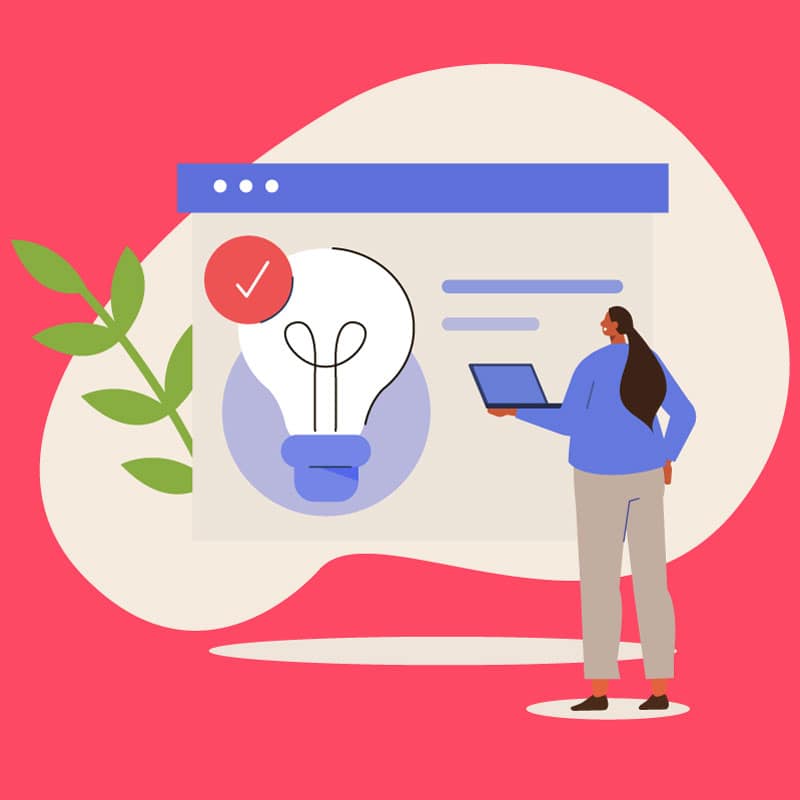 How Long Does It Take To Finish My Loan Officer Schooling & Training?
Most recruiters prefer candidates with a bachelor's degree in finance, business or accounting. This alone can take you 4 years to procure.
Is it worth it?
Absolutely!
These majors will give you the vital background to perform on the job without feeling out of your depth.
Looking to make your resume really shine?
We recommend getting at least one year of work experience as an intern in the financial world during your bachelor's program.
Smaller mortgage lending firms may even consider work experience in a related field like sales or customer service.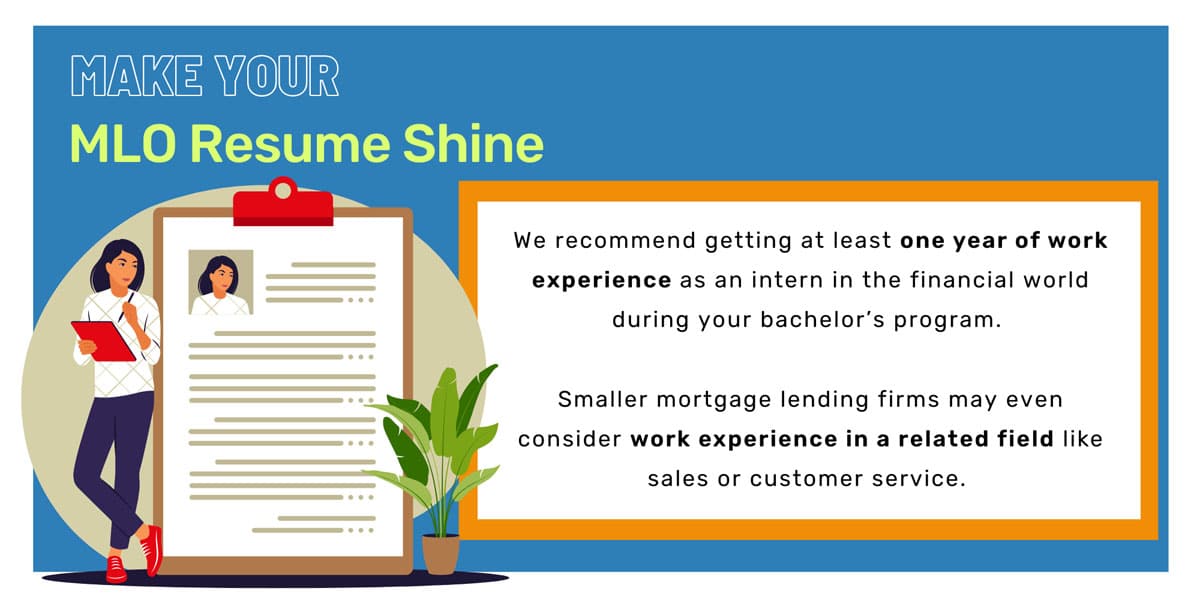 Protip: You could even opt for an undergraduate certificate program in real estate, marketing or sales at a community college. This could take anywhere between 4 to 12 months.
And before we forget to mention; It is possible to collapse the time it takes to get through these steps as both getting a degree and procuring the right work experience aren't mandatory.
They're just preferred!
With that info in your back pocket, you're already way ahead of a lot of aspiring loan officers. Congrats! 
Now let's talk about on-the-job training. This is something you will have to participate in even if you do have a degree.
Your MLO training will vary based on the company you work for.
It may include a mix of self-paced online training and company-sponsored programs that could walk you through how to use specific software. This could take anywhere between 3 to 6 months to complete once you land the job.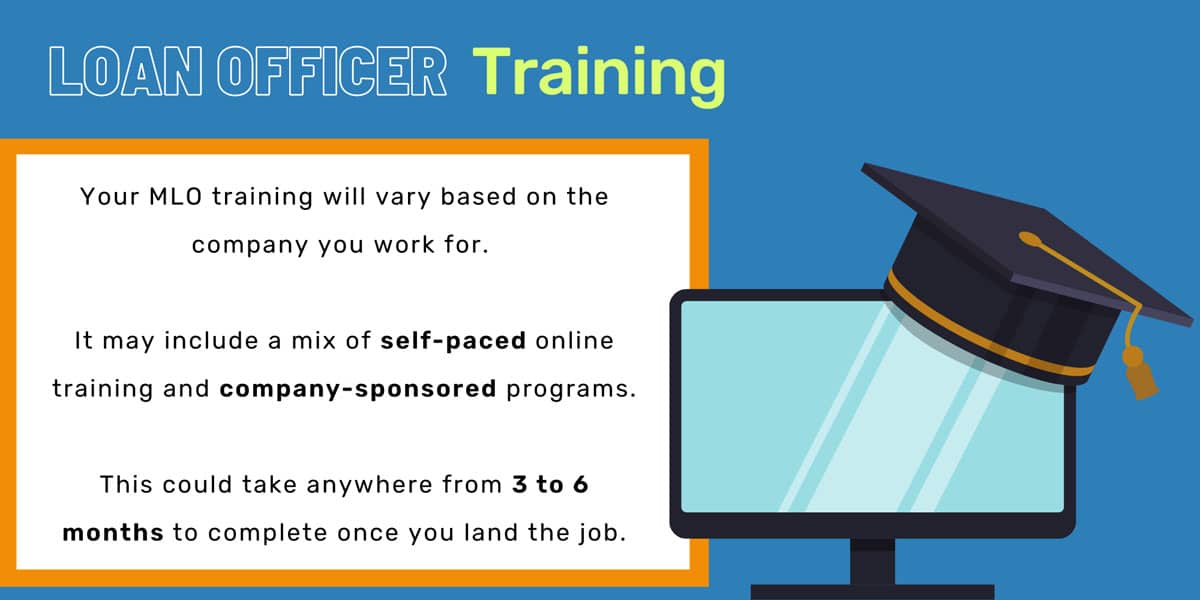 That said, we would like to reiterate that learning is lifelong!
You will constantly be picking up new things and switching gears throughout your loan officer career.
Never a dull moment!
Let's explore another question that pops up pretty often…
Does It Take Longer To Finish My Loan Officer Schooling in Different States?
The only time difference to account for is when you're undergoing your pre-licensure training to obtain your MLO license.
Aside from the mandatory 20-hour SAFE course that MLOs in all states must complete, you will also have to follow additional state-specific coursework requirements.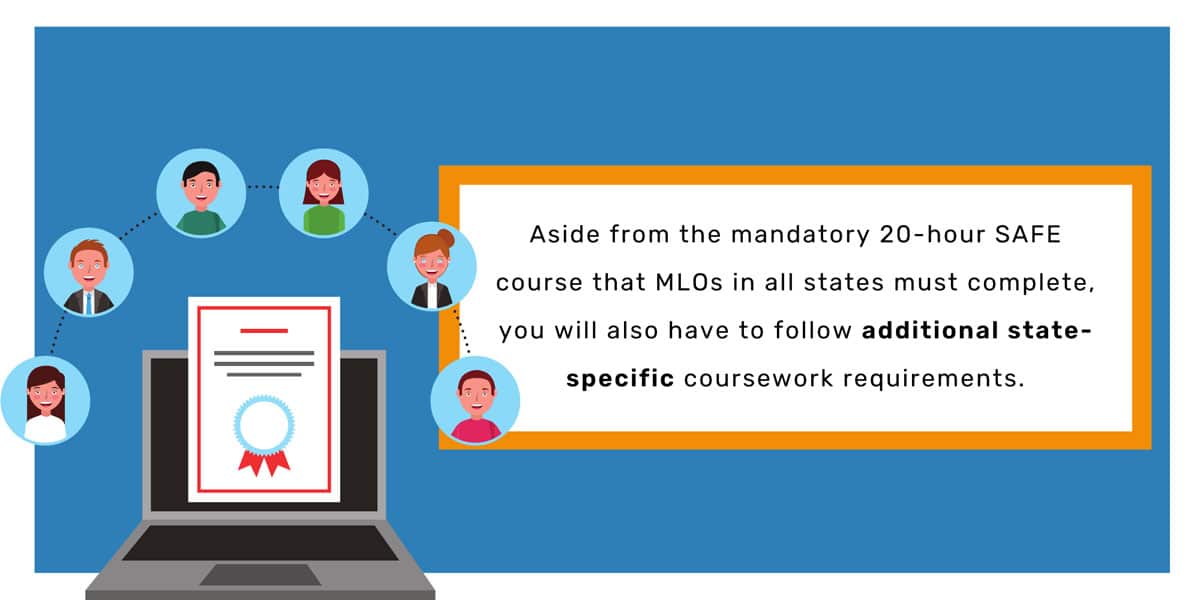 For instance, New York requires aspiring loan officers to complete an additional 3 hours of pre-licensure education, Florida requires an additional 2 hours of pre-approved coursework, and certain states like Utah and Virginia among others do not have any additional requirements.
Because of this, the time it takes to complete your prelicensing may slightly differ depending on which state you're planning to get licensed in.
We cover the whole NMLS licensure process in-depth below.
Keep reading!
What Is The Cost to Complete My MLO Training & Schooling in Different States?
The average cost of a bachelor's degree in finance is $50,000. You could recuperate a part of this expense by getting work experience (as discussed above)
And remember, the 20-hour SAFE course must be completed at an NMLS-recognized school. This could cost around $240.
The extra state-specific coursework varies.
It can be as little as $20 for a state like Connecticut that just requires 1 extra hour of state-specific law, or over $120 for states like Oregon that require an additional 4 hours of state law.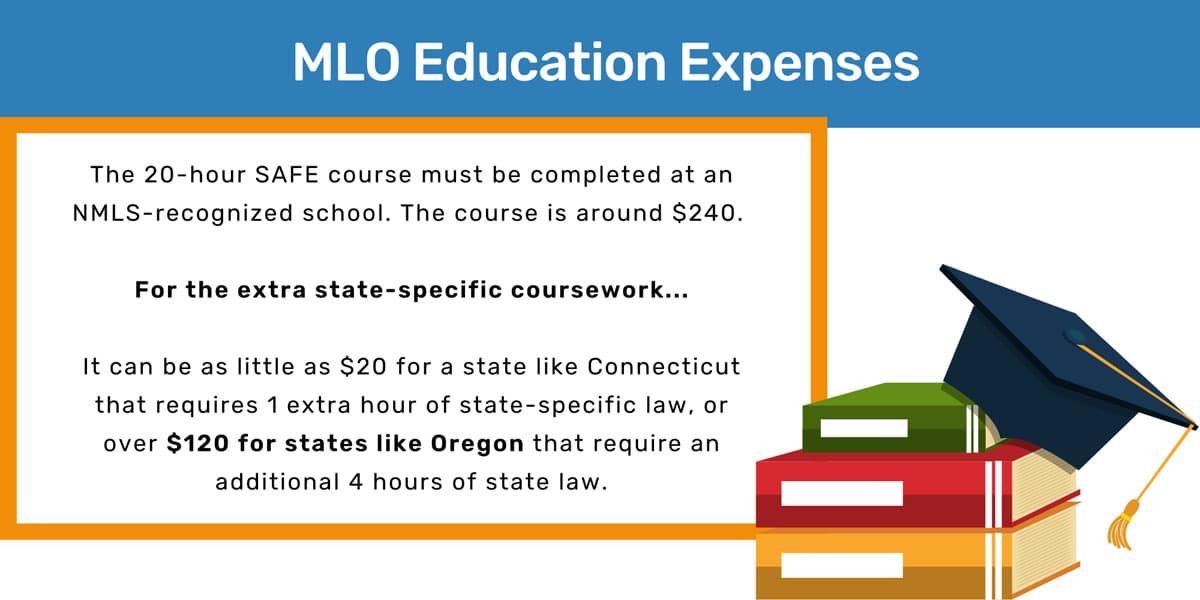 The NMLS mortgage licensing exam (sometimes called the SAFE exam) costs around $110.
There are a few associated fees like an application fee of $300, a processing fee of $30, a fingerprint fee of $39, a credit report fee of $15, among other fees.
These are relatively standardized across the country and shouldn't vary by too much. 
To recap: Aside from your degree, you could be looking at around $800 in NMLS licensing fees.
That is actually pretty reasonable!
Remember, as a loan officer, you could pull in a six-figure paycheck even in your early years if you play your cards right!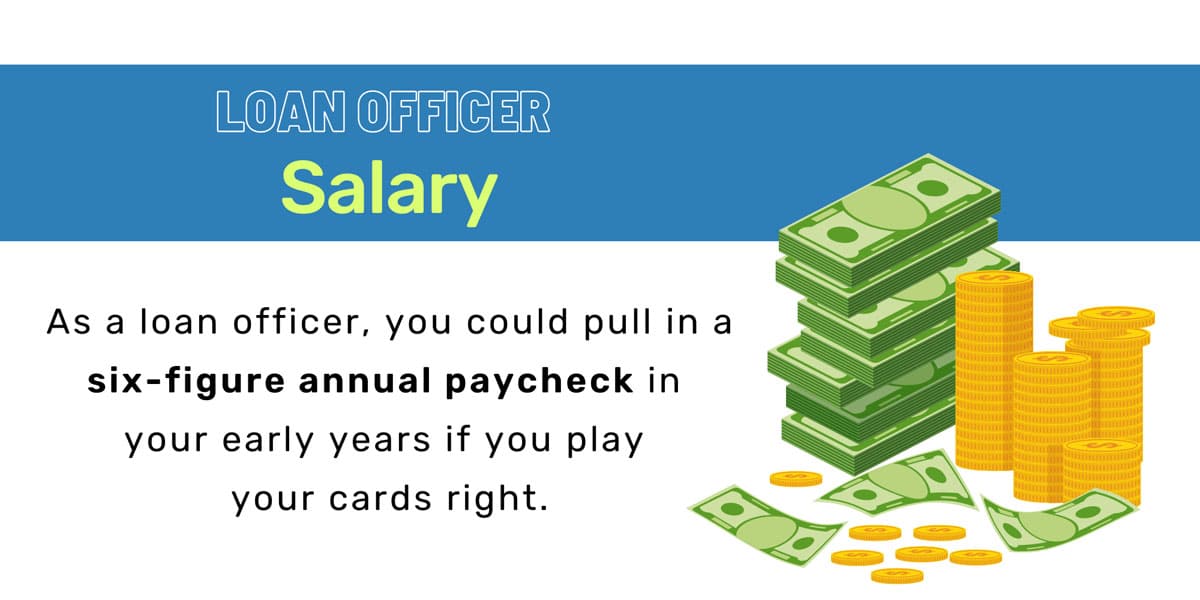 Think of this as 'opportunity cost' to fetch you a very profitable career that could carry you to an early retirement!
It's such a great feeling just to read that, right?
Now let's look at how long it takes to prepare for and pass the NMLS test!
chapter 2:
Loan Officer Exam (NMLS Certification)
You're well on your way to becoming a high-earning MLO.
Getting licensed is a few steps away!
Due to the financial responsibilities that loan officers must undertake as part of the job, the NMLS test is deliberately challenging.
But don't be disheartened.
The more time you spend studying, the higher your chances of being part of the 54% of folks who pass the test the first time.
It's very doable.
Let's get started!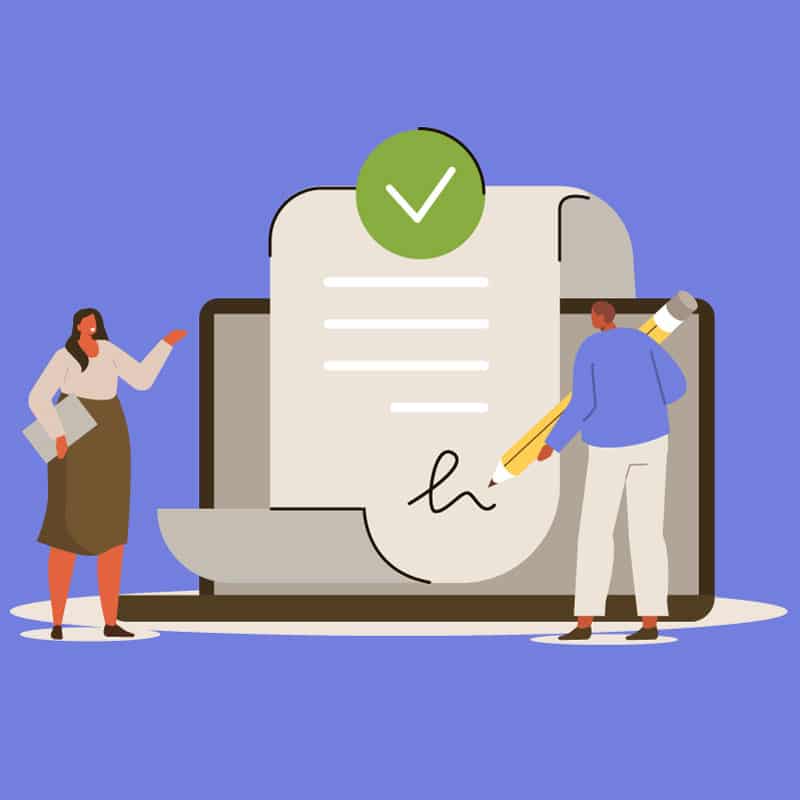 Is There a Waiting Period Before You Take the MLO Test?
There is no mandatory waiting period to take the test!
You can take it as soon as you complete your 20-hour SAFE coursework (although we don't recommend this – Scroll to find out why).
The only other thing to know is, once you register for the test and make the payment, you have a 180-day window to take it, or else you will have to re-register.
If a candidate fails the test the first time, they will have to wait 30 days before retaking it. If the candidate were to fail three times, the wait period extends to six months.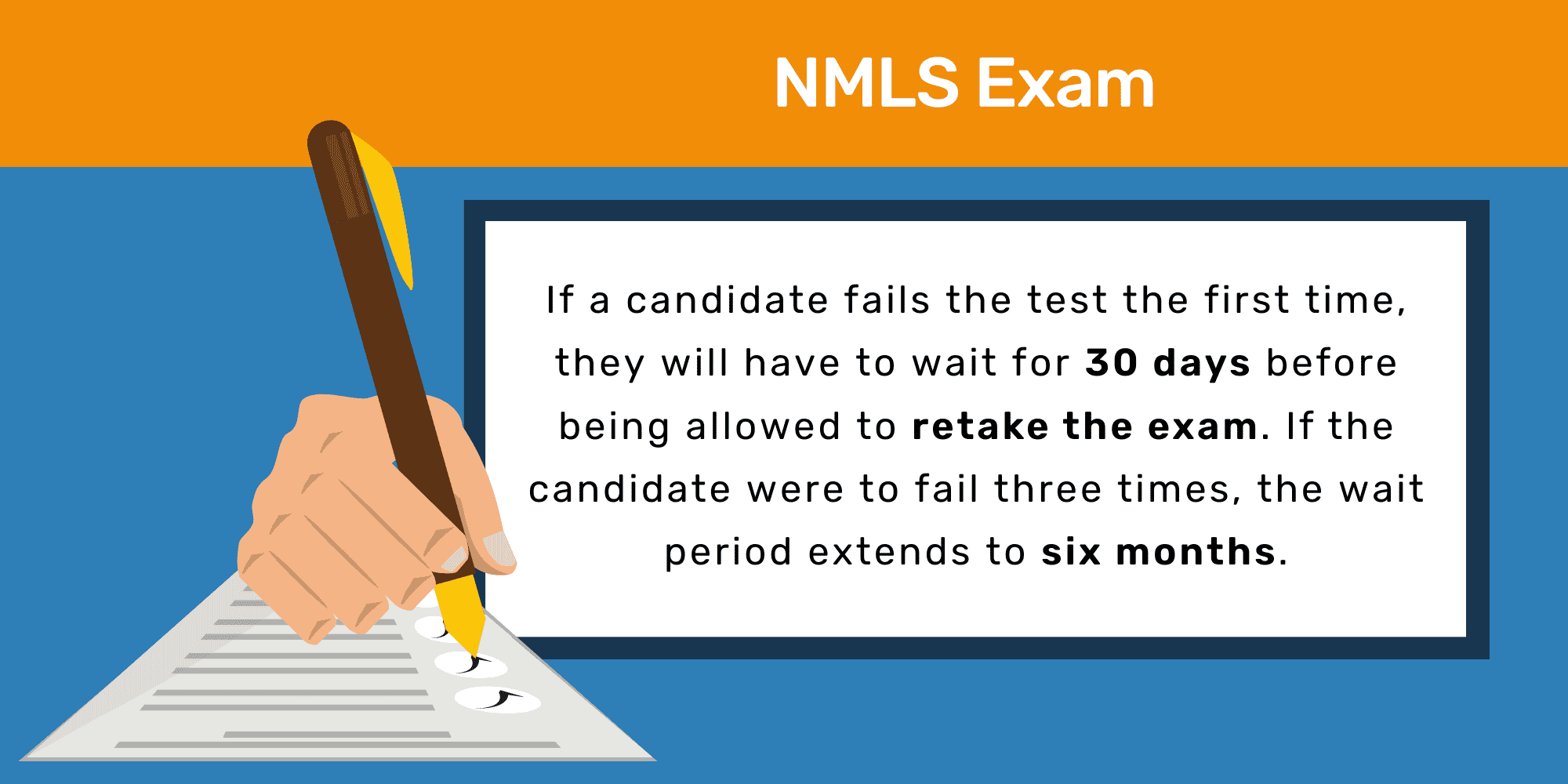 This could be quite discouraging for eager and aspiring loan officers who can't wait to land their first job.
To ensure you are part of the 54% of candidates who pass the first time around, make sure to put in the right amount of prep time.
More on that below!
How Long Does the Loan Officer Test Take?
The NMLS test can be taken in person or online through Prometric's testing system.
There are 125 multiple choice questions (10 are unscored pretest questions and 115 are scored). You need a 75% or higher to pass the test.
There's a general consensus that it takes about 2 hours for most candidates to complete the test.
Is There a Time Limit For the Test?
Candidates are given 190 minutes to complete their NMLS test. Don't be nervous though. This is more than enough time if you're well prepared!
How Much Time Should I Take to Prepare for the Loan Officer Test?
The 20-hour SAFE course is not enough to ace the NMLS exam. Do not rush to schedule your NMLS test after you complete your mandatory coursework.
Once you register for your exam, you will receive the official MLO Testing Handbook. You will also be able to access the National Test Content Outline.
Both of these are a strong starting point!
Be sure to check out online mock tests and other practice material to be as well prepared as you can be.
We recommend putting in an extra 20 to 30 hours of prep time to really master the principles of the test. It's important to have a deep understanding of the content you're reading.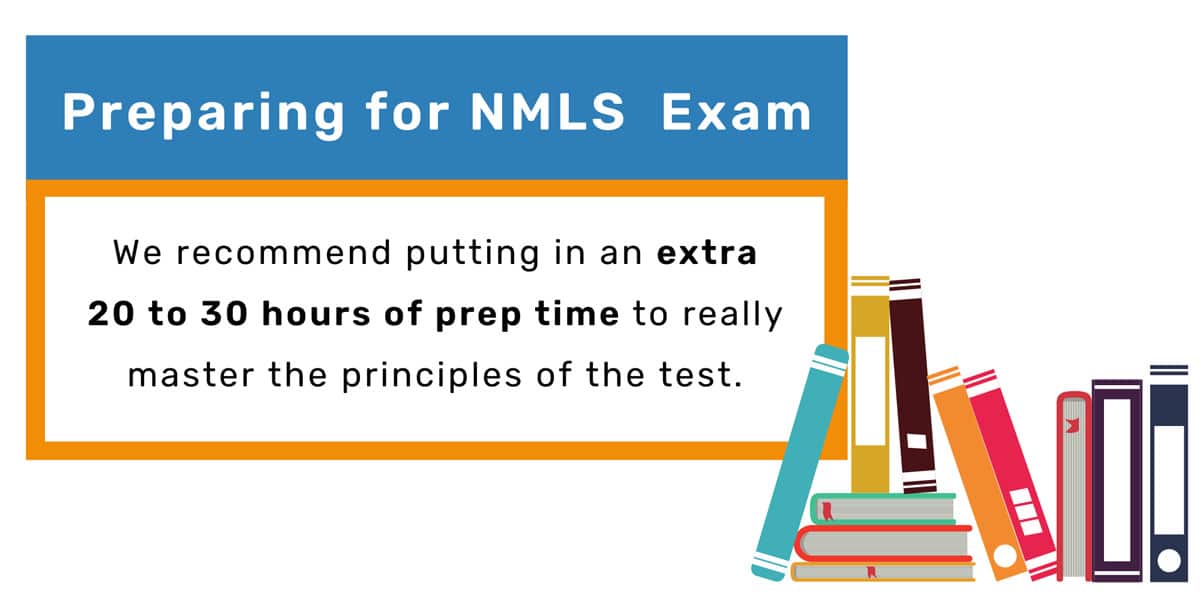 And keep in mind, memorizing won't be enough as there are over 4,000 questions in the NMLS database. You can't be certain of which ones will appear on your test.
Apart from rules-based questions regarding RESPA, HMDA and TILA, you may also be hit with situational questions about how they interact with each other.
So yes, be sure to prepare in advance and you should pass with flying colors!
After that, there are just a few last formalities to go…
chapter 3:
Loan Officer Background Check and Requirements
You're so close to getting your MLO license – Exciting!
The next step is to authorize a criminal background check from your NMLS account.
This is regarded as a safe and smart precaution to maintain the integrity of the mortgage system. Your future employers will have access to these records to verify your candidacy for the job!
Protip: We're about to answer one of the most-Googled questions in this field; Can you become a loan officer with bad credit?
Look for the answer below!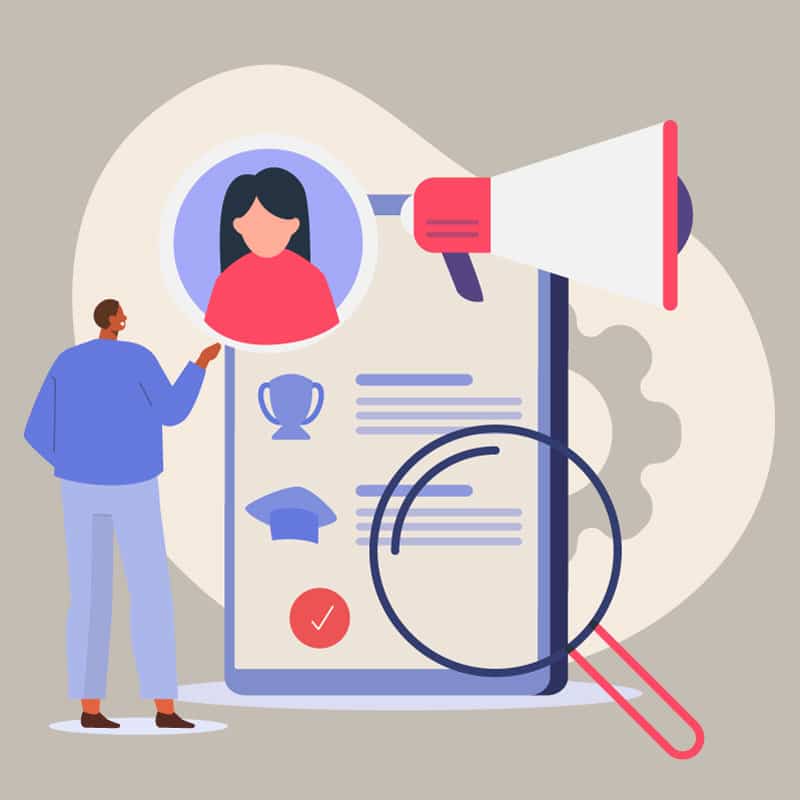 How Do I Get a Background Check For My Loan Officer License?
You can authorize a criminal background check from your NMLS account. This is a simple process and takes a few minutes to complete.
Follow these steps:
Log into your NMLS account. Toggle to the section that says, "I am requesting a Federal Criminal Background Check."
You will then see the options to submit new prints, use existing prints (your fingerprint records must be less than 3 years old), or use pending prints.
Make your choice and submit the request.
If you choose to submit new prints, you will also have to complete the extra step of scheduling your appointment. You can do all of this from your NMLS account.
How Long Does the CBC Take and How Long to Get Back the Results?
The process to authorize your CBC and book your fingerprint appointment is very quick.
The results are submitted directly to the NMLS, usually within 48 hours after your appointment.
This is the easiest portion of the whole process!
Can You Become a Loan Officer With Bad Credit?
This is a hot-button topic and no one seems to have a straight answer!
Here's what you need to know…
Each state has its own unique criteria to check on a candidate's credit profile; some are stricter than others.
For instance, California has more lenient standards when it comes to approving candidates with bad credit.
Texas, on the other hand, has historically been stricter, at times even denying applicants with a score in the 700s as a result of having charged off accounts from several years prior.
Ultimately, the decision to approve your license application is in the hands of the state licensing examiner.
In most circumstances, the answer is, yes, you could get a license even with a low score!
States don't bother too much with your score as much as they do derogatory items in your profile like a serious delinquency, foreclosures, or late payments that may indicate a strong risk.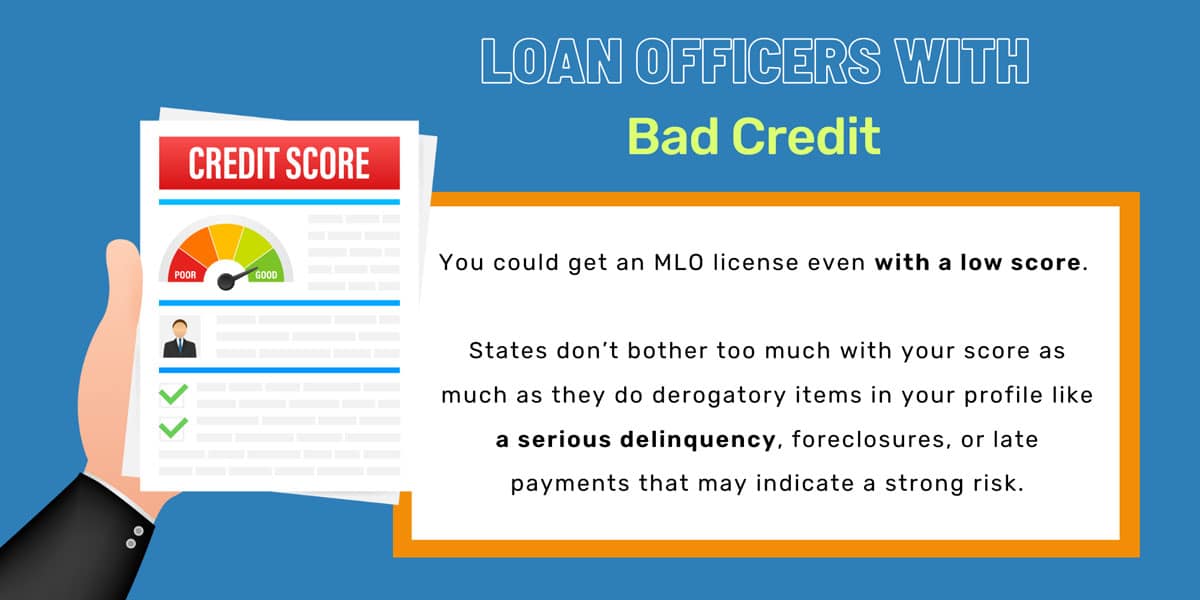 The NMLS pulls your credit report when you apply for your loan officer license. This is a soft pull which means you won't have to worry about it plummeting your score.
This report is stored in their database and is accessible to regulators in the states in which you apply for your license.
These state licensing examiners will accordingly look at your report and determine whether you meet their financial responsibility criteria to warrant an MLO license.
Remember, the SAFE Act does not have any official processes or guidelines that examiners must follow when checking your report.
It only sets the precedent that the applicant should have "demonstrated financial responsibility, character, and general fitness such as to command the confidence of the community."
Can I Get a Loan Officer License If I Have a Criminal Record?
The law is more precise when it comes to applicants with a criminal record.
When you submit your fingerprints, they are subjected to an FBI state and national criminal background check.
The SAFE Act prevents applicants from obtaining their Mortgage Loan Officer license if they have a felony on their record during the last 7 years and/or if they have ever had a financial services felony on their record such as bribery, fraud, check forgery, or theft.
This could mean a license ban for life.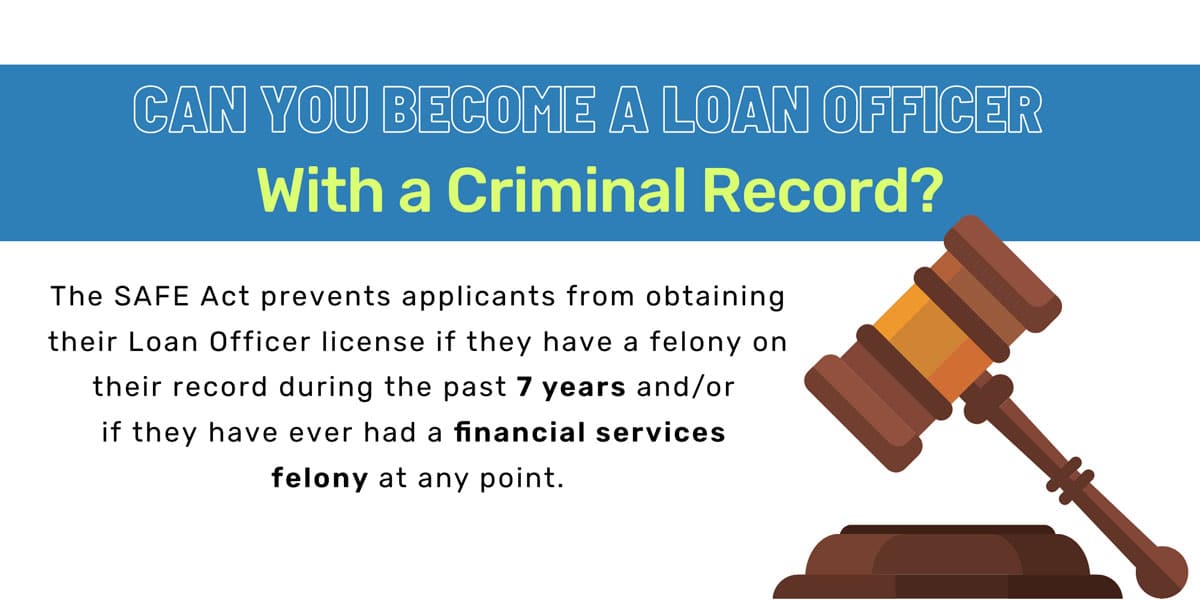 The SAFE Act enforces these standards to prevent the mortgage system from being undermined by a person who may not be able to act in an open, fair, and honest way.
All things considered, this list of criteria that would prevent you from getting a license is pretty narrow.
So long as you meet the standards and guidelines set out by the NMLS and the SAFE Act – There's nothing stopping you!
How Long Does It Take For the State to Approve Your MLO License?
The process pretty much flies by after this point.
Most states take about 8 to 12 weeks to approve your NMLS license.
To practice legally under your license, you must seek out employment with a state-recognized company. This lets the government know that your MLO activities are being supervised by your employer.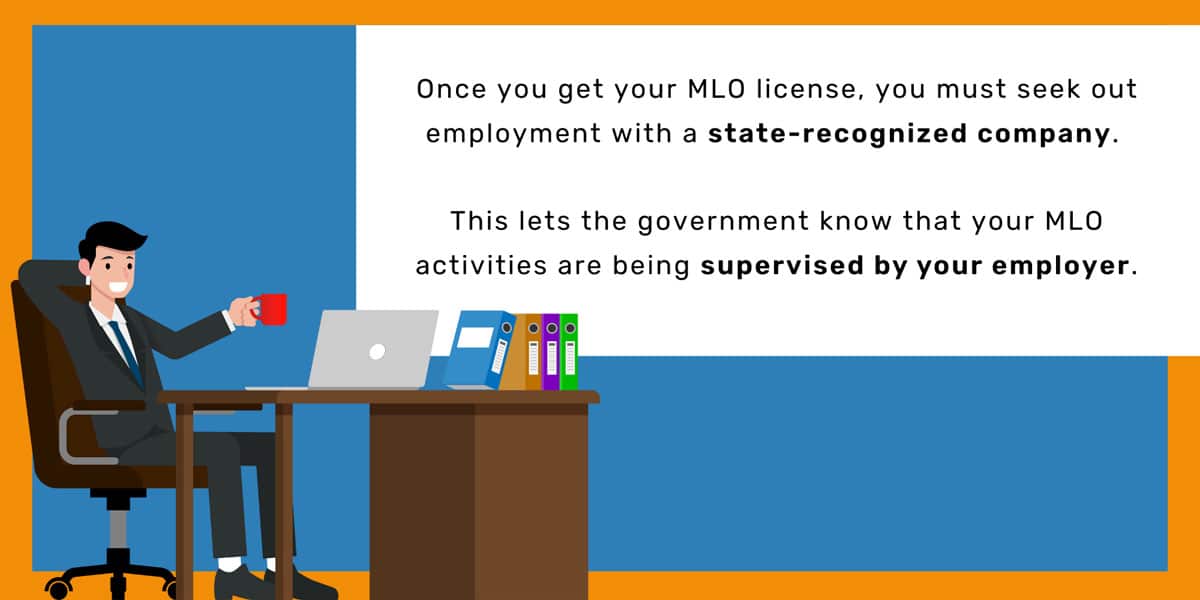 And just like that, you have every crucial piece of info to begin your MLO journey. Congratulations!
Would you like a full timeline of how long it takes to become a loan officer?
Check below for our final tally!
Final Thoughts
Well done!
You've scrolled this far. That shows a serious commitment to your loan officer career.
We wanted to leave you with this final gem to help you digest all the information we just shared.
Below, you will see a list of the most important steps and how long it takes to complete each one and procure your MLO license.
These figures could vary by state, so please use these as a light suggestion and perform separate inquiries yourself.
Loan Officer Schooling and Training

| Details | Timeframe | Cost | Mandatory |
| --- | --- | --- | --- |
| 1) Bachelor's in Finance, Accounting, Economics or Business | 4 years | Approx. $50,000 | No |
| 2) Sales or Customer Service Experience | 1 year | – | No |
| 3) On-the-Job Training | 3 to 6 months | – | Yes |
| 4) Standard SAFE Coursework | 20 Hours | $240 | Yes |
| 5) Additional State-Specific Coursework | 0 to 4 Hours | $0 to $120 | If Applicable to Your State |
Loan Officer NMLS Exam

| Details | Timeframe | Cost | Mandatory |
| --- | --- | --- | --- |
| 7) Extra Study Time to Prepare for the NMLS Exam | 30 hours | – | Strongly Recommended |
| 8) The NMLS Exam | 3 hours | $110 (+ approx. $400 for associated registration and processing fees) | Yes |
Loan Officer Criminal Background Check

| Details | Timeframe | Cost | Mandatory |
| --- | --- | --- | --- |
| 9) Criminal Background Check and Fingerprints | 48 hours | $40 | Yes |
| 10) State Approval of Your License | 8 to 12 weeks | – | Yes |
Remember, these formalities are the gateway to a very lucrative paycheck and a career that could carry you to an early retirement – Nice.
We wish you the very best of luck in your journey to procuring your loan officer license. Our team is rooting for you!
Did you have any questions? Please leave them in the comments and we'll get to yours as soon as we can.
Cheers!