Loan Officer Commission Split Guide
How to Boost Your Commission Split by 150%
By Shawn Hayes ~ Posted on Jan. 03, 2019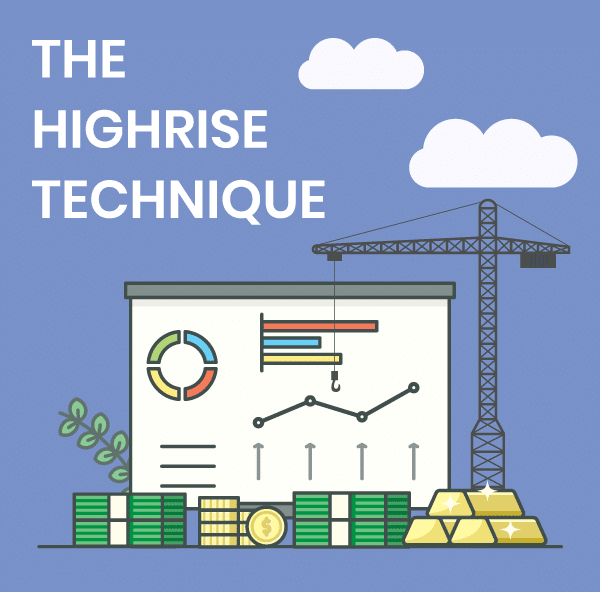 Here's the brutal truth about commission splits:
There are way too many loan officers that are just NOT getting paid enough!
Loan officers are the first point of contact for borrowers at most lending firms. Loan Officers make all of the sales and hold the borrower's hand through the application process.
Seems like an important job, right?
A typical mortgage loan originator is compensated 1% of the loan amount in commission. That's $1,000 on a $100,000 loan amount. That's just not enough to keep food on the table.
Well, today I'm going to show you the skills that will almost guarantee you boost your commission split by 150%.
The Highrise Technique: (Commission Guide for Loan Officers)
There are 4-steps to The Highrise Technique. We will go over all of them in this step by step guide.
By the time you finish implementing this technique, you will have no trouble seeking the pay you need and deserve.
If you're looking to improve your commission split and start making more money today, then you'll love this infographic. It's a nice checklist to highlight the key points in the The Highrise Technique: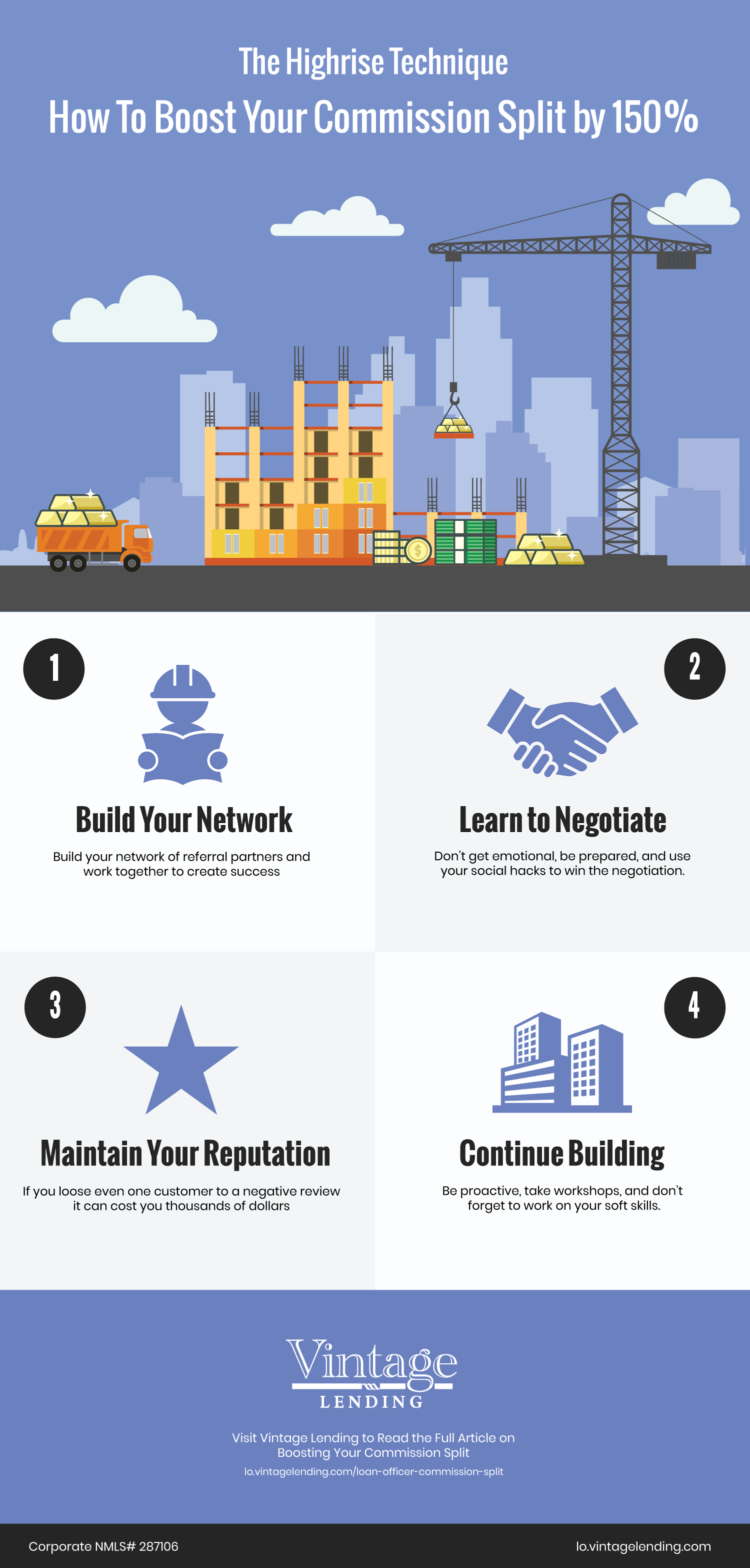 Loan officers are often so happy to get a position at a reputable financial institution that they forget the importance of trying to get the best possible compensation for their effort.
Whether you are new to the career or a seasoned expert, the tips in this guide will show you what to do to boost your commission split.
Step #1: Build Your Network
Probably the most important thing in The Highrise Technique and that you can do as a loan officer is to build your network of referral partners.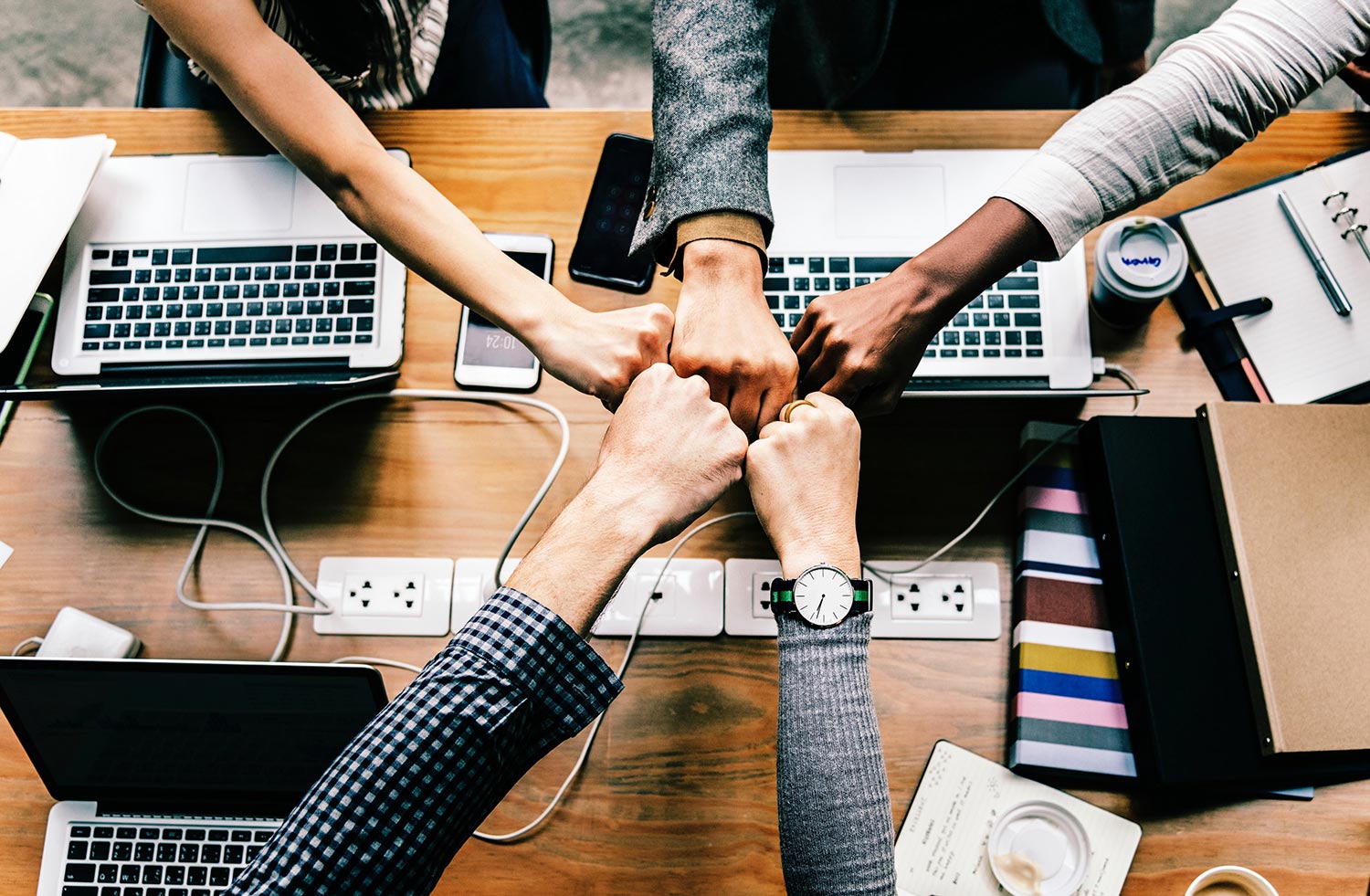 A loan officers commission split can range from 0.50% to 2.50%, depending on the brokerage and loan officer experience.
On the lower end, it is oftentimes loan officers that work company leads (leads provided by the brokerage).  On the higher end, it is usually loan officers that have their own book of business.
This is the reason why it is so important to build your referral network and generate your own leads!
Karen Maierle over at Loan Officer Hub wrote a really great article on this topic.
The Secret All Top Loan Officers Know
Lunch is On Me
In Karen's article her number one tip is to:
"Invite your referral partner to meet for lunch".
Building your network is about making friends with the goal of becoming partners with those friends.
These partners could be Real Estate Agents, Insurance Brokers and their Agents, or even other Loan Brokers depending on what types of loan packages they offer borrowers.
Most mortgage loan officers don't know what to do with borrowers that don't qualify for their own loan packages. Why not get a commission from another broker that can make a deal happen for that borrow? Shop around and see if you can find a good hard money lender that meets your borrowers needs.

Hold an Event
Now that you have some referral partners in your contacts list its time to bring everyone together. The idea is to work together in order to have the deepest possible list of invites.
Also, as Karen mentions in her article, you want the events to be something fun that will appeal to your target audience.
Karen has some great ideas about the types of events to hold.
These are my top picks from her list:
– Host a tasting session at a wine bar

– Sample beer at a local brewery
I chose these two for one simple reason. They are events that will allow you to socialize with prospective borrowers and make connections.
With the ready availability of alcohol at these types of events it will also make everyone a bit more relaxed and easier to approach.
Powwow with your Referral Partners
Make sure you are working closely with your referral partners in order to launch the event. You want to know how many people they are inviting.
Facebook Events
You also want to make it easy for them to share the event. Creating a Facebook Event is an awesome way to do just that.
You can have all of your referral partners send out the event to their list on Facebook. This is a great and easy way to promote your event.
Dan Virgillito wrote an awesome article on getting the most out of your Facebook Event.
Check it out:
Tips to get the most out of your Facebook Event
Encourage Registration
Getting your potential borrowers contact information is key if you are going to work with them in the future. Having a registration for the event is a great way to do that.
There are a number of free event registration services that you can utilize. I recommend giving Eventbrite a try.
Eventbrite Registration Website
It's free for organizers to use Eventbrite if you're not charging for tickets!
Bribery
Don't forget to offer a bribe for registering for the event. Maybe a free drink voucher, t-shirt, promotional hats, or even a raffle ticket for a giveaway at the event.
Holding a raffle is also a great way to get contact info once event goers are already at the event. Get a raffle ticket for signing the guest book.
Work a Crowd Like a Jedi Master
Okay, now that you have your event all planned out you'll want to get the most out of it by socializing with your guests.
I was introduced to Vanessa Van Edwards book Captivate by Vanessa Van Edwards a little while back.
OMG, this one is a game changer!!
Learning how people work is essential in sales and networking.
As Vanessa mentions in her book:
"If you know exactly what makes people tick, you can optimize your behavior, interactions, and relationships".
Without understanding how people work you are going to have a hard time making connections. Vanessa's book Captivate will teach you what you need to know. You will be working a crowd like a champion in no time.
Think you already have the skills you need?
Vanessa created a super fun test to see how well you can read, understand and communicate with others.
Head over to her website and test your people skills:
Share the Bounty
Once you have held your wildly successful event you will want to make sure you share the attendee registration list with referral partners.
This will help them grow with you and ensure they plan events with you again in the future.
Step #2: Learn to Negotiate
The ability to negotiate successfully is one of the most essential skills when it comes to getting the commission split you deserve and it's the second step in the The Highrise Technique.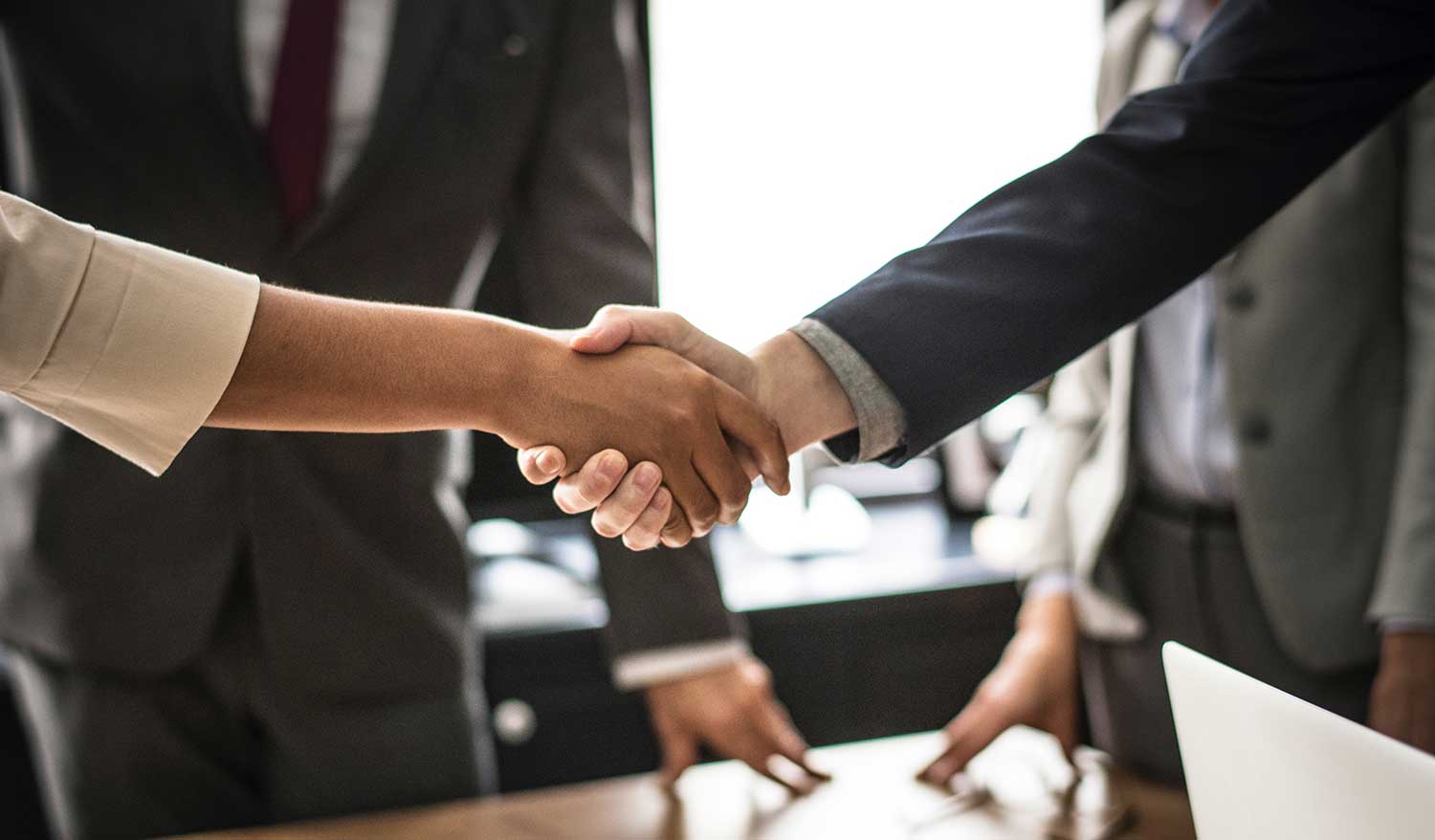 Things become competitive quickly when a lot of money is on the line, and employers are less likely to pay what you are worth if they think they can get away with it.
If you want any hope of reaching your goals, you are going to have to learn how to negotiate.
Discover Your Value
A lot of loan officers make the mistake of going to job interviews or speaking with their bosses about better pay but don't know their value. For example, loan officers who have years of experience and impressive close rates are worth more than those who are just finishing their education.
Your location also plays a role in what you can expect your employer to pay for your services. A loan officer in California will likely make a little more than someone who works in a small town in Utah.
If you don't know your value, you can take a few steps to arm yourself with the information you need to stand your ground. Look online and reach out to your contacts to discover what other loan officers with your qualifications are making.
Again, mortgage loan officer commissions generally range from about .05% to 2.50%.
How Do You Learn to Negotiate?
I suggest you start by reading Stuart Diamonds book Getting More.
Getting More by Stuart Diamonds
Below are some bullet points to think about before you start your negotiation:
1. Don't Get Emotional
It's hard to keep your emotions out of making a deal, but emotions can ruin a negotiation. You must stay calm to get the outcome you wish.
2. Be Prepared
Know what you are going to say and how you are going to say it. Practice with a friend or co-worker. This will help shake out those nerves before-hand.
3. Choose Your Target Wisely
You don't want to start the negotiation with the wrong person. Make sure the person you are speaking with has the power to give you what you want.
4. Stay Focused on the Prize
The goal is to get a raise. Everything else that is brought up doesn't matter. Don't argue about the details.
5. Use your Social Hacks
Remember what you learned in Vanessa Van Edwards book Captivate. The psychology will help you connect with the person you are negotiating with.
6. Give Acknowledgement
Everyone wants to feel valued. Make sure to acknowledge the authority and position of the person you are negotiating with. If you do, they will often help you to achieve your goals.
Pick up Stuart Diamonds book on Amazon and give it a quick read.
You will be negotiating like a pro in no time!
Step #3: Maintain Your Reputation
Building your reputation is another important thing you need to do in order to enhance your commission split over the long run. In the third step of The Highrise Technique we'll go over what you need to know.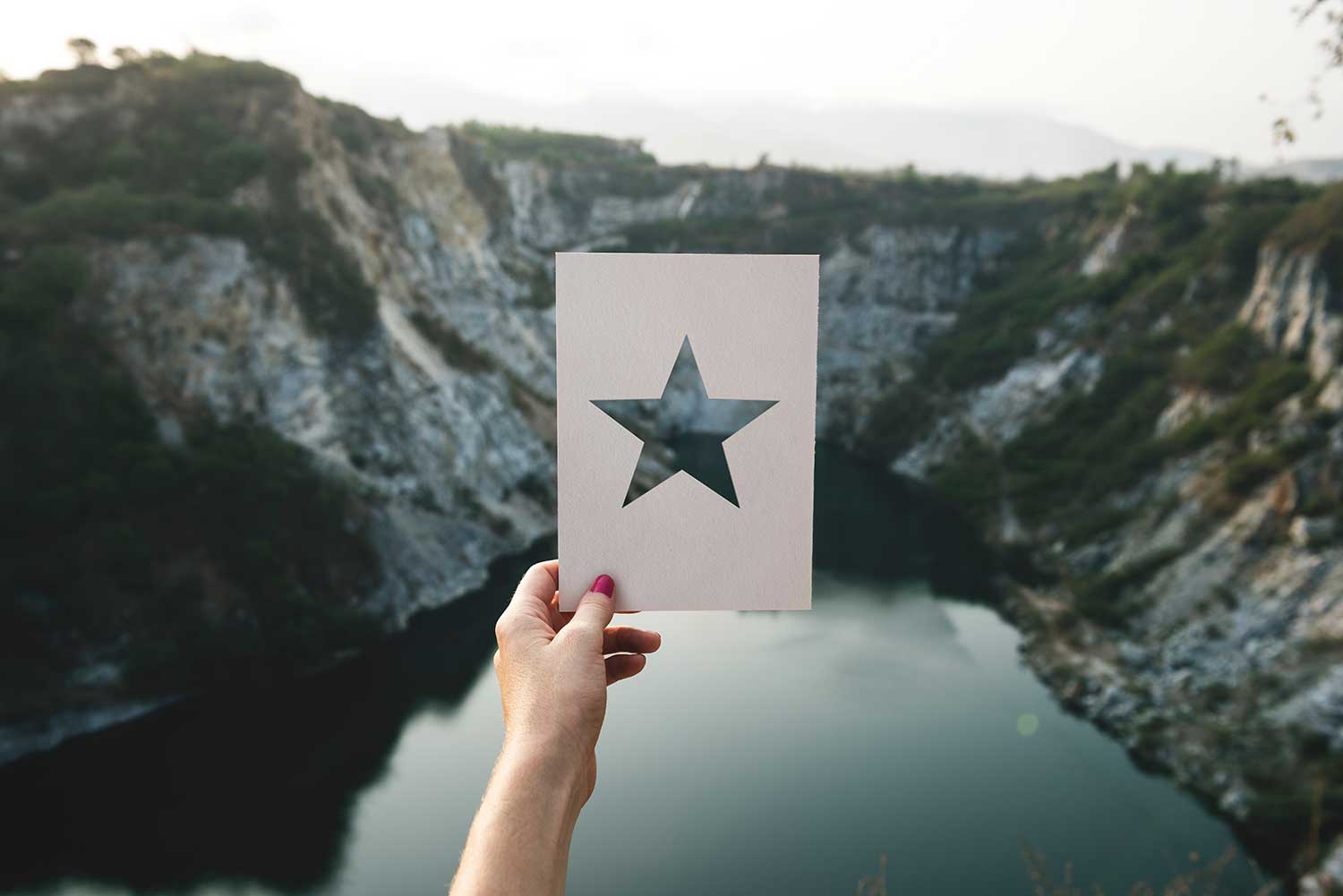 Banks and other finance companies want loan officers with a proven record of success and dependability. Consider what steps you should take to show you can do the job and that you won't let roadblocks stand in your way.
If you held a lucrative position in the past and are still on good terms with your former manager, ask for a letter of recommendation.
You can even ask for a recommendation on LinkedIn.com if you are connected to them. It's also vital you do your best never to burn bridges when you can avoid doing so.
Websites like Yelp.com, Facebook Reviews, and Google Businesses have made it possible for anyone to post a review about a business or business professional. This is both good and bad for you as a loan officer.
Ensuring as many people as possible view you in a positive light can do wonders for your reputation. On the flip-side a negative review can really hurt your reputation and bottomline.
Try to follow the policy of "The Customer Is Always Right".
If you loose even one customer to a negative review it can cost you thousands of dollars. It's not worth it.
Check out Ahrefs.com:
5‐Step Online Reputation Management Guide
Tim Soulo did a fantastic job on this article! Give it a read to learn how you can take control of your online reputation.
Step #4: Continue Building Your Skills
Loan officers operate in a competitive marketplace and must be proactive when it comes to staying ahead of the herd. The last step of the The Highrise Technique is about doing just that.
If you don't want to get left behind, you need to look for ways to improve your skills so that you will stand out from the rest in a powerful and unforgettable way.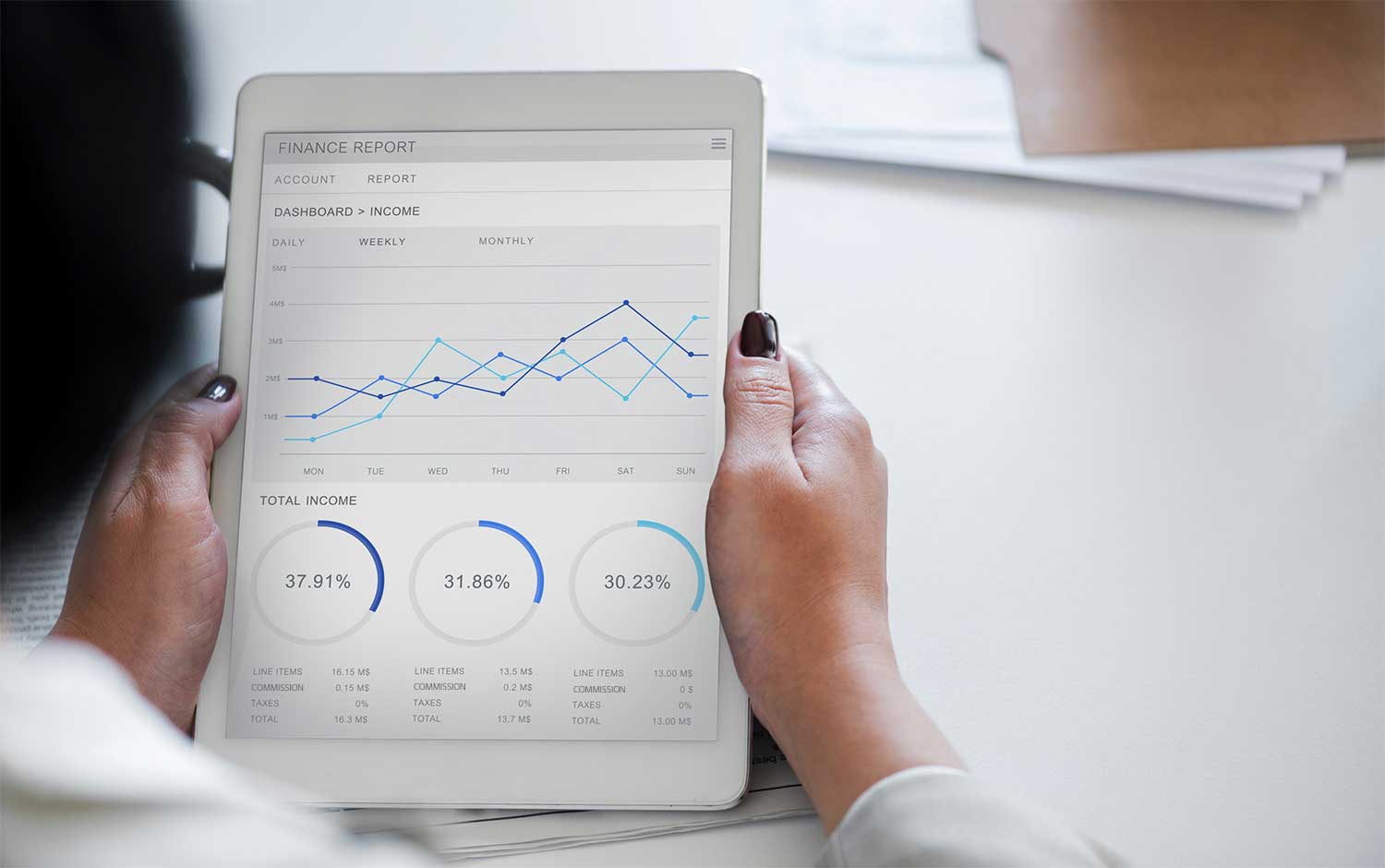 You will be pleased with the outcome when you see what you can achieve. The bottom line is that you must be willing to do more than other people if you would like to get paid more than them.
Working on your skills is one of the top ways to make sure you are relevant, and your manager will know you have what it takes to benefit the company's bottom line.
Get a Mentor
A great resource to learn new skills from seasoned veterans is SCORE. This a non-profit that provides expert guidance and assistance to thousands of start-ups, existing businesses, and business professionals just like you.
SCORE is comprised of over 10,000 successful retired business executives that just want to give back to the community. It gets them out of the house and the satisfaction of helping others succeed.
If you haven't visited one of SCORE's 300 chapters across the U.S. I would suggest you go to their website and find a mentor that matches your needs.

Take Workshops
Taking workshops is a fantastic way to keep your skills current and to show employers you are willing to go the extra mile.
SCORE puts on their own workshops but you can also look online for workshops in your area, and you should not have much trouble finding some if you live in a major city. Workshops give you a chance to work with other professionals in your industry.
You can trade advice and get real-time feedback from experts with decades of experience.
If you are still seeking a position as a loan officer, having a workshop under your belt will make you that much more attractive to potential employers.
If you already have a position, your manager will be thrilled by your willingness to improve.
Final Thoughts
I hope you can see the potential of The Highrise Technique to increase your commission split and overall earnings.
As a loan officer, you have more control over your pay then you likely suspect.
You don't have to accept a pay rate and assume it's the best you can get. Instead of taking the first offer you are given, learn to negotiate so that you can enjoy fair compensation.
Taking steps to maintain and build your skills gives you even more power when it comes to getting paid what you are worth.
Reaching your goal might take a little time, but you can get impressive results if you commit to the path and strive to offer value at every turn.