Mortgage Loan Officer Salary
In California
The top-dollar question: What is a Mortgage Loan Officer's salary in California?
After all, if you select this profession, it will be your bread and butter for a long time.
We're here to assure you – you're set to enjoy a very lucrative and fulfilling career path as a loan officer!
In this article, we reveal the salary structure for junior, intermediate, and senior loan officers in California, and the 10 highest paying cities in California for MLOs.
BONUS: We also talk about how to reach a 6-figure income in 4 years.
Stay tuned. You don't want to miss what we're about to share!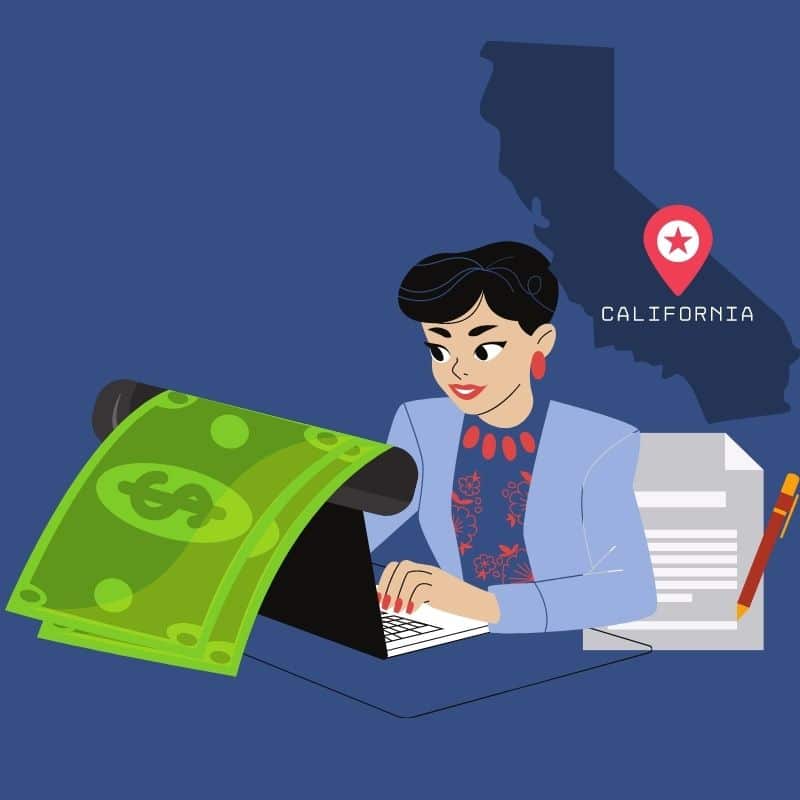 chapter 1:
Should You Become a Loan Officer?
To MLO or not to MLO – that is the question.
Mortgage Loan Originators are one of the highest-paid players in the loan officer field.
They deal with complex and high-stakes home loans worth thousands of dollars. It takes more than business acumen to be successful.
To give you a quick glimpse of the amazing world you're walking into, here is a 3-point checklist. If you like what you read below, it's a massive green signal to dive in headfirst!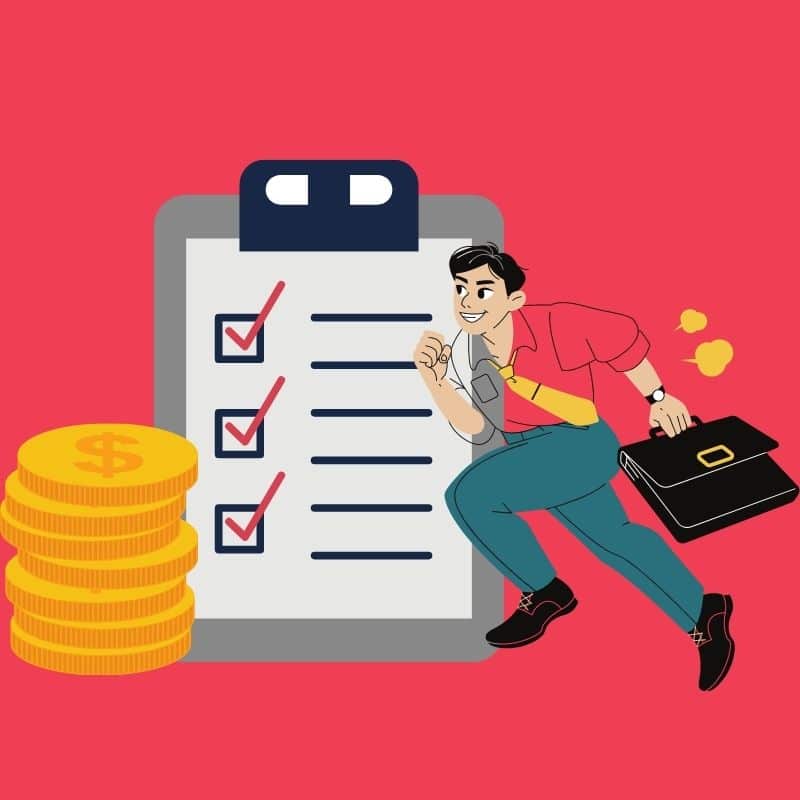 1. Mortgage Loan Officer Job Description in California
Apart from your razor-sharp business acuity, you also have to be patient, empathetic, and trustworthy as you'll be interacting with people who are making a life-changing decision.
Using your education and experience as an MLO, you will guide borrowers through the mortgage approval process.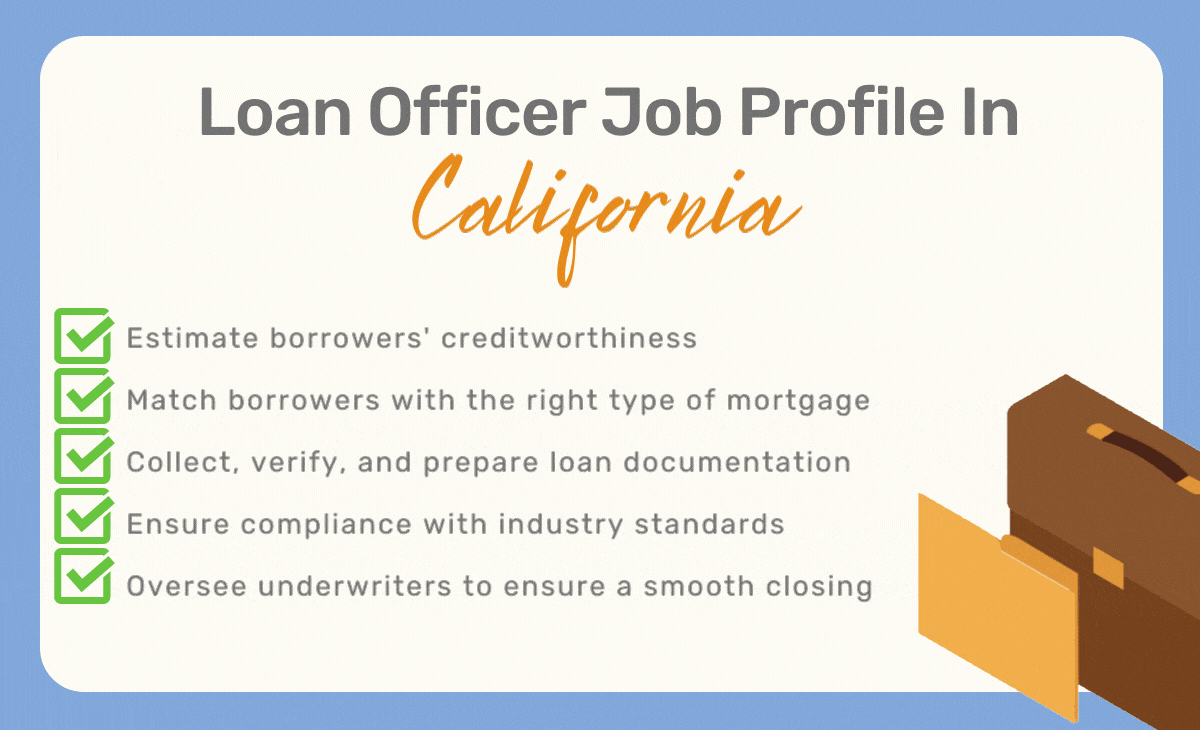 Whew, it's definitely a full plate but the work is extremely satisfying, especially if you love a good challenge!
Mortgage Brokers, on the other hand, operate a little differently. While MLOs typically work for one financial institution to sell its mortgage products, a Mortgage Broker is a matchmaker between the borrower and a range of mortgage providers, giving home buyers way more loan options.
2. Mortgage Loan Officer Salary in California
So just how much does a Mortgage Loan Originator get paid in California? You can pull in a salary of $229,375 and a commission of $56,100 per year, according to Indeed.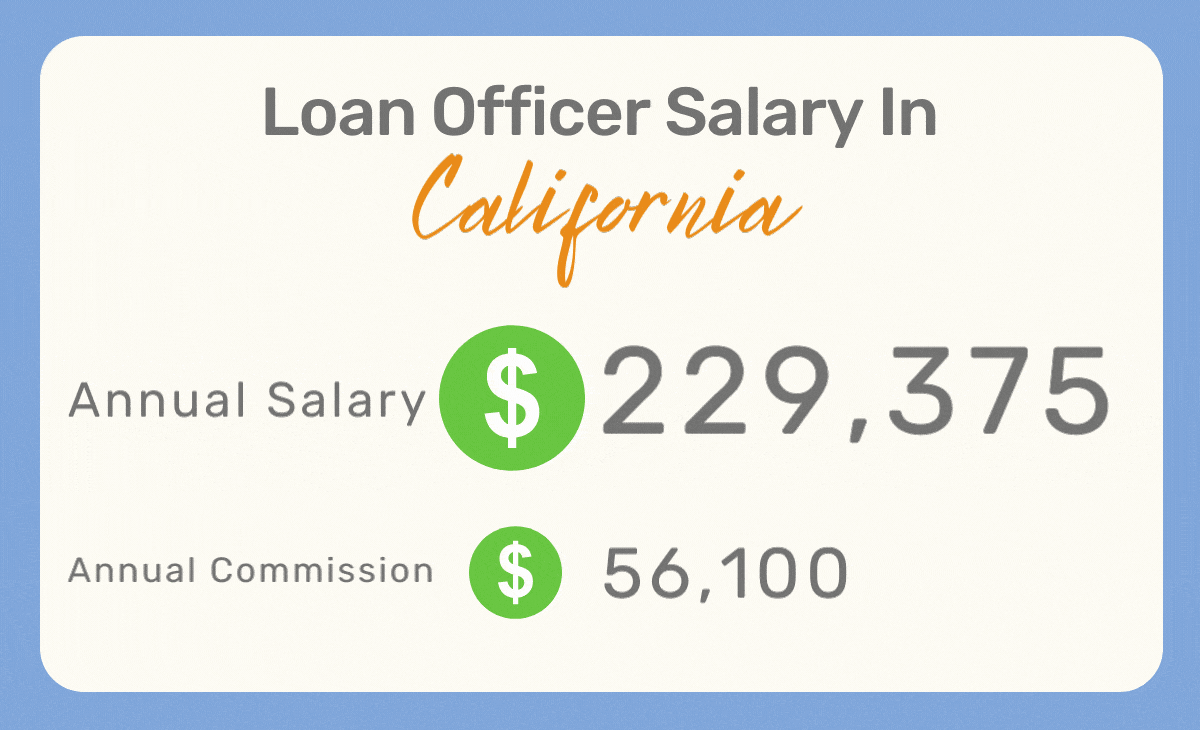 On that note, how different is a Mortgage Broker's salary from a Mortgage Loan Originator's salary?
Mortgage Brokers typically see between 0.5 to 2.75% per loan. MLOs usually make around 1% per loan but this can range between 0.50 to 2.5% based on experience and where they work.
It's an open secret at this point; Mortgage Loan Origination is one of the few careers where you can make a six-figure income on a high school diploma.
Comparable careers that pull in this kind of dough; doctors, lawyers, business owners, and entertainers – hey, you're definitely in rare company!
Below, we did a detailed breakdown of MLO compensation in the top 10 cities in California!
3. Mortgage Loan Officer Career Outlook in California
Okay, we now know MLO salaries are through the roof! But is there a future for MLOs in a post-pandemic world?
Good news, the job market is still hot, hot, HOT!
According to The Bureau of Labor Statistics: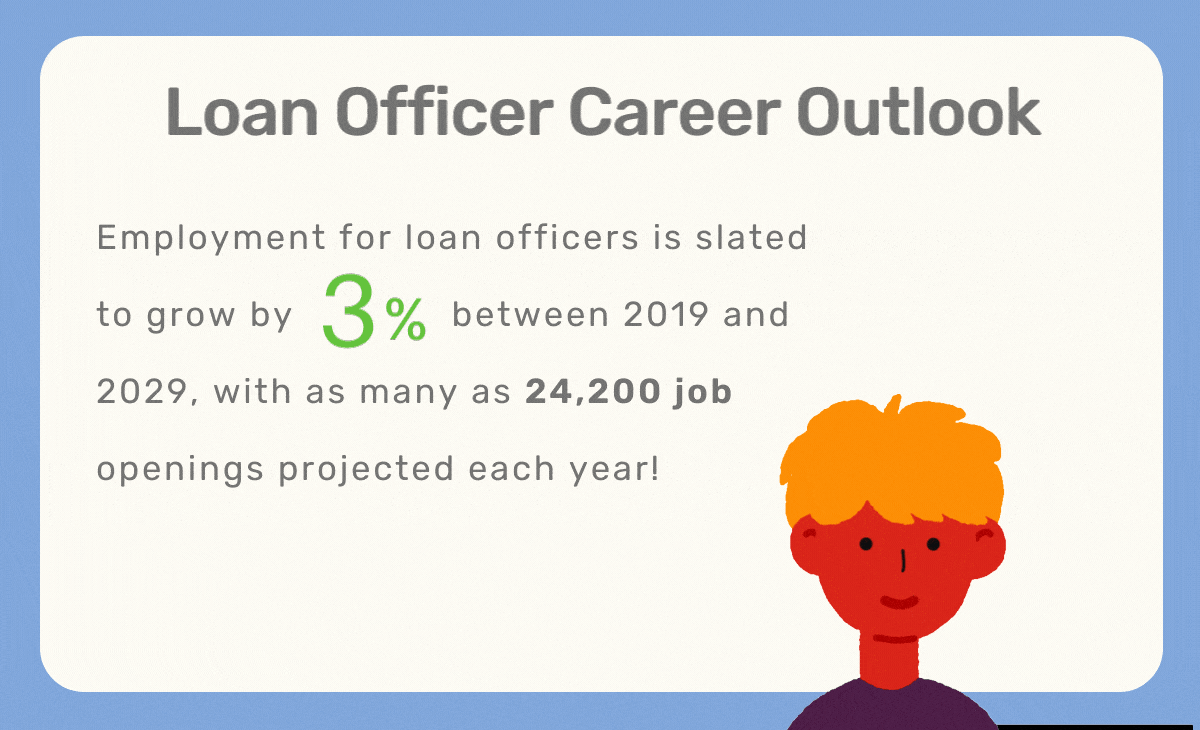 More on your career and salary potential as an MLO below. Keep reading!
chapter 2:
Loan Officer Salary Structure in California
So we've figured out that being an MLO is more than printing out business cards.
It requires curiosity and dedication – something you already have if you're reading this article.
Naturally, one of the deciding factors is how much money you'll make as a loan officer in CA. Is it going to be enough to pay the bills and put away enough for your retirement?
In this chapter, we break down your earnings for all that hard work.
Spoiler: It's a financial windfall!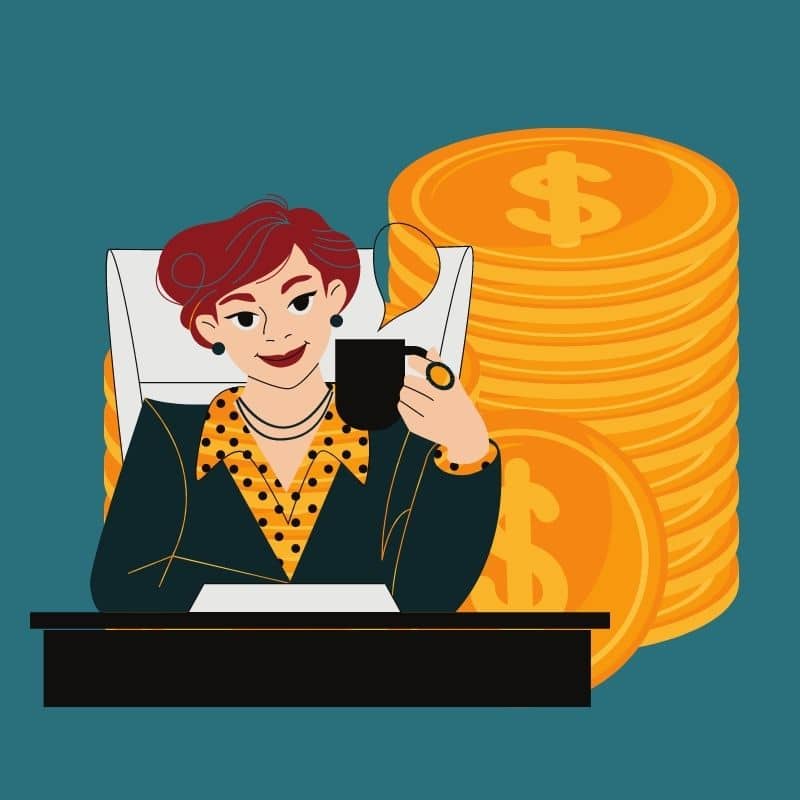 The 3 Components of a Loan Officer's Income
A quick lexicon lesson! There are 3 main components of your income as a Mortgage Loan Officer in California: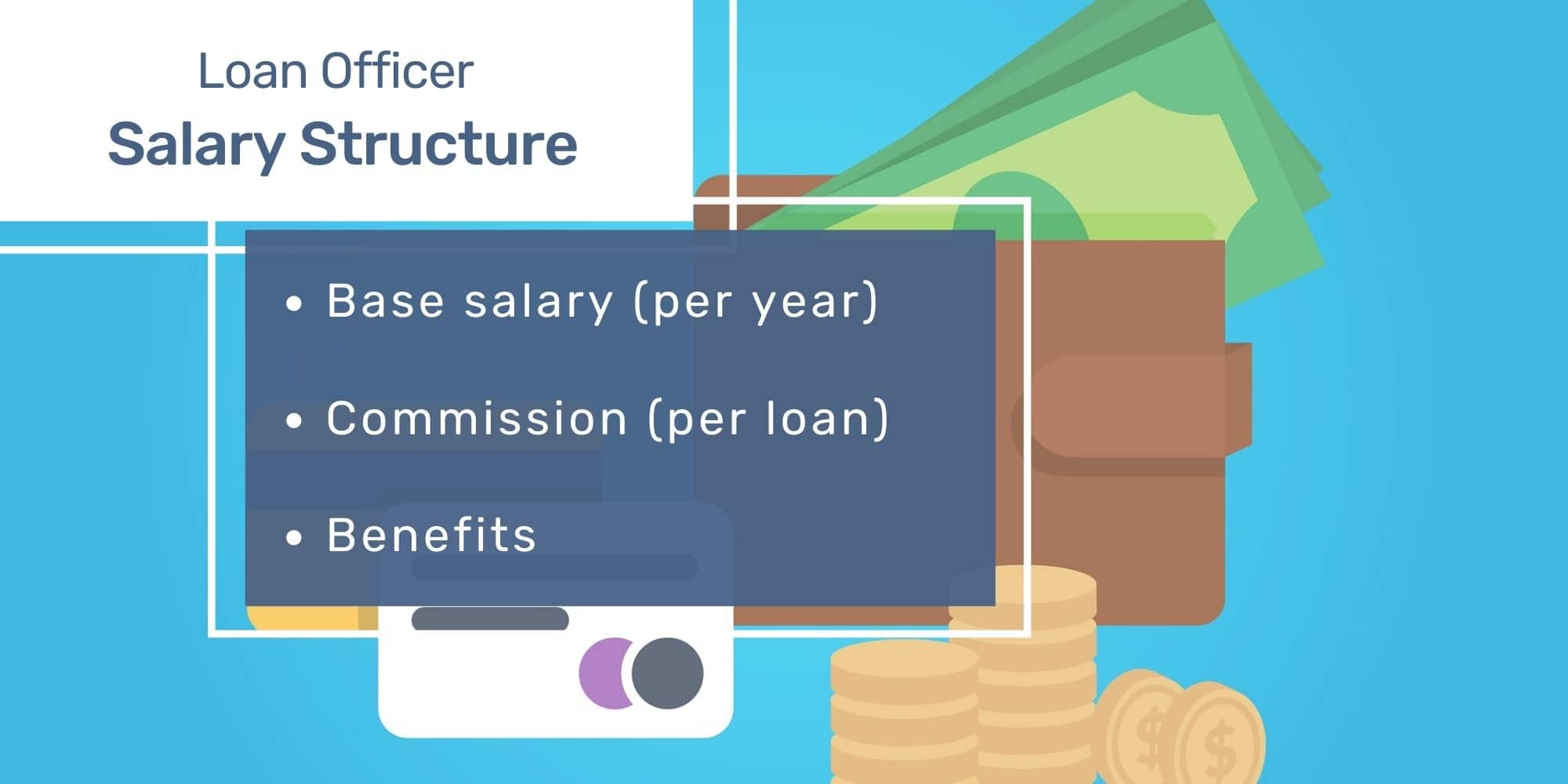 In addition to the above, periodic bonuses, merchandise awards, and company-sponsored trips could also be part of your compensation package. Be sure to ask about these as well!
As in most cases, your compensation largely depends upon which company you work for. 
Large financial institutions like banks are more likely to pay their loan officers a fixed salary + a small percentage of the loan originated. On the flip side, a state-licensed mortgage brokerage will leave you to rely solely on commissions.
First Tuesday Journal found that from a total of 82 MLO voters, a staggering 72% said they received a commission-only compensation and 18% admitted they got the full package; salary, commission, benefits, and bonuses.
Ultimately, it's a coin toss as to whether you'd want to work at a big institution like a national bank or a small brokerage. Bigger agencies offer a stable paycheck and access to a steady stream of clients. However, they also offer less commission per account.
On the other hand, boutique brokerages are commission-reliant and present a higher risk. However, the commission is much higher here.
No one wants to work themselves to the bone and relinquish their hard-earned money. At Vintage Lending, we help you get the highest commission split in the industry. Find out how much you can make right here.
Mortgage Loan Officer Base Salary in California
We've compiled a range of MLO salaries in CA from various sources to give you a general idea of your earnings. These tend to be all over the board, depending on your skillset, experience, and the company and state in which you work. 
Indeed points out that real estate loan officers in California pull in an average annual salary of $229,375. Although, based on the other numbers we pulled below, this seems to be mostly for the top percentile earners.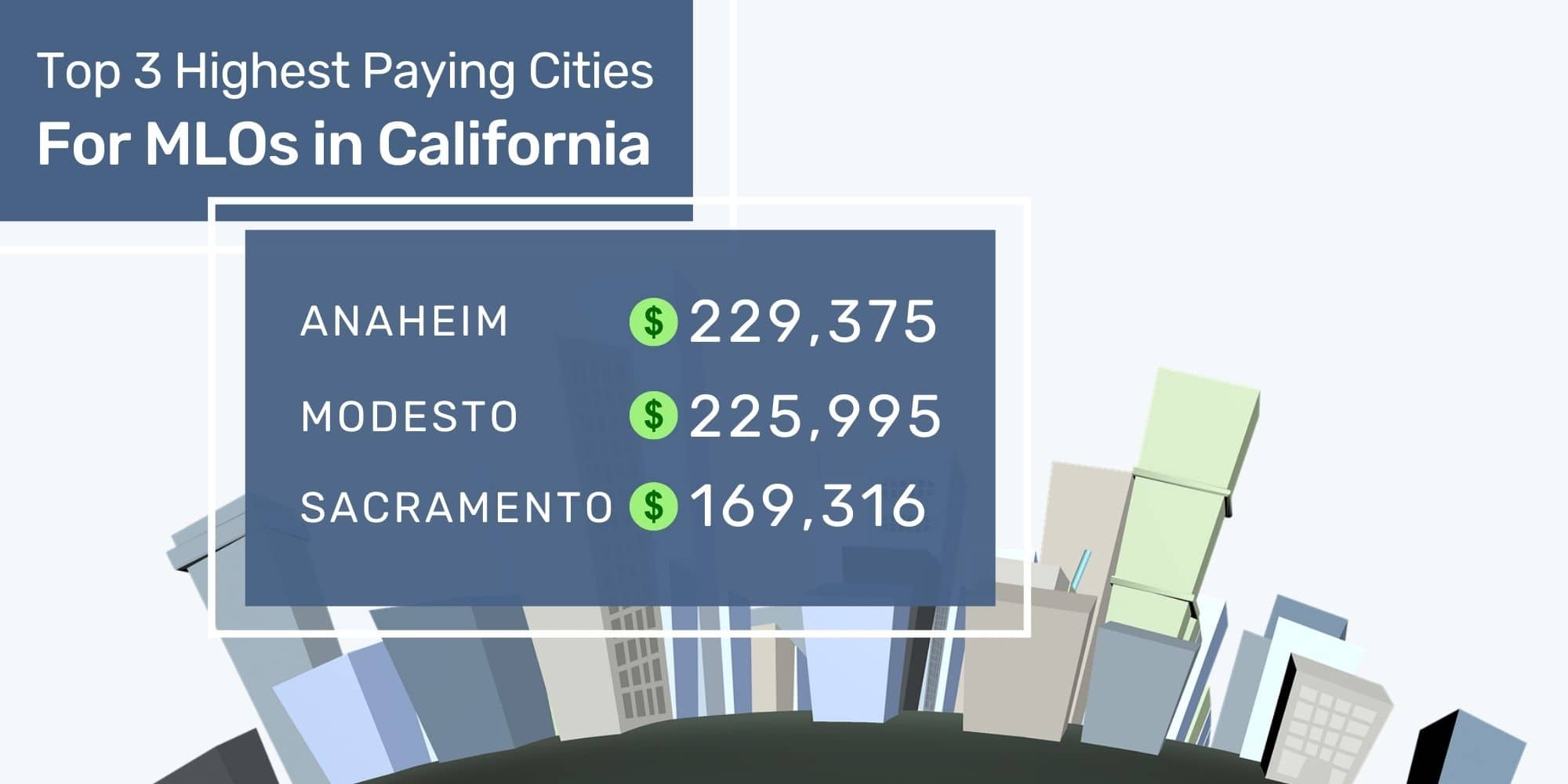 If we map annual earnings to years of experience, we are looking at:
Junior-level loan officer (1 – 2 years – $195,223)

Mid-level loan officer (6 – 9 years – $305,976)

Senior-level loan officer (10+ years – $336,070)
Again, the above numbers tend to fluctuate a LOT as you'll soon see below.
ECityWorks found that an MLO with 2 -3 years of experience can earn a base salary of $87,375 per year. 
Salary.com paints a different picture. It states that the average Mortgage Loan Officer income in California ranges from $40,694 to $60,565.
ZipRecruiter pins your MLO median annual salary at $70,115 or roughly $35 per hour. California performs pretty competently against the national annual average of $74,838.
Based on 650 salaries, Glassdoor concludes that your average base pay in CA as a loan officer will translate to about $157,000 per year.
PayScale maps out MLO income by experience very differently from Indeed. As a loan officer in Los Angeles, for instance, you could be looking at:
1 – 4 years – $58,000

5 – 9 years – $61,000

10 – 19 years – $73,000

20+ years – $80,000
Not too shabby! But remember…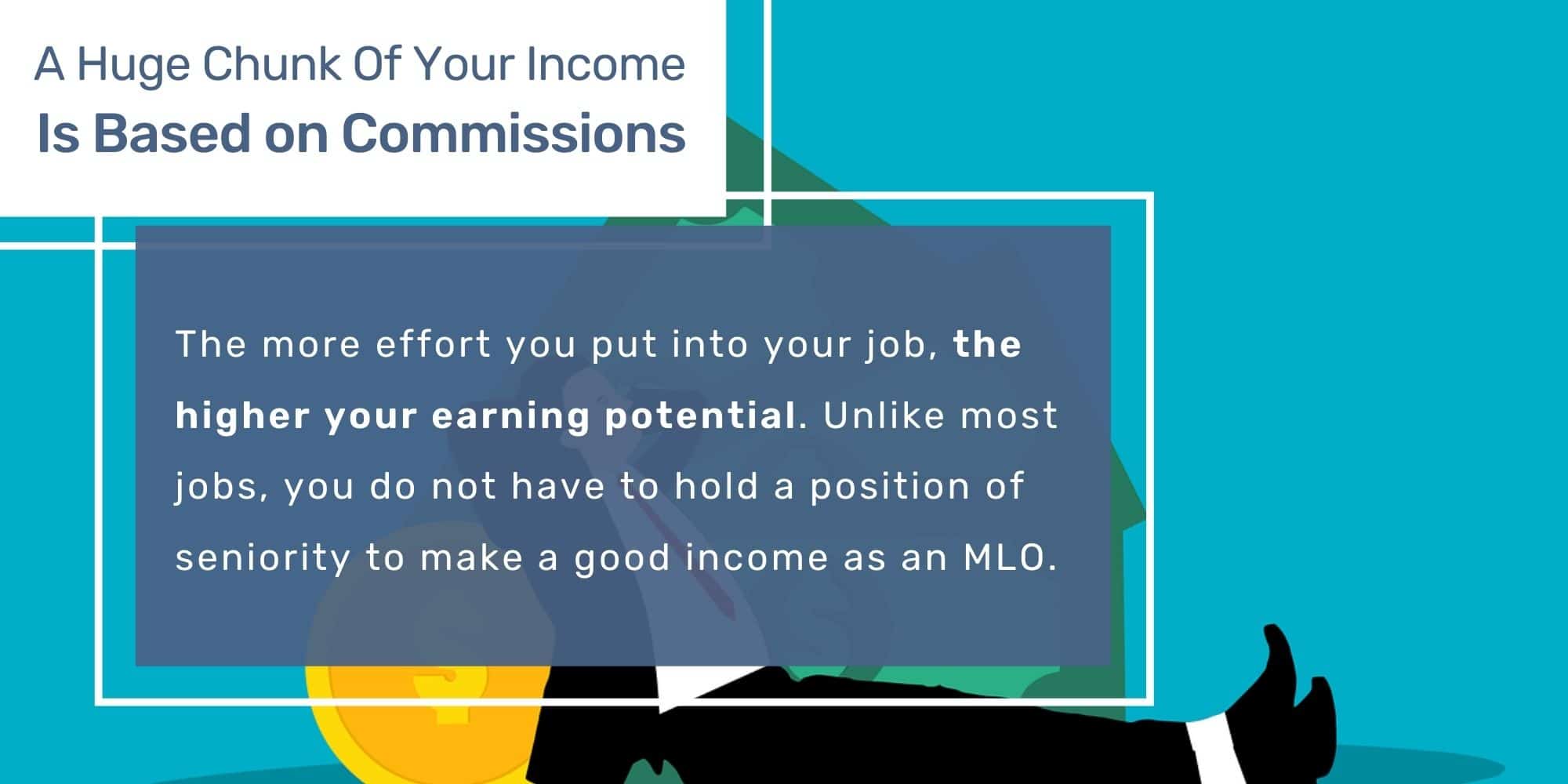 On that note, let's take a look at MLO commissions…
Mortgage Loan Officer Commission in California
Indeed states that MLOs make an annual commission of $56,100 in California.
But how much does a Mortgage Loan Officer in California make per loan?
We found that your commission can range from 0.5 to 2.5% of the loan amount, on the general understanding that you can make more if you generate your own leads.
It is also possible that higher commissions may be offered as incentives if the loan officer sells premium products or reaches a monthly quota.
Here's some interesting info from the trenches…
A Quora user admits that even at a 1.25% commission for a $400,000 loan, you could be pulling in $5,000 per loan. Generally, even inexperienced loan officers could reasonably aim to close 2 such loans per month, putting just their monthly commission earnings at the 10k mark.
Nice! Now let's take a look at the most common benefits offered to loan officers.
Mortgage Loan Officer Benefits in California
Indeed lists the most common benefits for MLOs as such:
Remote working with a flexible schedule

Vision + dental + health + life insurance

401(k) + 401(k) matching

Employee stock purchase plan

Gym membership

Career development assistance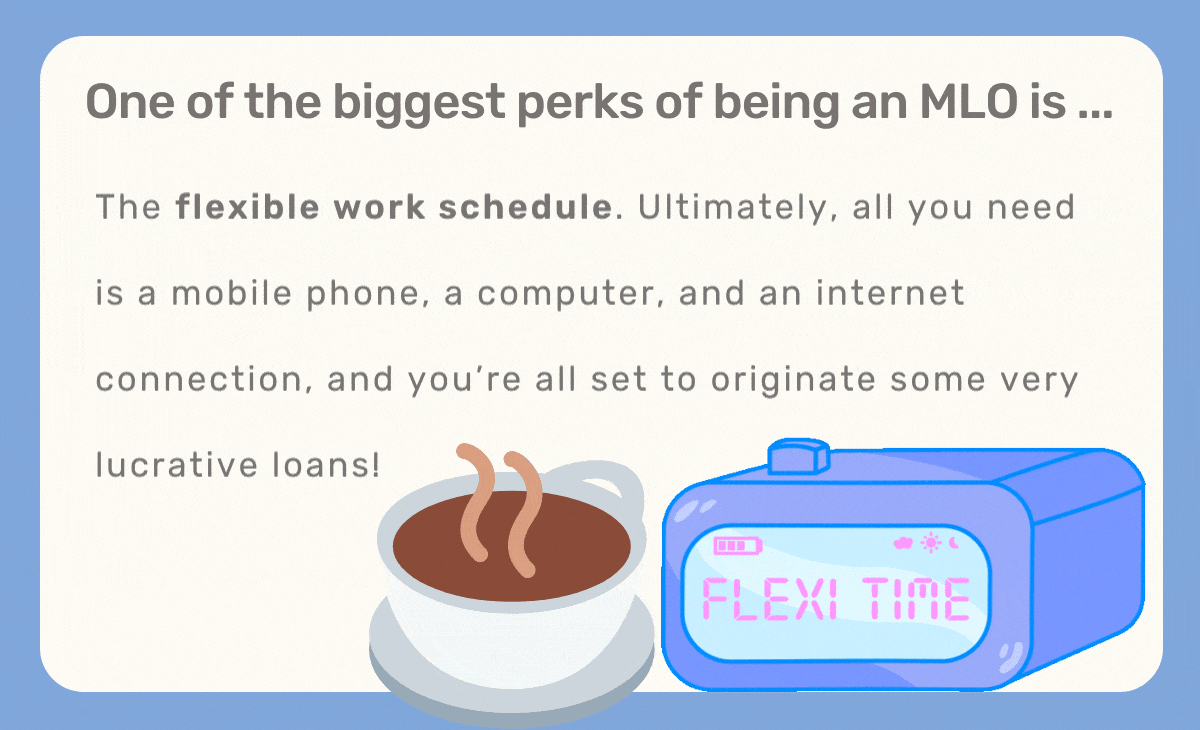 We wouldn't swear by these numbers. The above information simply gives us a glimpse of what to expect as a loan officer in California. For most, these tend to move up or down based on a myriad of factors – not the least of which is your specific location.
Below, we did a top 10 city run-through to pin down how much you can really make.
It's worth a read to make sure you are being fairly compensated!
chapter 3:
Top 10 Highest Paying Cities in CA For Loan Officers
Let's talk numbers! As we've already seen, compensation can vary a lot just based on where you operate as an MLO. In this chapter, we compare the top 10 cities in CA for MLO salaries. 
Sidebar: If you'd like to see how California measures up against other states, check out our article about Mortgage Loan Officer Salaries By State.
Alright, let's hop to it. Scroll to see how you stack up against the benchmark in your city!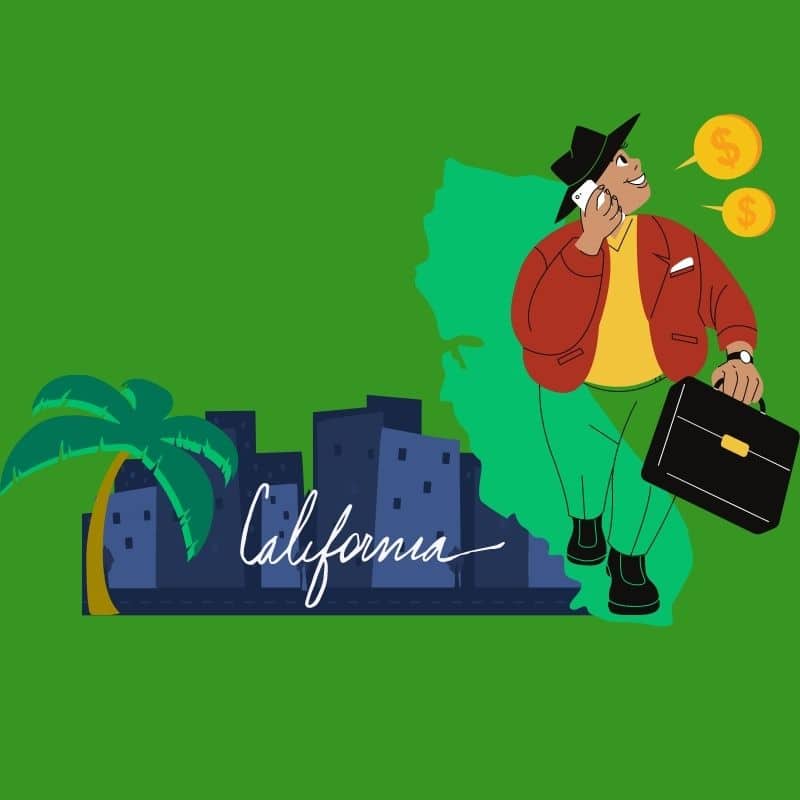 ZipRecruiter cites these top Californian cities as the most profitable for Mortgage Loan Officers. It estimates that loan officers get paid an average of $73,149 per year. That translates to $35.17 per hour or $1,407 per week. 
As it turns out, the highest paying city, San Francisco, has a very bustling job market for loan officers, with tons of companies offering top dollar for the best candidates. In fact, this city beats California's average by 14.2%!
You'll notice there isn't a huge pay gap in the top 10 CA cities. Between San Francisco at #1 and Sacramento at #10, there is just a 7% difference in salary. 
This reinforces the idea that it may not necessarily make sense to relocate to a city with a higher cost of living just to take advantage of a slight bump in salary. 
Fun fact:  Did you know – NMLS does allow you to operate remotely as a loan officer in different cities so long as you have the appropriate license for that state. This is a great way to proliferate your income sources!
Let's take a glance at the top 10 cities. Do you see your city on this list?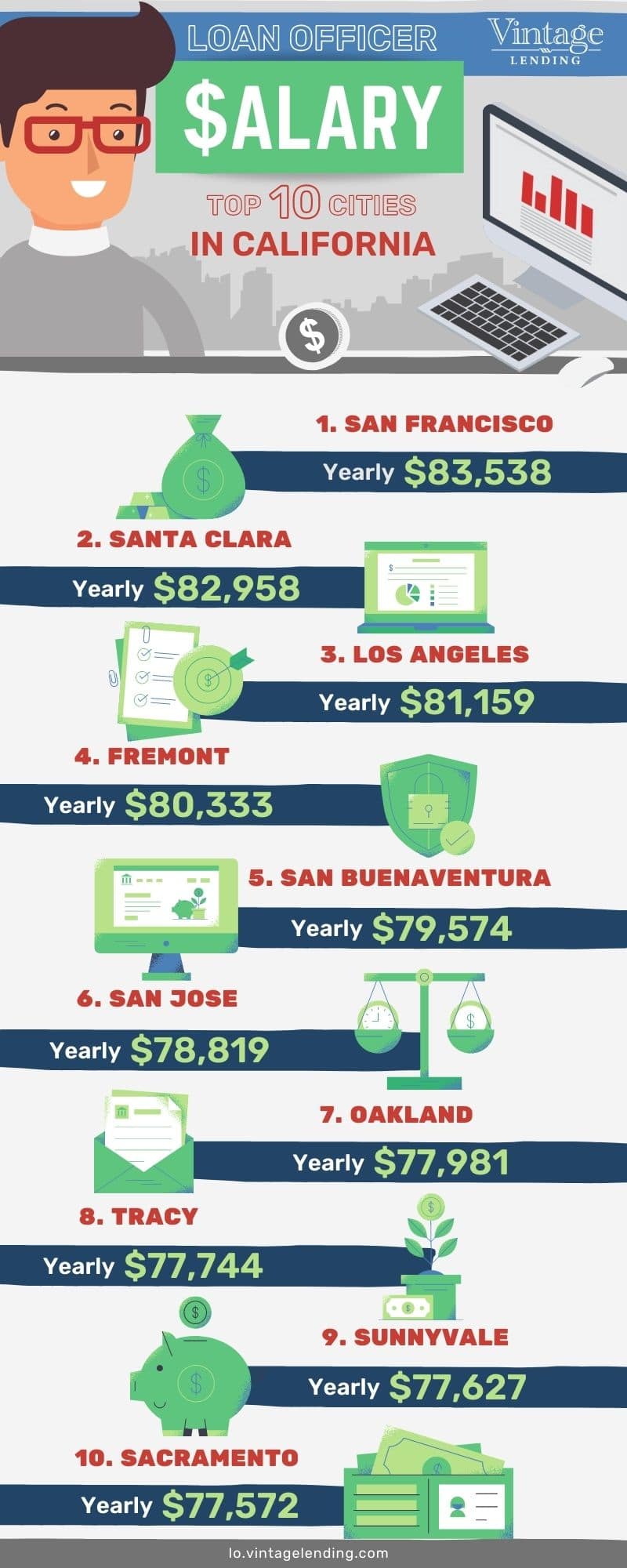 1. San Francisco
Yearly: $83,538
Monthly: $6,962
Weekly: $1,607
Hourly: $40.16
2. Santa Clara
Yearly: $82,958
Monthly: $6,913
Weekly: $1,595
Hourly: $39.88
3. Los Angeles
Yearly: $81,159
Monthly: $6,763
Weekly: $1,561
Hourly: $39.02
4. Fremont
Yearly: $80,333
Monthly: $6,694
Weekly: $1,545
Hourly: $38.62
5. San Buenaventura
Yearly: $79,574
Monthly: $6,631
Weekly: $1,530
Hourly: $38.26
6. San Jose
Yearly: $78,819
Monthly: $6,568
Weekly: $1,516
Hourly: $37.89
7. Oakland
Yearly: $77,981
Monthly: $6,498
Weekly: $1,500
Hourly: $37.49
8. Tracy
Yearly: $77,744
Monthly: $6,479
Weekly: $1,495
Hourly: $37.38
9. Sunnyvale
Yearly: $77,627
Monthly: $6,469
Weekly: $1,493
Hourly: $37.32
10. Sacramento
Yearly: $77,572
Monthly: $6,464
Weekly: $1,492
Hourly: $37.29
chapter 4:
Best Paid Skills & Education for a Loan Officer in California
Good news!
There are several ways to boost your baseline salary as a Mortgage Loan Originator in California.
One of the most straightforward ways is to obtain the right certifications and cultivate the right skillset.
Let's take a closer look at what you need to succeed!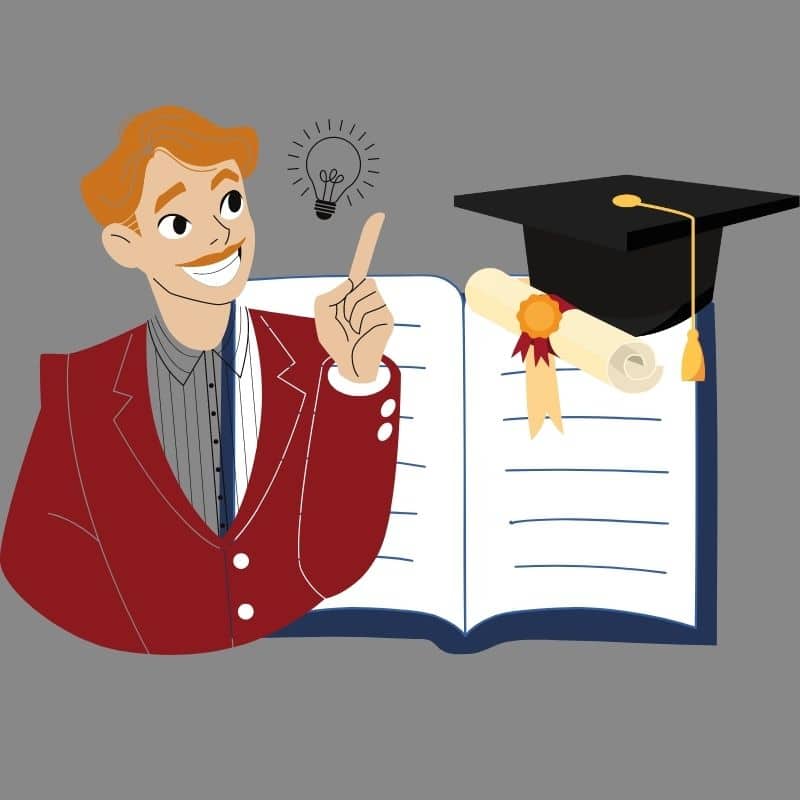 Best Paid Skills For a Loan Officer in California
These 5 soft and hard skills are very important for a loan officer. Learn them like the back of your hand and you'll be all set!
1. Interpersonal skills
The #1 complaint from borrowers about their loan officer is – you guessed it – lack of communication!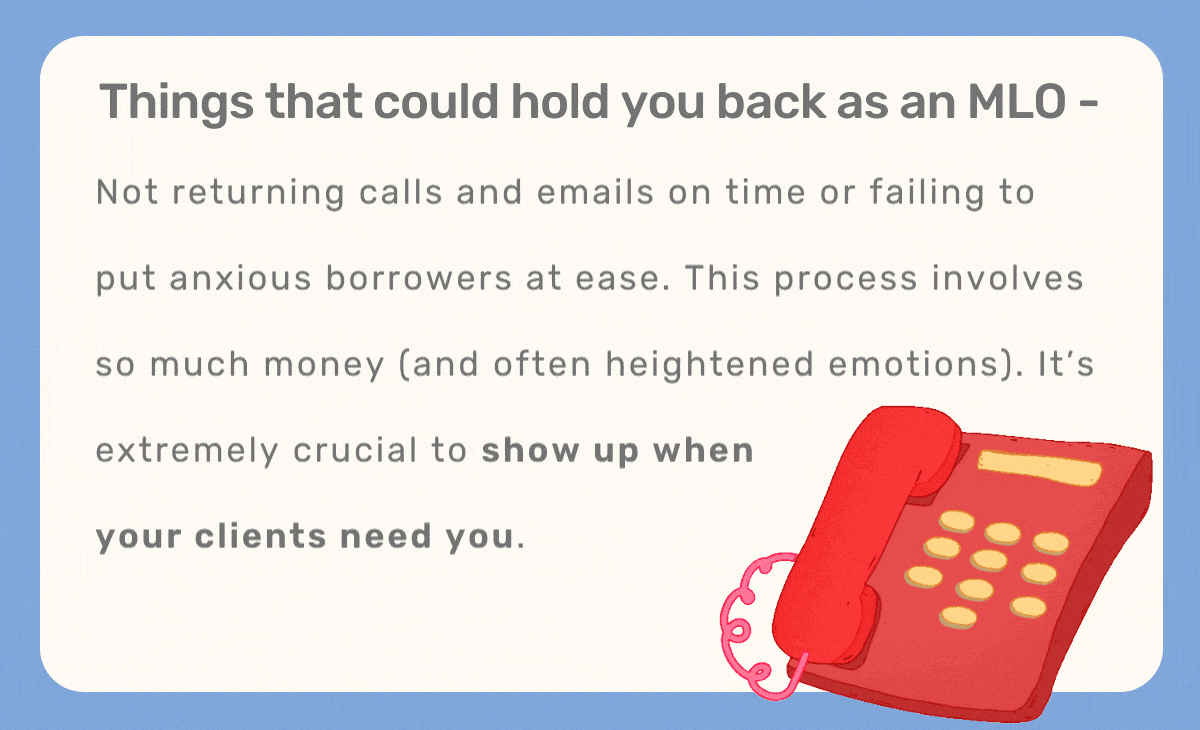 In fact, some loan officers even prefer to over-communicate, especially given that complex paperwork is one of the most difficult steps for home buyers, according to the National Association of Realtors. 
2. Financial and business acumen
As a loan officer, you will be required to absorb tons of information in real-time and make sound financial decisions on behalf of your company and clients. There is a lot riding on your ability to navigate between your financial and business faculties. 
A love for the subject matter is always a given. Aside from that, a certain level of diplomacy should factor into your decisions so as to competently juggle between lots of files, relationships, money, and expectations.
According to Indeed: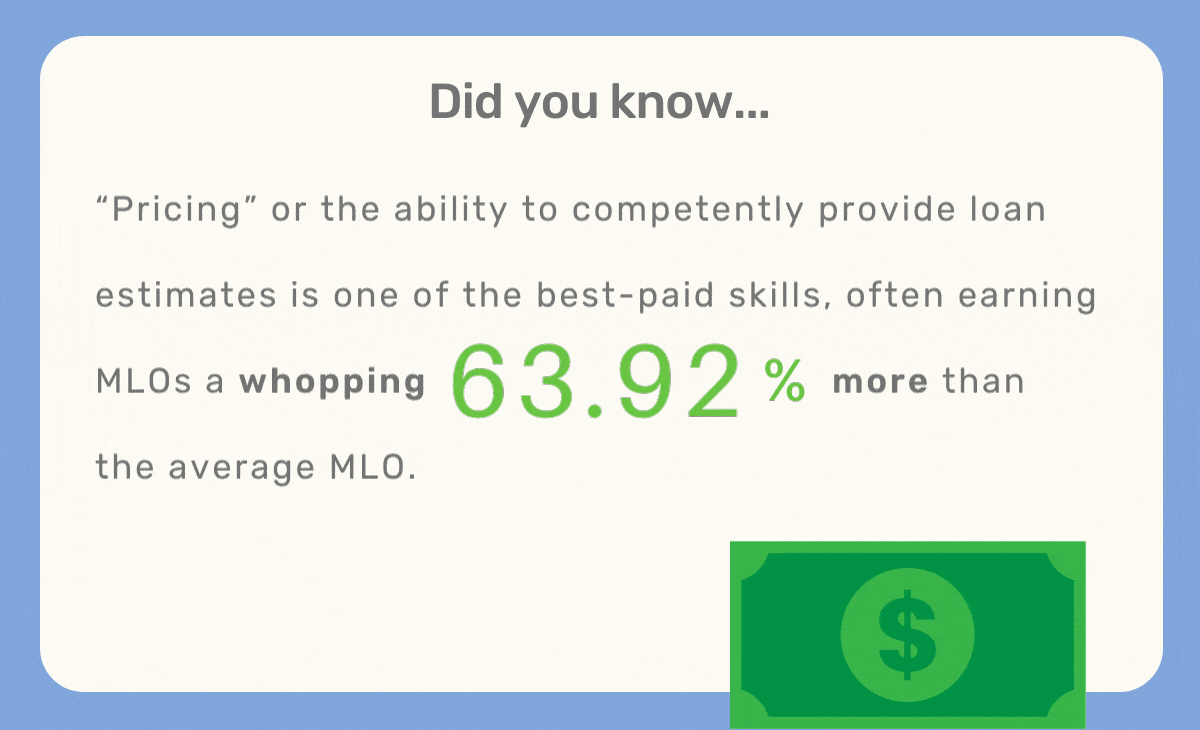 3. Computer literacy
To get your foot in the door, you must be computer proficient, especially in financial software. 
Aside from face-to-face or telephonic client interactions, a LOT of your day-to-day will involve working on a computer to digitally review different mortgage products, analyze client documentation, prepare spreadsheets, stay abreast of your emails, and track the entire lifecycle of the loan to ensure a hassle-free closing.
While many organizations have an orientation period to acclimatize you to their software, it pays (literally!) to have some foundational knowledge.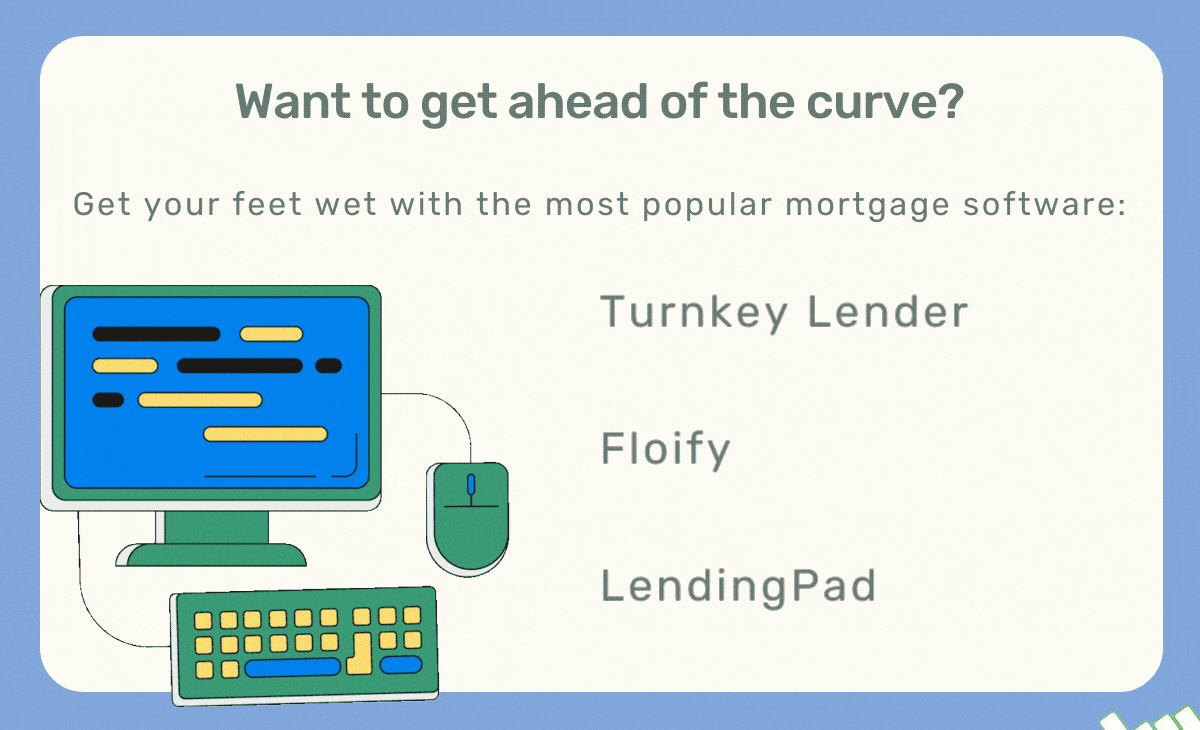 These were the most common software that popped up when we did a little research. Worth looking into!
4. Critical thinking
In the world of finance, recruiters are constantly looking for candidates who can think on their feet.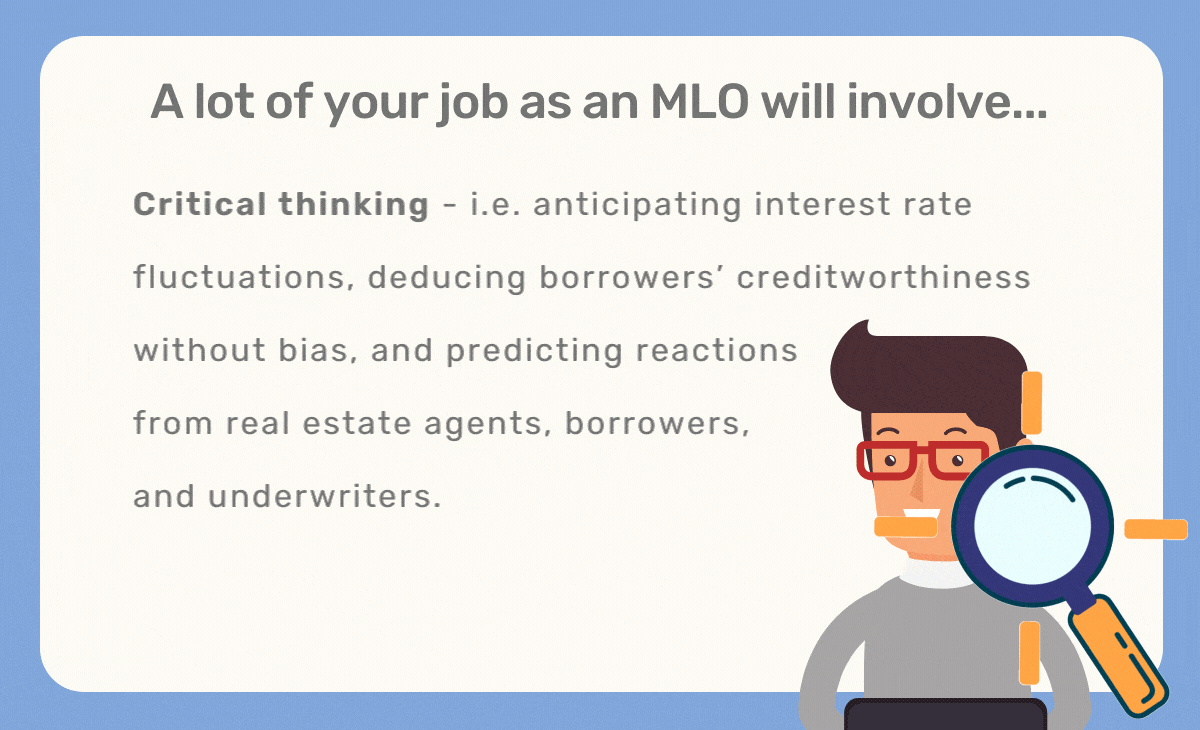 This will help you preemptively put in place the right strategies to deal with hitches.
5. Time management
Something to watch out for – burnout!
As a loan officer, you have to hop from account to account in a single day, take in boatloads of info from multiple sources, and make high-pressure financial calls worth thousands.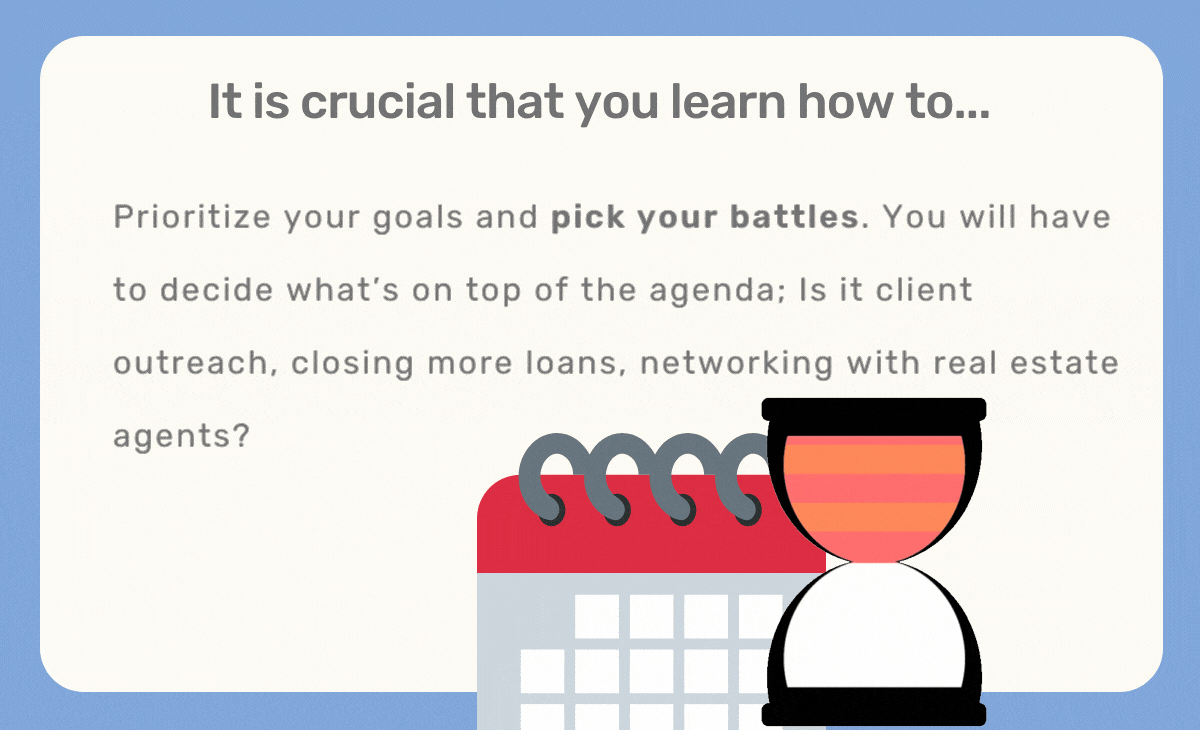 Work out a schedule and all will go well!
Best Paid Knowledge For a Loan Officer in California
You should be well-equipped to tackle the MLO industry head-on in California – so long as you have a sound knowledge of:
FHA loans

Fair lending practices

Residential lending

Refinancing practices

Federal law and regulations

Fraud prevention tactics

Non-traditional lending practices
Don't stress! 
The above will be a part of your official curriculum when you take the mandatory NMLS S.A.F.E test to obtain your Mortgage Loan Originator license in CA. 
More on that below!
Best Paid Qualifications For a Loan Officer in California
At a minimum, you require a high school education or GED to be considered for competitive loan officer jobs in California.
Important: State-licensed MLOs in California MUST complete 20-hours of S.A.F.E. NMLS-approved education to practice legally. This is a standardized test for MLOs across the US. In addition, you must also complete 2 hours of California-specific law that covers things like prohibited practices, financial privacy, and reasonable fees and charges.
For the full process, we suggest reading our article on How to Start Your Career As a Loan Officer in California.
We can't reiterate this enough. It's important to complete your MLO education from an official NMLS school. Click to see the top NMLS schools in California.
Indeed also found that MLOs with a Real Estate Broker license enjoyed an automatic bump in their salary by about 51.70%. Career Explorer meanwhile found that 40% of loan officers chose to complete their certificate or associate degree.
While this isn't mandatory, an undergraduate degree in finance, accounting or economics tends to catch employers' attention because it shows you have the fundamental knowledge needed to excel in the field. Related work experience is a good alternative.
Now that you have your license, let's look at how your career is going to unfold over the next 10 years.
chapter 5:
Your Career Outlook As A Loan Officer in California
Got your shades on?
Your future as an MLO is looking very bright!
California, in particular, is one of the most profitable states to operate as a Mortgage Loan Officer.
ZipRecruiter reveals that 3 out of the 5 highest paying cities for MLOs in the US are located in California; San Francisco, Santa Clara, Los Angeles.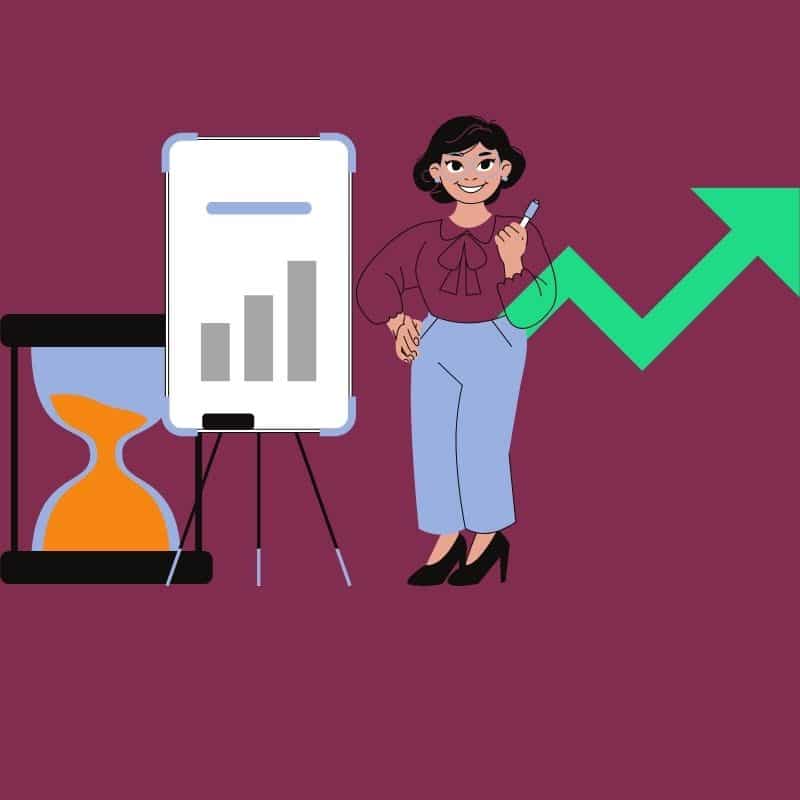 Loan Officer Career Growth Over the Next 10 Years
The Bureau of Labor Statistics (BLR) revealed that the employment growth for loan officers may slow down a little because of the rise in automation software. However, there should be no shortage of jobs for aspiring MLOs as many of the current players will either switch occupations or retire.
The real estate loan officer profession ranks at #8 on Best Business Jobs. Apart from other factors, this ranking is based on the projected number of openings between now and 2029 in this field. BLR backs this up by asserting that over 24,200 loan officer jobs should open up each year.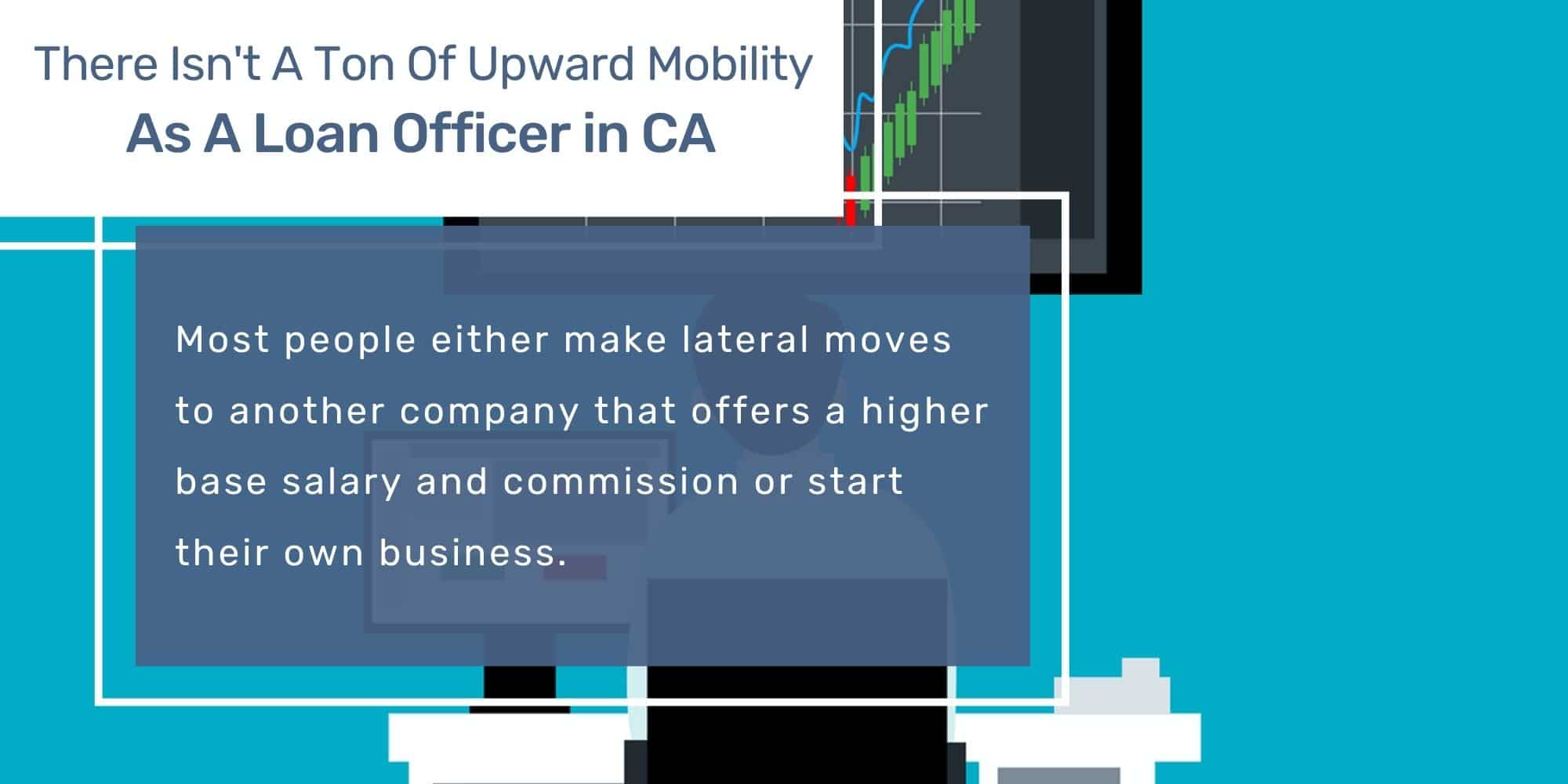 To that end, work flexibility is a huge bonus with Mortgage Loan Origination. Most loan officers are able to curate their own schedule, allowing them to build their book of business as a side hustle.
How to Boost Your Salary As A Loan Officer in California
The Economic Research Institute found that by 2026, the average real estate loan officer salary can grow by as much as 16%.
To take advantage of the uptick in salaries, loan officers who come with their own network of clients attract far better job opportunities.
Remember, the best-paid skills in this field are negotiation and financial acumen – two things that come with experience. In the first 4 years of your career, focus on building these core skills. If you do so, your subsequent job may well come with a six-figure price tag.
To negotiate a more attractive salary, focus on these 3 tips:
1. Nurture Your Clientele – Past and Present!
Personal connections are key. Reach out to your clients to congratulate them personally after closing an application.
Even small gestures like checking in with them on birthdays or anniversaries, or sending them a housewarming gift when they move in could make all the difference. Nielsen shows us that 92% of consumers make buying decisions purely based on referrals. 
2. Network Internally
Real estate agents are a valuable source of business for MLOs. Develop relationships with five or six promising up and comers in the area (established agents may already have a go-to loan officer), and maintain an ongoing rapport with them. 
Send them crucial info about home loan stats, market trends, and interest rate insights. Once you're top of mind, they will automatically begin referring clients to your business. 
3. Cultivate Positive Online Reviews
Happy customers are the best advertisers! Don't be shy to ask your clients to leave you a review on Google, Yelp, or on social media. Search Engine Land reveals that a whopping 88% of customers make key buying decisions based on online reviews. 
We strongly recommend checking out our article on How to Boost Your Commission Split as an MLO by 150%! Very few loan officers use these techniques. Get ahead of the curve!
Changed Your Mind? Similar Career Options for MLOs
Raise.me cited the following high-paying professions as viable career paths for loan officers. We've also added the median annual salary figures in California for these jobs: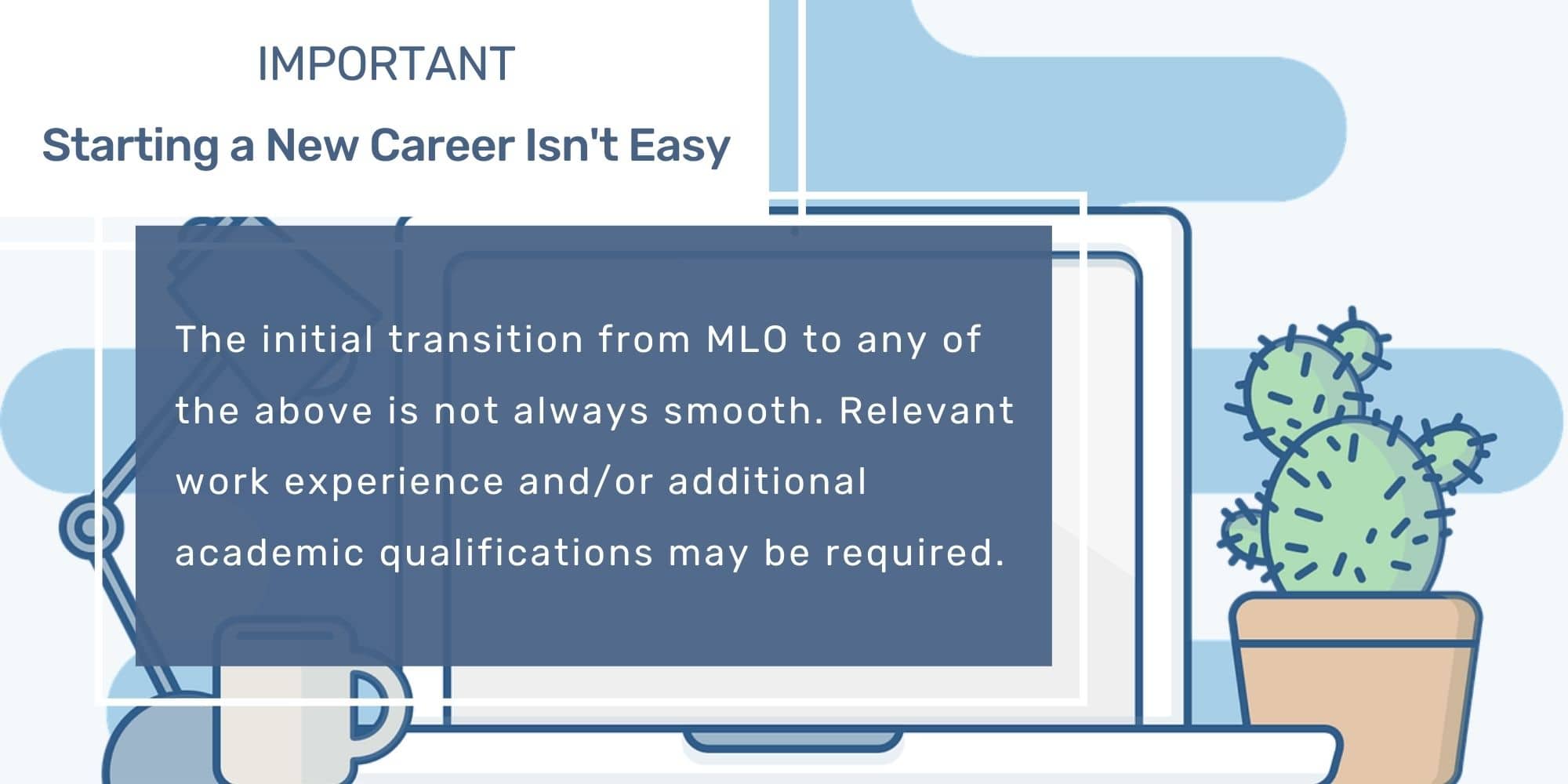 We suggest giving it some serious thought before you jump ship. 
Very rarely will you come across a career like Mortgage Loan Origination that is stimulating, both financially and emotionally!
Congrats - You're On The Cusp Of A Very Exciting Career!
The life of a Mortgage Loan Originator is meant for self-starters. If you love a good challenge and do not shy away from hard work – the financial reward will speak for itself. 
Remember, in this industry, your income is only limited by your imagination. 
There are so many ways to grow your paycheck – prospect for clients yourself, develop a strategy to close more loans per month, build a strong network of referrals, and so much more!
Our final bit of advice? Don't lose your passion and don't give up. A six-figure income is yours for the taking so long as you stick it out and make timely career moves as suggested in this article. 
Happy trails in your MLO career!
Don't forget to leave a comment below. We love hearing from you.