Mortgage Loan Officer Salary
In Florida
The verdict's in, folks.
Mortgage Loan Officers (MLOs) in Florida enjoy very cool paydays.
You can walk away with an annual paycheck of $141,661 as a loan officer in The Sunshine State, according to Indeed.
In fact, Florida's housing market is one of the hottest in the US!
But remember, your salary can vary a lot based on your skills and city.
Start scrolling to discover: Your salary, commission, and benefits as a loan officer, and the highest-paying cities for loan officers in Florida.
Let's hop right in!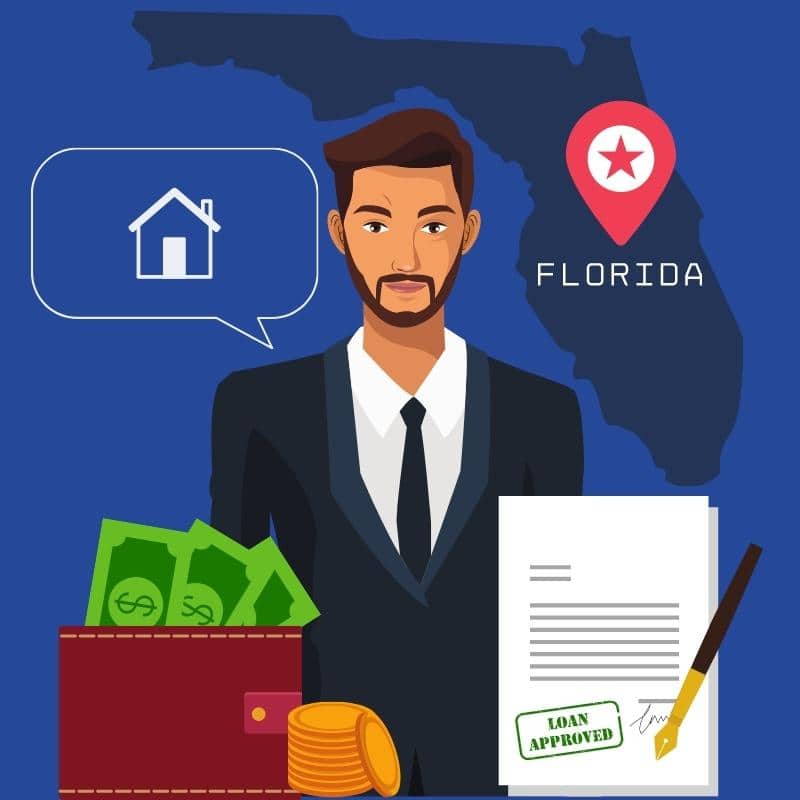 chapter 1:
Your Mortgage Loan Officer Job Profile in Florida
A day in the life of an MLO is…busy. To say the very least!
You will be required to sift through tons of financial documentation, calculate applicants' repayment risk, and make breakneck decisions in the interest of your clients and the company. 
Sounds like a complex gig but, hey, don't be nervous. A little prep can go a long way. 
Scroll to see what's in store for you!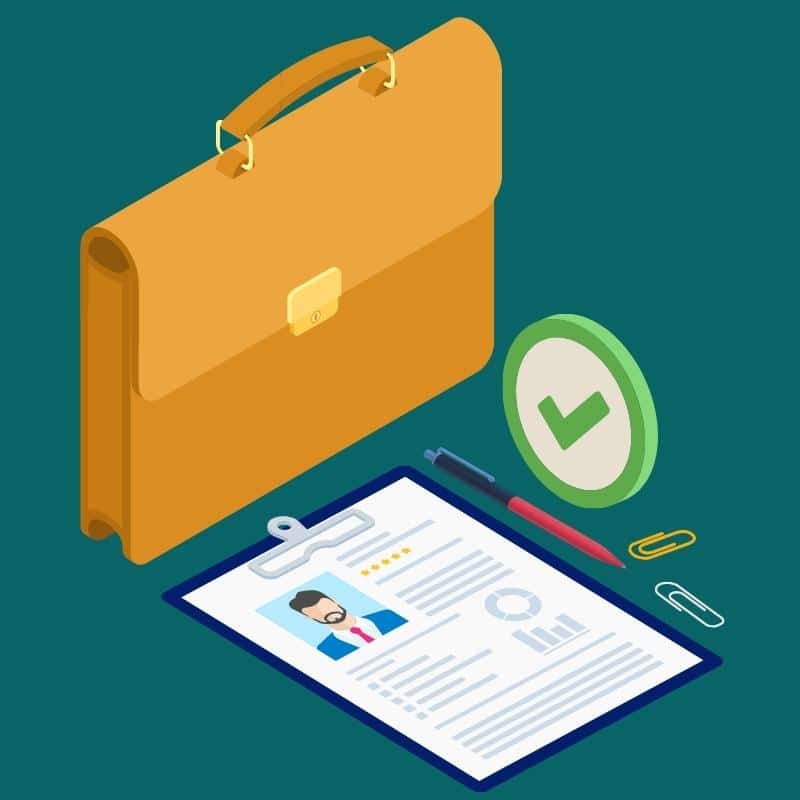 A Day in The Life of a Mortgage Loan Officer
A Mortgage Loan Officer is an individual who oversees the process of real estate loans from initiation to closing. Loan officers enjoy mile-a-minute days with a lot of different responsibilities that test their business mettle to the max! 
That said, it's a very fulfilling career, one that puts you in front of people from all walks of life. A passion for human relations is always a plus. 
Added to that, you should have the ability to take the challenges of the job in your stride.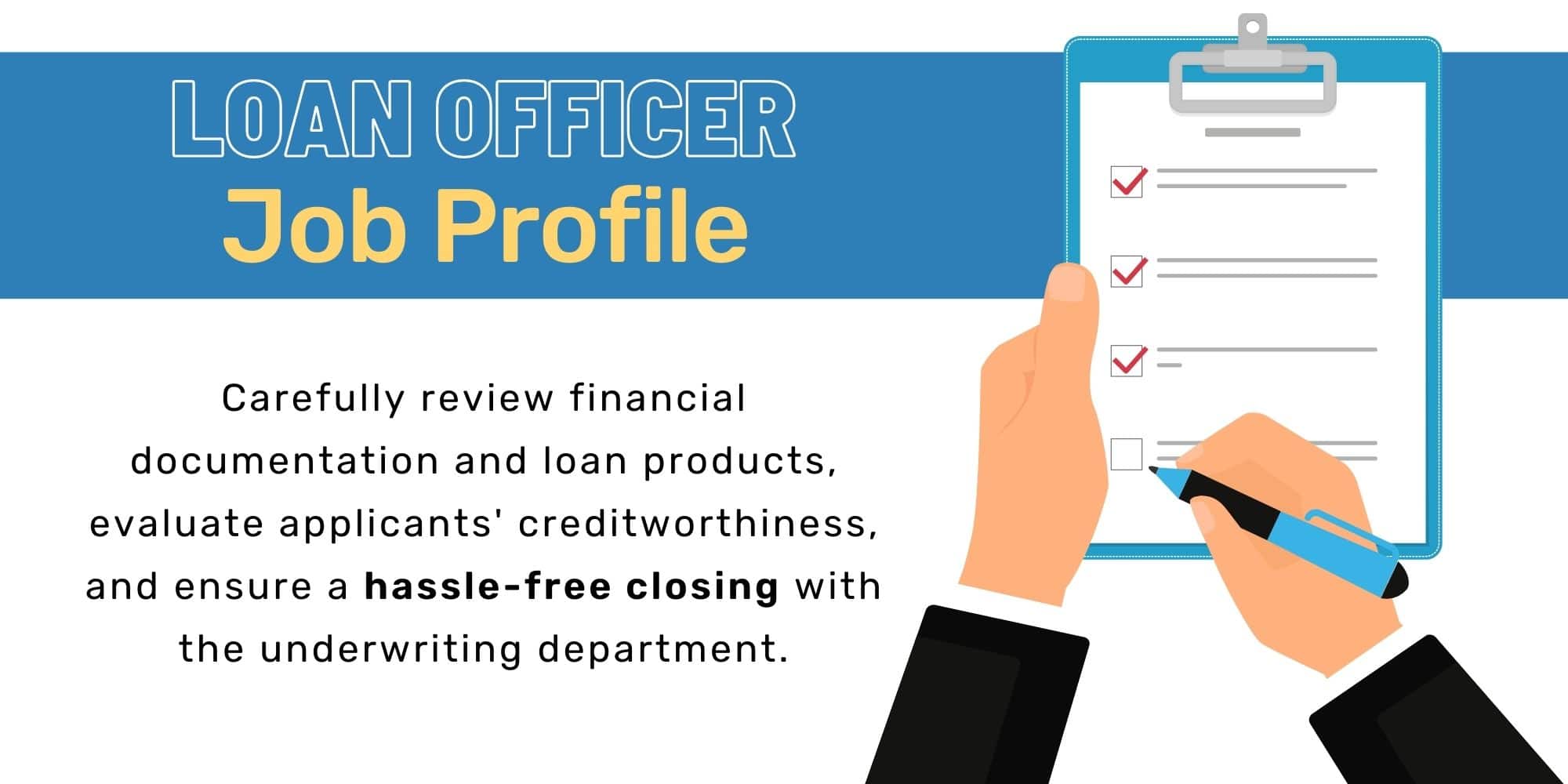 The Job Description of A Loan Officer:
Interact with loan applicants to assess their profile, needs, and budget

Gain a comprehensive understanding of the loan products you represent

Assess the applicants' eligibility and repayment risk to be able to recommend the right products

If they aren't eligible, explain to them the drawbacks in their application leading to the rejection

Educate applicants on their lending product, policies, regulations, fees, including establishing a good repayment plan

Regularly organize and monitor financial records in a timely manner

Ensure loan applications adhere to industry standards and are submitted on time

Provide ongoing support to the applicant to resolve questions and concerns on time

See the application through to the underwriting department to ensure a smooth closing

Regularly polish up on your knowledge of financial products, industry changes, market conditions, competitor moves, including local, state, and federal MLO regulations
One thing is guaranteed. You'll never see a dull moment as a loan officer. This profession will keep you on your toes, and best of all, the financial payoff is incredibly worth it – as we'll soon see!
But first, let's take a look at…
The Best Qualities For a Mortgage Loan Originator
You may choose to work solo or cast your lot with a smaller agency or a large financial institution like a bank. 
Whatever path you go down, it's important to remember one thing: Intrapreneurial skills are key to a successful MLO career.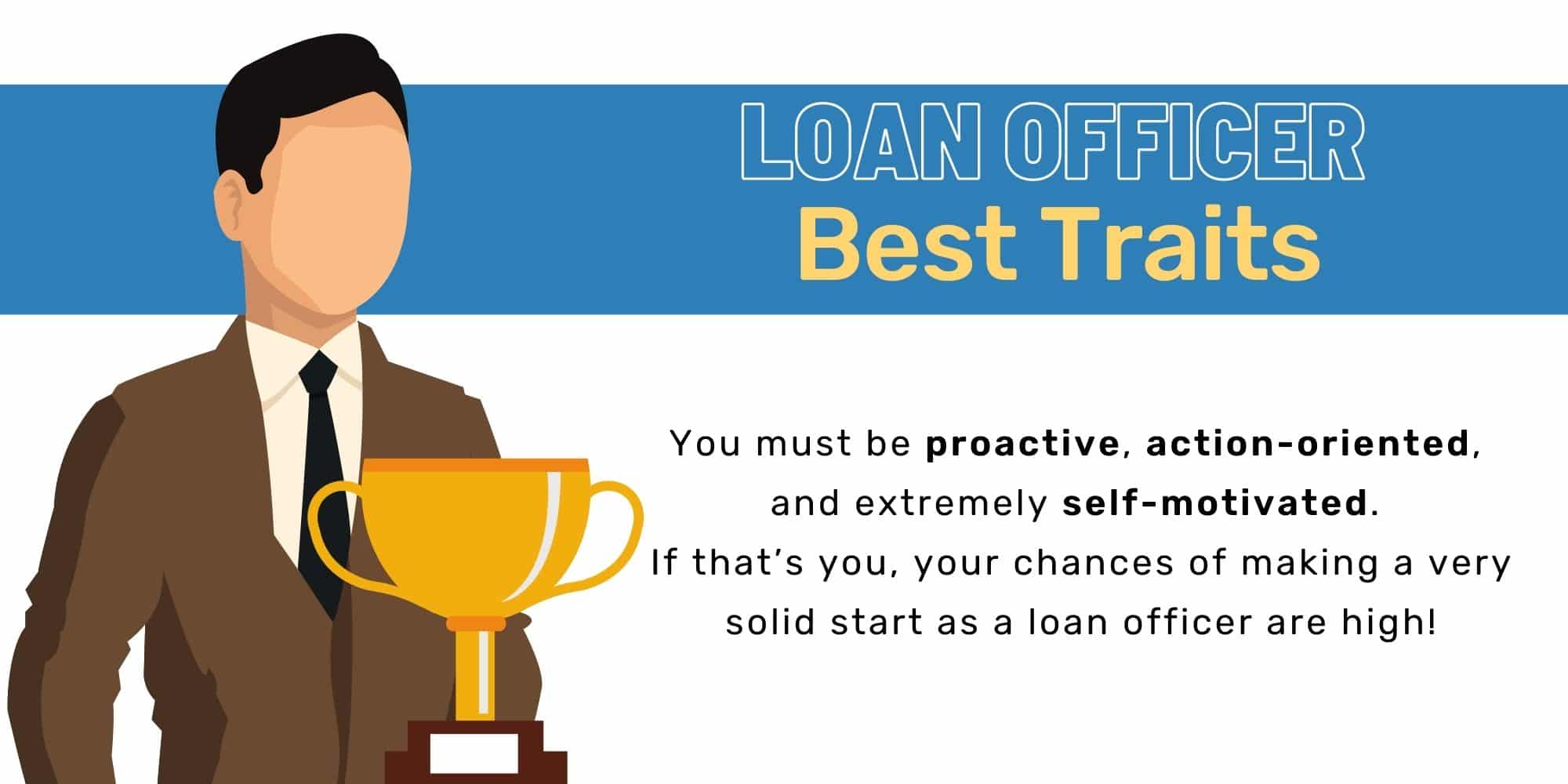 Apart from this, useful on-the-job skills include:
Efficiency

, especially as that pertains to having a very structured schedule as you will be juggling multiple applications, people, and products

Responsiveness

as it is imperative you respond to applicants on time and communicate complex loan contracts in a way they understand

Curiosity

as you will constantly be tasked with updating your knowledge and skill set to keep pace with the financial world
Got all these in your toolbox? Nice, you're (almost) set.
Your Salary Progression:
Junior → Intermediate → Senior MLOs
Junior loan officers (1 to 3 years of experience) often work alongside intermediate (4 to 9 years of experience) and senior loan officers (10+ years of experience) to identify compatible lending products for applicants, and walk them through the loan process, as well as collect and verify financial documentation.
ZipRecruiter reveals some very telling numbers as far as your salary is concerned:
How much do junior-level loan officers make in Florida? Junior entry-level loan officers are looking at an average annual salary of $36,913 or roughly $18.46 per hour. 
How much do intermediate loan officers make in Florida? Intermediate loan officers pull in an annual paycheck of $56,861 per year which translates to an hourly rate of $28.43.
How much do senior-level loan officers make in Florida? Senior loan officers make a pretty decent income of $64,300 as an annual average or $32.15 per hour. However, this number could even go to $93,688 based on how strategically you handle your business.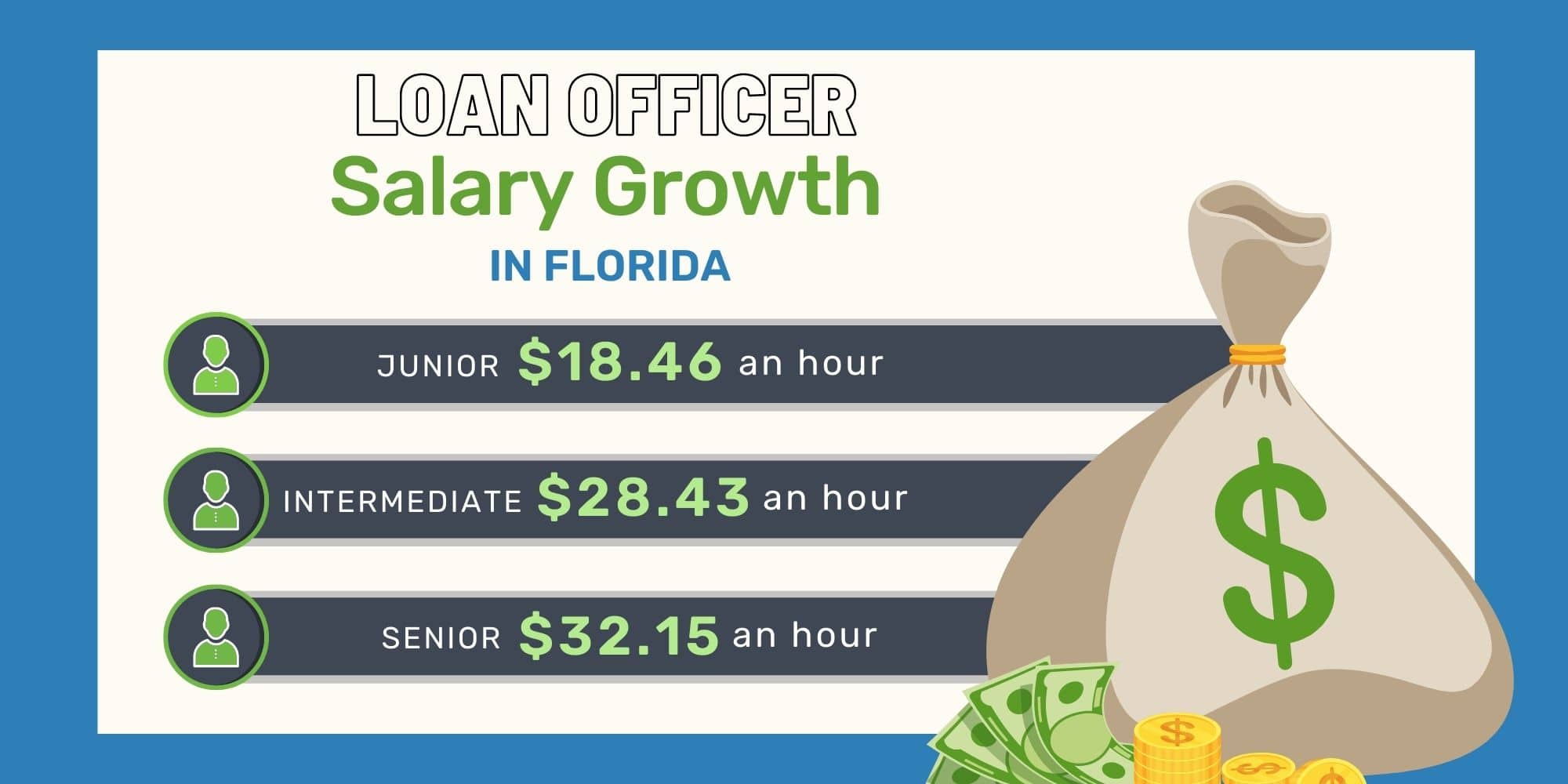 As your career progresses, you'll notice that there isn't necessarily a huge difference in job responsibilities. 
Apart from a modest hike in pay as you rise through the ranks, the best way to curate a really successful career is to develop your own book of business, i.e. prospect for clients on your own!
Don't stress. We'll cover that in detail a little later!
chapter 2:
Your Mortgage Loan Officer Salary in Florida
As a Mortgage Loan Officer in Florida, you could walk away with a very hefty paycheck. Even at a commission of 1% per loan – which is the industry average – you could be looking at $7,000 on a single mortgage application!
Get this – Best Accredited Colleges found that loan officers make a much better living than most other players in this field including real estate agents.
They pull in a notably higher salary AND enjoy a very fertile job growth projected to be at 8% over the next decade.
Let's get down to brass tacks. How much can you make as a loan officer in Florida? 
Keep scrolling!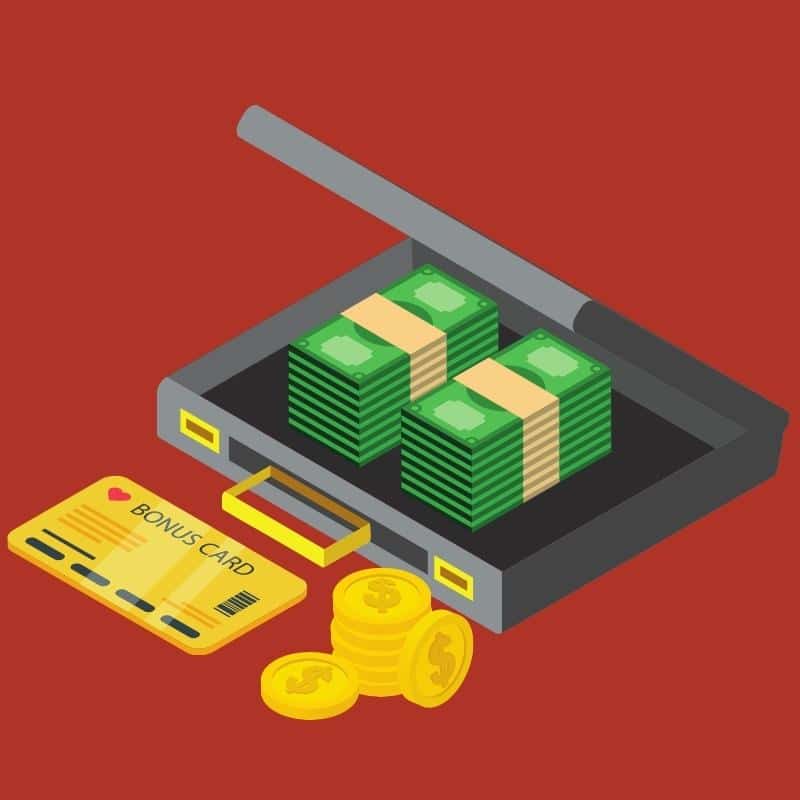 Mortgage Loan Officer Salary Structure in Florida
Your salary structure as a loan officer could vastly vary based on your company and job performance. 
For instance, a few loan officers make a base salary, a commission on each loan and also enjoy company benefits like insurance, a 401(k), paid time off, etc. However, a majority are reliant solely on the commission they make per loan. 
Naturally, if you fall in the latter category, it's imperative to know how to optimize the number of loans you originate per month. You're essentially being compensated for your sales performance.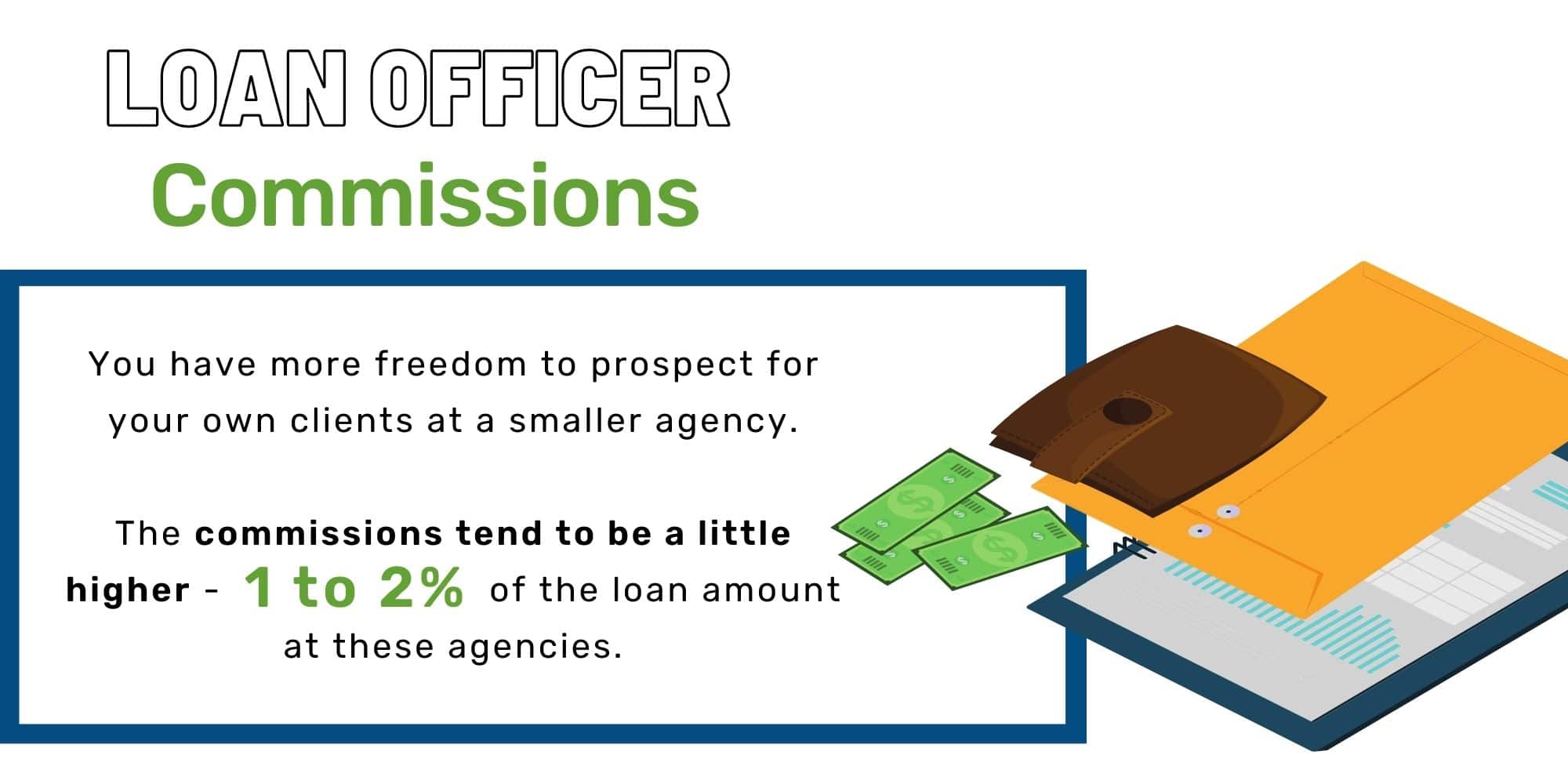 Alternatively, if you work at a national bank or credit union, clients come in like clockwork, leaving you to solely focus on closing instead of prospecting. However, while larger institutions pay a base salary, the commission split is extremely modest – around 0.2 to 0.3% per loan.
There's so much more to this though. We recommend our article on Loan Officer Commission Splits and how they really work.
Mortgage Loan Officer Salary in Florida
As Indeed already pointed out: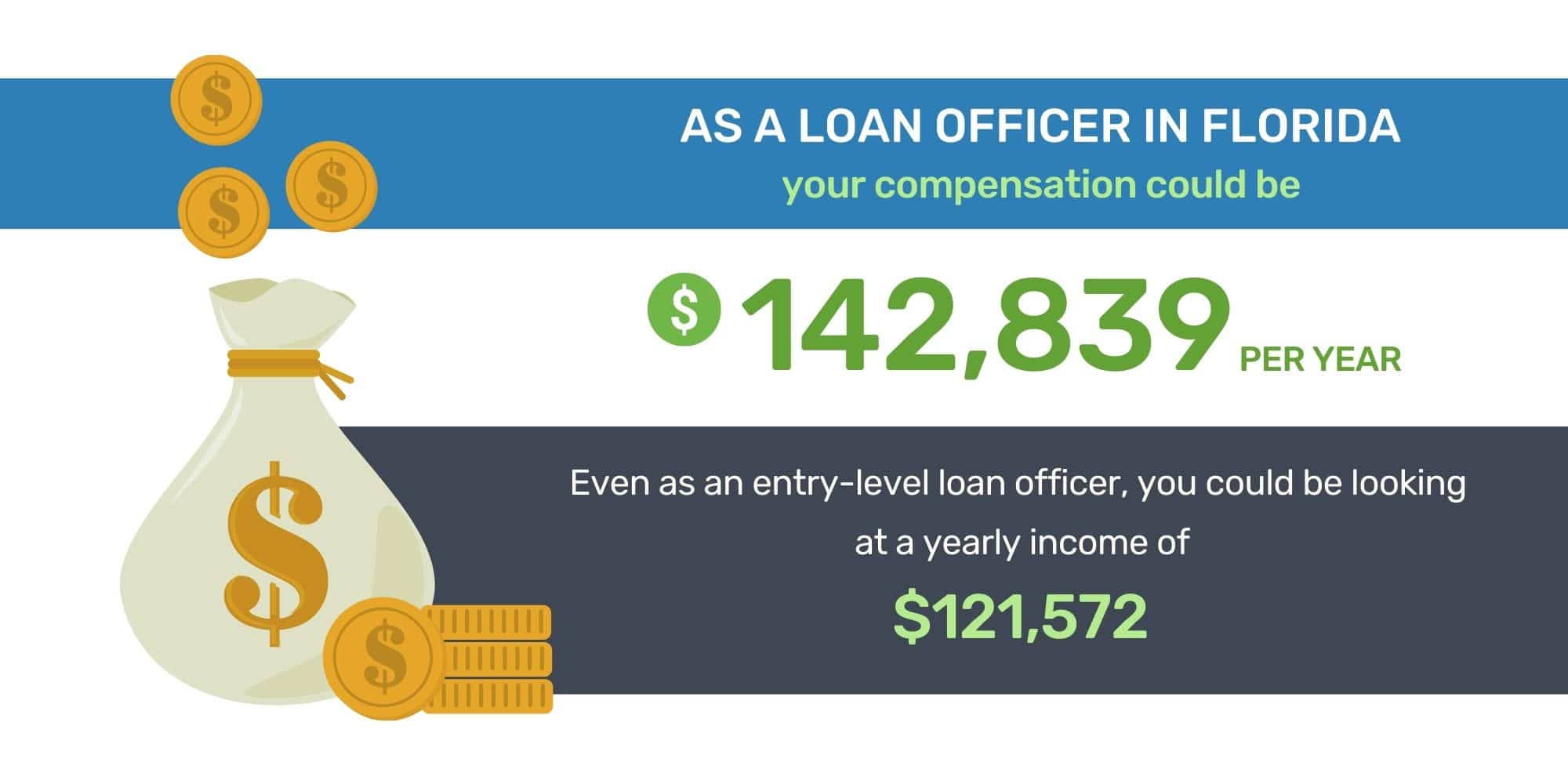 Not too bad at all!
Salary.com chimes in with some very different numbers. As an MLO in Florida, you could pull in a yearly wage of $42,565. Bear in mind, this doesn't necessarily factor in your commission earnings. 
ZipRecruiter puts it a little differently. You could pull in an annual income of $59,186 as a loan officer in Florida. That translates to about $28.45 an hour. 
These figures drastically fluctuate based on your city. For instance, in Bonita Springs, you could earn as much as $75,894 per year. In Miami, your annual earnings could hang around $69,226.
Career Explorer pins your average yearly income at $67,760 as a loan officer in Florida. However, it also reveals that the top earners can easily make a six-figure income – as much as $134,700!
Looking at a more detailed breakdown of your salary by experience, we have:
Top-level loan officer income in Florida | $134,700 per year

Senior-level loan officer income in Florida | $93,660 per year

Mid-level loan officer income in Florida | $67,760 per year

Junior-level loan officer income in Florida | $47,790 per year

Starting-level loan officer income in Florida | $35,580 per year
Do these numbers check out? Let's look at what the Economic Research Institute has to say. Even as a mid-level or intermediate loan officer, you could earn as much as $62,216 – which pretty closely corroborates the above figures!
In addition, you could also be looking at an annual bonus of $2,159. Loan officer bonuses are usually calculated on a quarterly or yearly quota.
Once the loan officer has crossed a certain dollar value – for instance, 2 million dollars in loans originated – they may unlock a bonus percentage on every loan generated thereafter.
Salary Expert found that: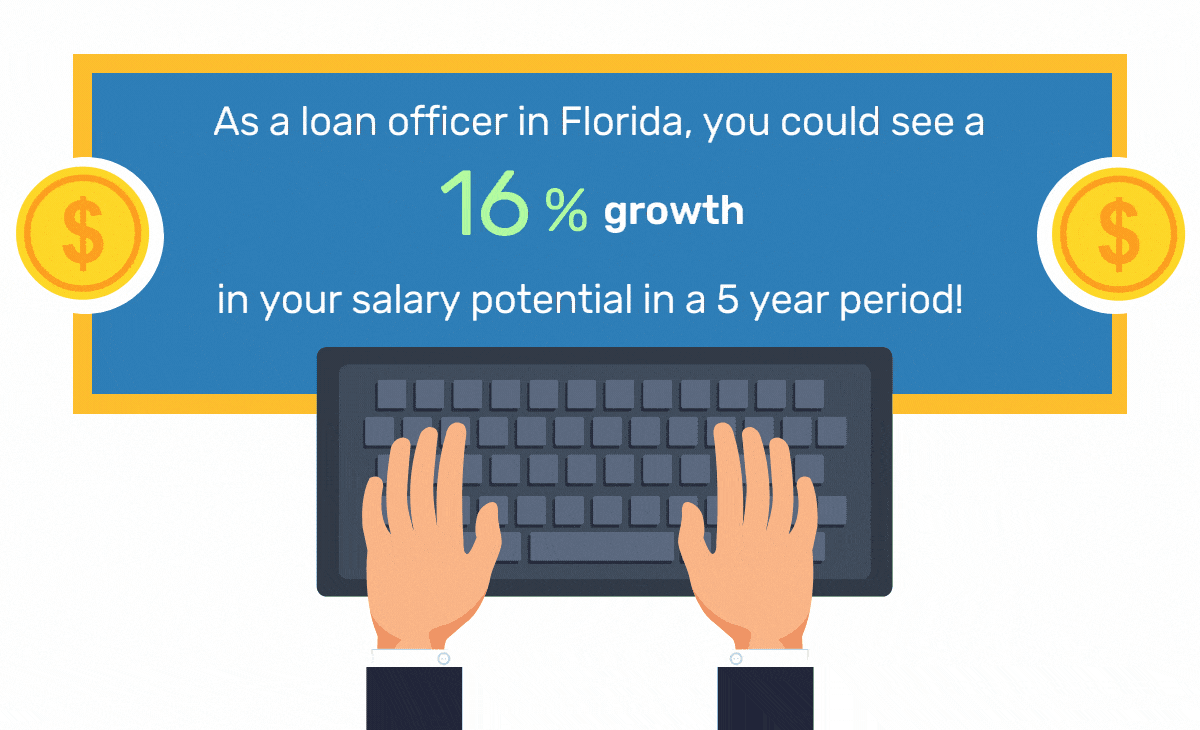 PayScale did a deep dive of your loan officer earnings by city in Florida and found that you could make as much as $90,000 per year in Miami.
In Tampa, on the other hand, your MLO salary could be more modest – $46,750 annually. Similarly, in Fort Lauderdale, you could earn a base salary of $45,500 while dispensing your loan officer duties.
Curious to see the top 10 highest-paying states in FL for loan officers?
Keep scrolling – you do NOT want to miss this!
Mortgage Loan Officer Commission in Florida
It's true…
Your commission as a loan officer could make the difference between a low-paying career and a VERY successful one!
How much commission do loan officers make in Florida? This varies based on the lending institution you work for, but it's safe to pin your commission earnings at around 0.5 to 1.2% per loan originated. For a $1,000,000 mortgage, you could pull in as much as $10,000!
Let's look at what the experts are saying…
Indeed states that your average annual commission as an MLO in FL hangs around the $9,250 mark. This is a modest figure and the earning potential is definitely much higher if you develop a good strategy to close more loans per month.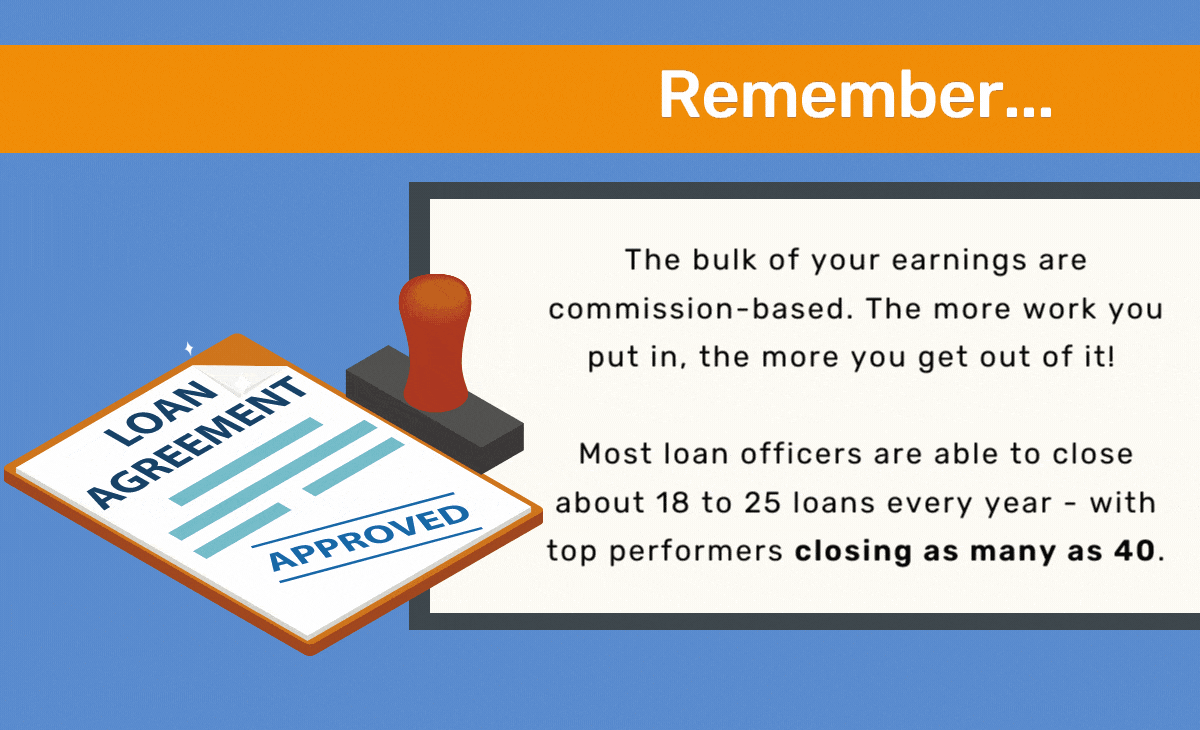 Focus on your salesmanship and communication skills and you should have a very profitable career even within 5 years!
Mortgage Loan Officer Benefits in Florida
While this is not concrete info to hang your hat on, it does give you a ballpark idea of what you can expect at a larger institution in terms of MLO benefits.
Indeed reveals that you may be able to enjoy:
Accidental Death and Dismemberment (AD&D) Insurance

Dental Insurance

Disability Insurance

Vision Insurance

Life Insurance

Health Insurance

Pet Insurance

Work from home | Flexible schedule

401(k) matching | 401(k)

Wellness program
That's a very encouraging list! 
But to get an idea of how these figures perform in the real world, let's take a quick look at the…
Salary and Job Satisfaction For Loan Officers in Florida
It's an open secret: 
Even though Mortgage Loan Officers work long hours, they experience a sense of overwhelming pride in helping so many people fulfill a life-long dream – owning a home!
According to Best Business Jobs: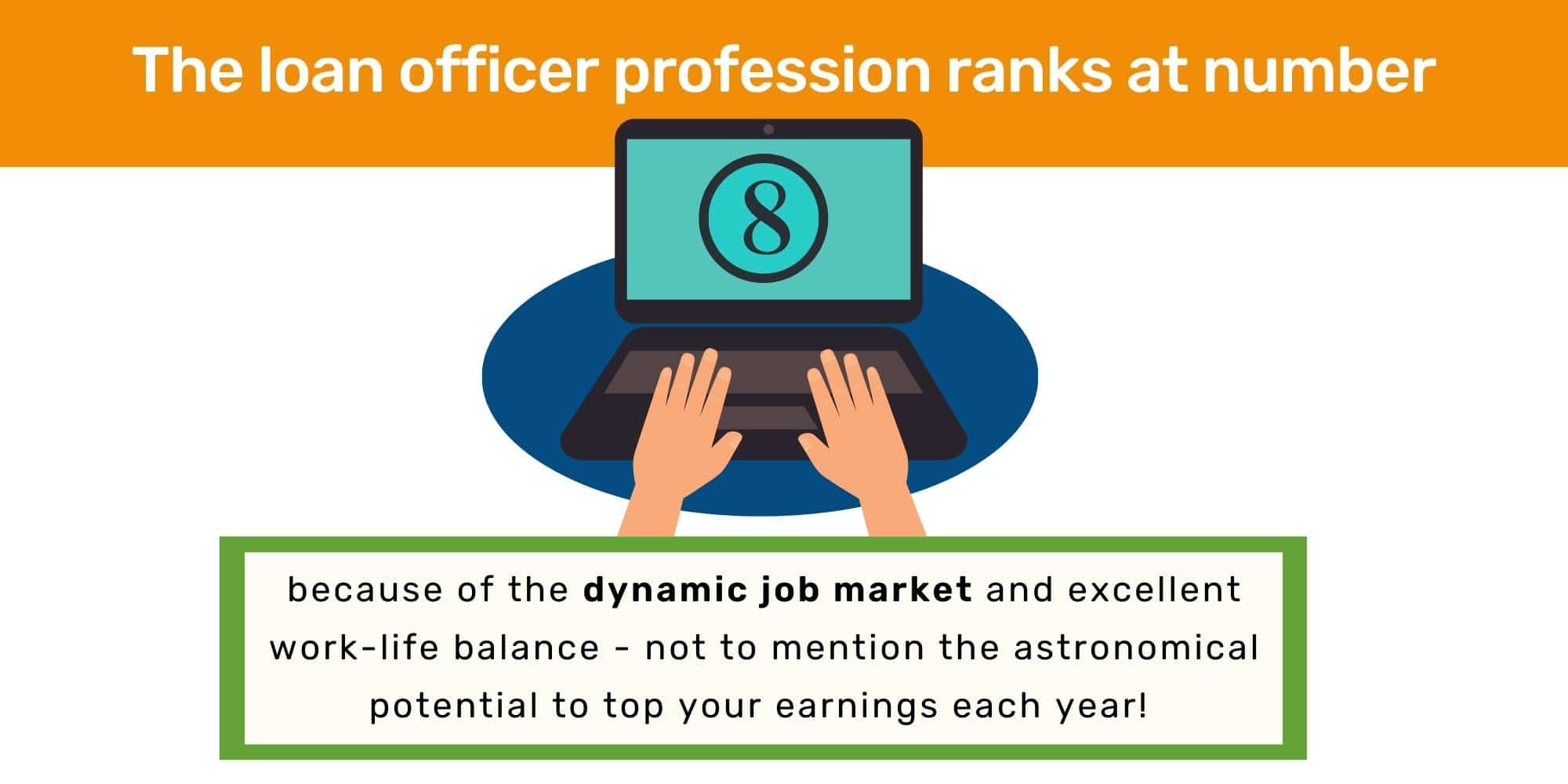 This career scored a 6.5/10!
Loan officers enjoy one of the most flexible work schedules as they do not have to interface with clients face-to-face. This leaves room to work from any location that has an internet connection.
Sure, at times the job can be stressful, you could drop the ball and lose a customer, or face tight deadlines – but the reward makes it all worth it.
Plus, you develop a lot of essential life skills on the job; discipline, patience, empathy, and excellent communication. 
Now we arrive at the really exciting part. How much can you make as a loan officer in your city in Florida?
Let's find out!
chapter 3:
Top 10 Highest Paying Cities in Florida For Loan Officers
Florida is a haven for loan officers who are looking to cash in on a very profitable career – even in the first 3 years at an entry-level position.
If you play your cards right, you could be looking at a six-figure paycheck; rivaling top-paid professions like lawyers, medical personnel, and even entertainers. 
But remember, one of the biggest factors that sways your earning potential is the city in which you operate.
Scroll to see if your city makes our top 10 list!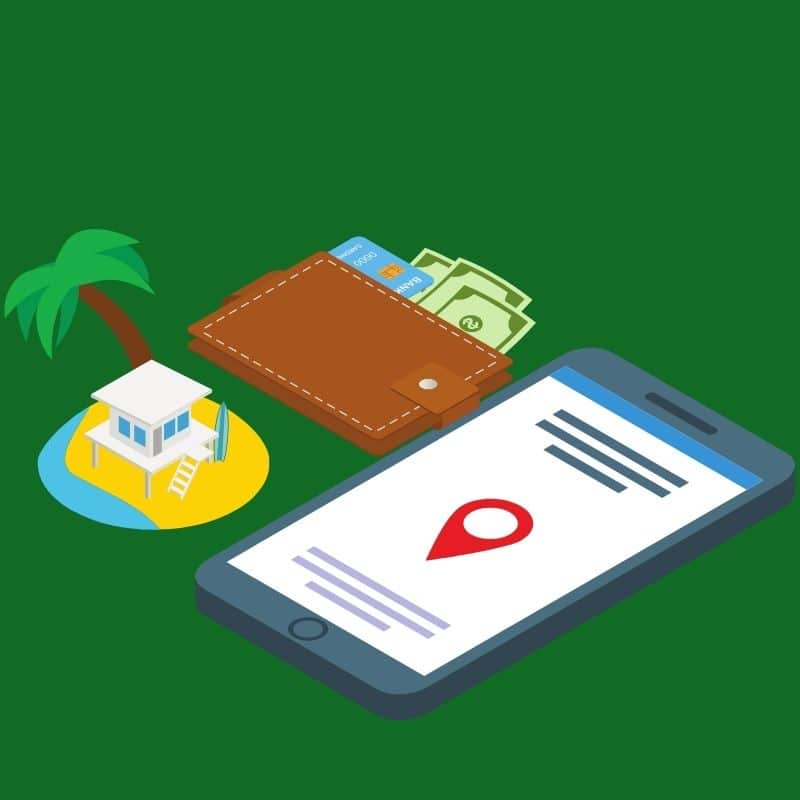 Top Paid Cities For MLOs in Florida
ZipRecruiter reveals that on average, loan officers in Florida earn $70,115 per year or $28 per hour.
There's just a 12% difference in MLO salaries between the 1st (Bonita Springs) and 10th (Leesburg) top-paid city in Florida. As such, there isn't a lot of opportunity for income advancement simply by relocating to a different city. 
Many choose to look at the cost of living in that particular city before reaching a decision. That said, Florida's top-paid city, Bonita Springs, has a very active loan officer market with several companies paying extremely competitive rates for the best candidates. 
We've already seen that MLO salary figures are all over the board with a high of $171,075 and a low of $13,095 annually. Your location, skill set, and experience level will determine how much you are compensated.
If you'd like to see how Florida stacks up against other states for loan officers, hop on over to our article about Mortgage Loan Officer Earnings By State.
Without further ado, let's look at the best paid MLO cities in Florida. Comment below if you see your city on this list!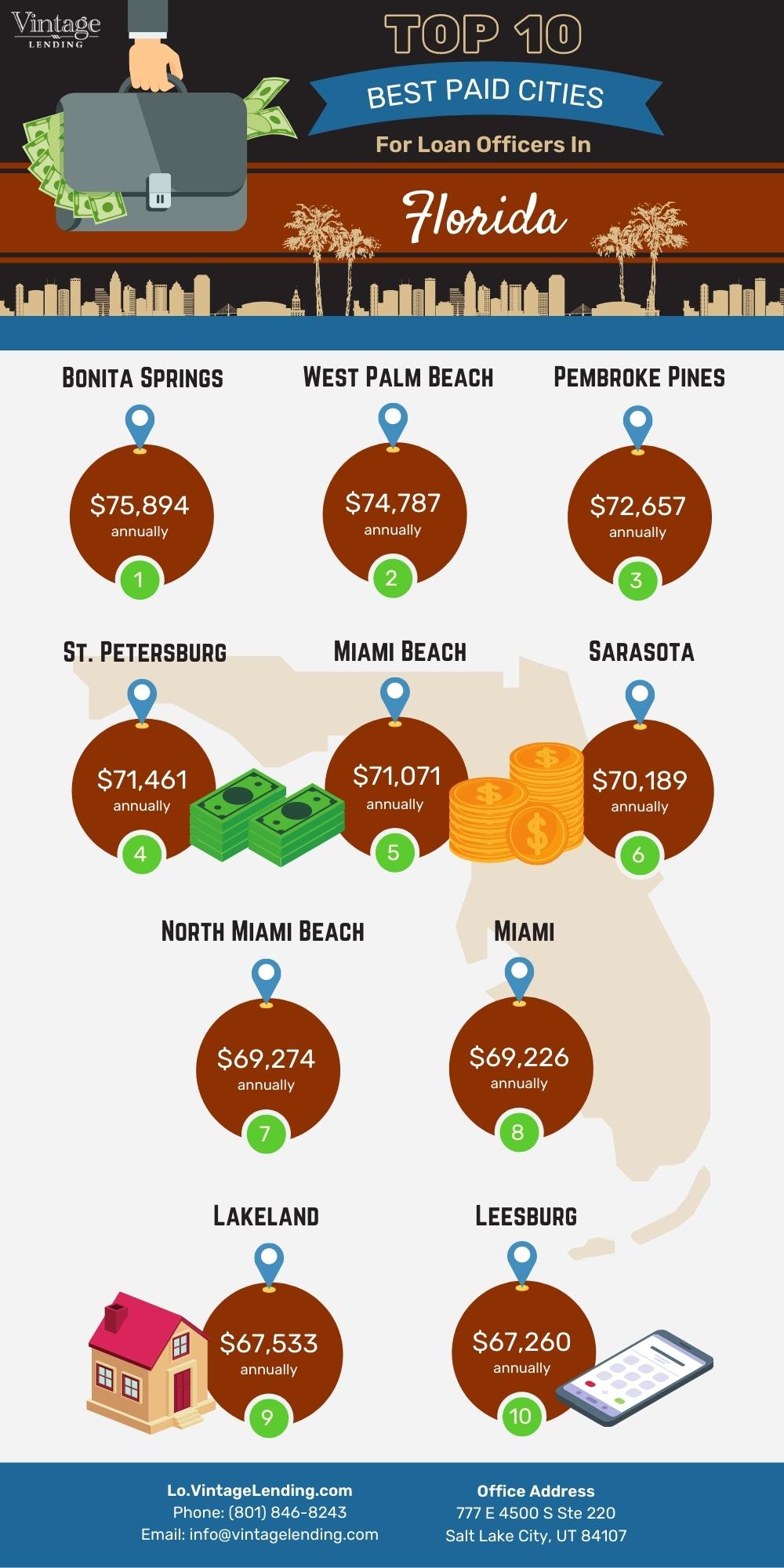 1. Bonita Springs
Average MLO Salary
Yearly: $75,894
Monthly: $6,325
Weekly: $1,460
Hourly: $36.49
2. West Palm Beach
Average MLO Salary
Yearly: $74,787
Monthly: $6,232
Weekly: $1,438
Hourly: $35.96
3. Pembroke Pines
Average MLO Salary
Yearly: $72,657
Monthly: $6,055
Weekly: $1,397
Hourly: $34.93
4. St. Petersburg
Average MLO Salary
Yearly: $71,461
Monthly: $5,955
Weekly: $1,374
Hourly: $34.36
5. Miami Beach
Average MLO Salary
Yearly: $71,071
Monthly: $5,923
Weekly: $1,367
Hourly: $34.17
6. Sarasota
Average MLO Salary
Yearly: $70,189
Monthly: $5,849
Weekly: $1,350
Hourly: $33.74
7. North Miami Beach
Average MLO Salary
Yearly: $69,274
Monthly: $5,773
Weekly: $1,332
Hourly: $33.30
8. Miami
Average MLO Salary
Yearly: $69,226
Monthly: $5,769
Weekly: $1,331
Hourly: $33.28
9. Lakeland
Average MLO Salary
Yearly: $67,533
Monthly: $5,628
Weekly: $1,299
Hourly: $32.47
10. Leesburg
Average MLO Salary
Yearly: $67,260
Monthly: $5,605
Weekly: $1,293
Hourly: $32.34
Can I Work As A Loan Officer In More Than One State?
So long as you have an MLO license for the state of Florida, you can extend your services to as many cities in the state as you like. 
To build off of that idea, you could also obtain a multi-state license to tap into a much larger market and compete with interstate financial institutions. There are some states like Alabama, Minnesota, and Wyoming that do not require you to complete any pre-licensing state-specific coursework to obtain your MLO license. 
You could originate loans in those states once you've completed the standard 20-hour NMLS S.A.F.E. course, passed the exam, and fulfilled the background checks. However, look into other state-specific requisites to make sure you're not missing anything.
For example, one rule is if you're originating loans via a mortgage company, the company will also have to have a license in that state.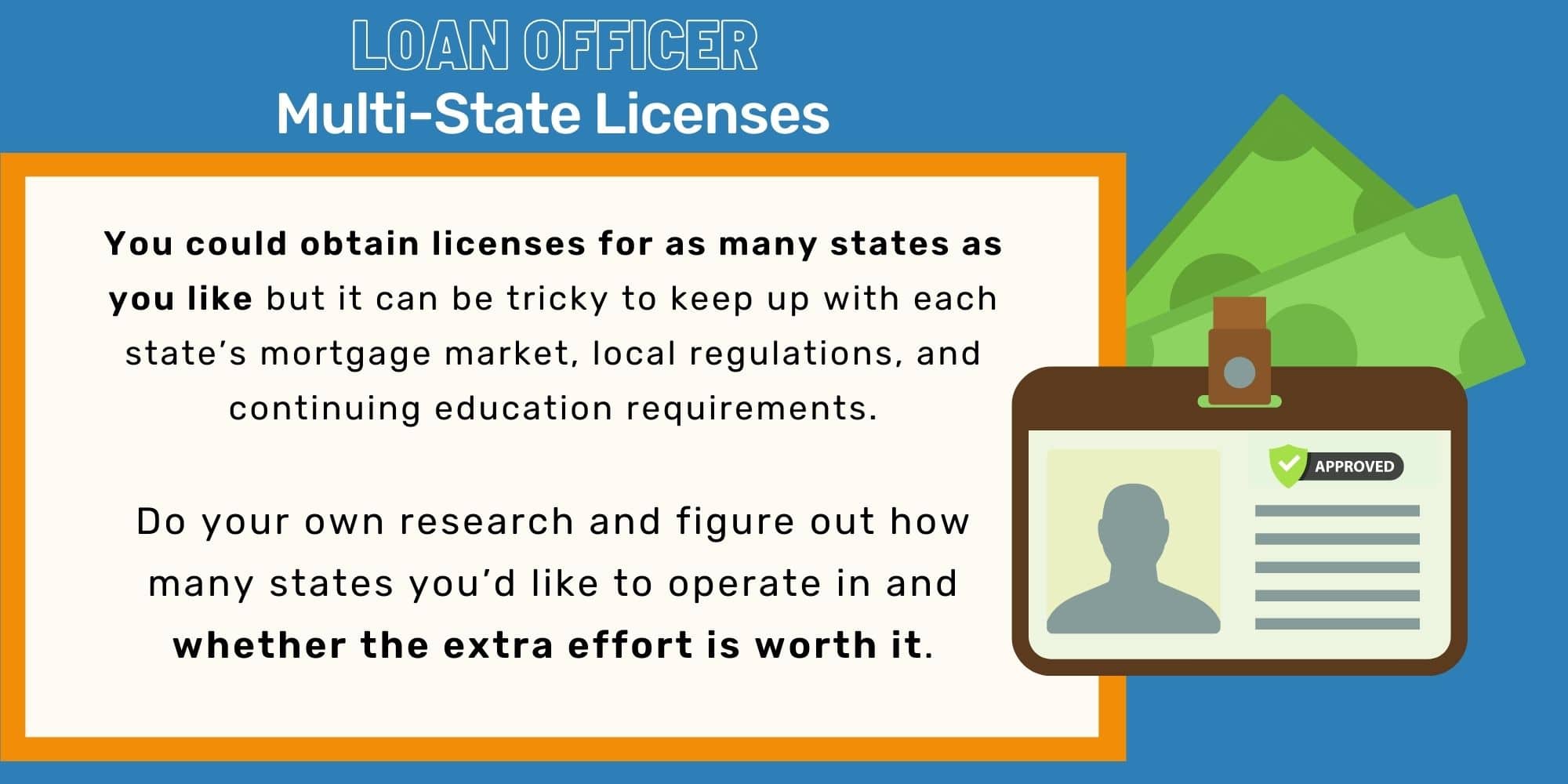 Working on a multi-state level is an exciting prospect. But to truly excel, you'll have to have the right skill set as an MLO. 
Let's take a look at what that is!
chapter 4:
Best Paid Skills & Certifications For Loan Officers in Florida
It's hard to ignore facts.
ZipRecruiter shows that top-paid officers in the 90th percentile make as much as $119,118 annually in The Sunshine State! 
Ready to claim your slice of this very lucrative pie? 
Keep scrolling to see the most in-demand skills for loan officers!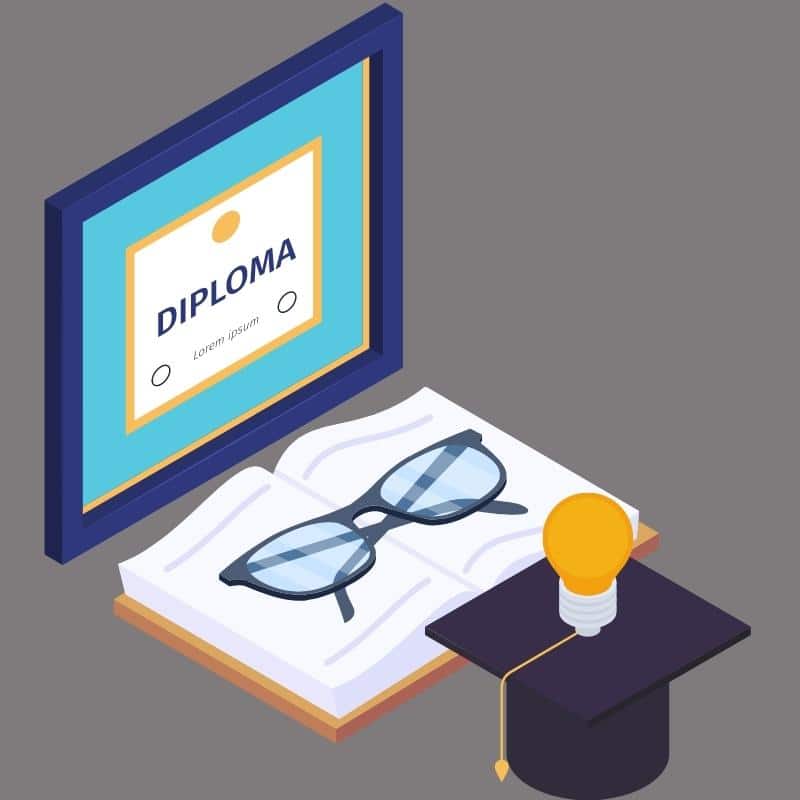 Top Paid Skills For Loan Officers in Florida
Just as every good chef has a secret recipe, a good loan officer must have a unique set of skills to set them apart from the pool of candidates vying for the same position. 
There are certain personality traits and skills that you can brush up on to increase your market value as a loan officer. A lot of employers are willing to pay top dollar when they see these skills reflected in your resume.
BUSINESS SKILLS
These 3 business skills are the building blocks for an amazing MLO career. These should also help you expand your sphere of influence and quickly procure new clients.
Administration and Management
It pays to have a keen eye for business and a mind for good management. Given that you'll be working with tons of clients, lending products, applications, underwriters, regulators, and a lot of money, you must have the ability to coordinate between all these moving parts successfully.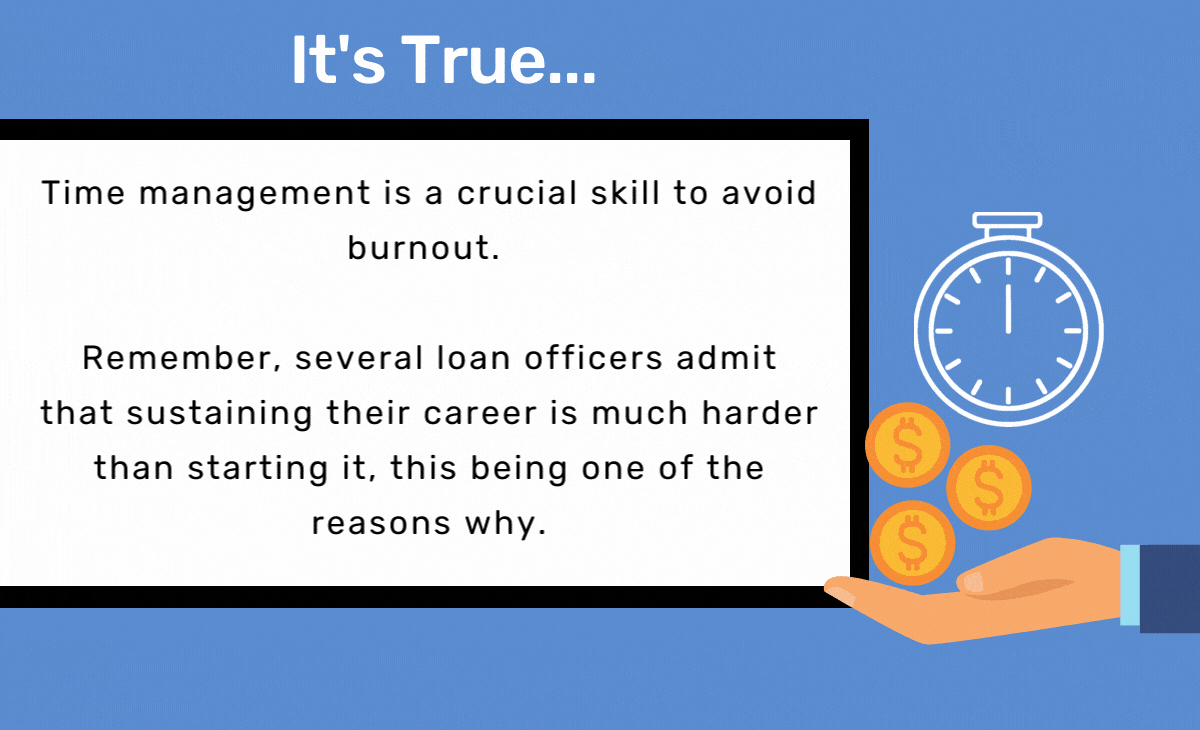 Salesmanship and Negotiation
People – of all temperaments and from all walks of life – are at the heart of your career as a loan officer. You'll be responsible for representing your company and promoting and selling loan products. Focus on perfecting your sales pitch and you'll originate more loans per month. 
Remember, good salesmanship isn't just about walking around with dollar signs in your eyes. A fruitful career starts with understanding your clients' needs. You want to be a reliable, assuring, and trustworthy source.
Analytical Thinking
It's integral to have the aptitude to apply critical thinking in your everyday tasks. As a loan officer, you're constantly shifting gears, from reviewing paperwork to dealing with emotional clients to realistically anticipating changes in the mortgage market. 
The ability to make confident and pragmatic decisions on short notice is something you'll have to focus on from day one.
INTERPERSONAL SKILLS
It's not all business though. There are 3 personal attributes that will help you make genuine long-term connections with your clients, and curate a very enjoyable career.
Stress Management
You'll come face-to-face with plenty of high-stress situations when executing your duties. At times, you may experience pressure from all sides; filling a monthly quota, closing a high-stakes loan, dealing with a difficult supervisor.
It's important to maintain your composure, and make level-headed decisions without nerves getting in the way. A part of this involves taking criticism on the chin and learning how to deal with big applications or clients slipping through your fingers.
Creative Thinking
One of the most valuable attributes for a loan officer is the ability to think outside the box and maintain an open-minded approach in their work. At times, success means being proactive and figuring out non-traditional ways to prevent problems before they even occur. 
Communication
Several loan officers fail to respond to their clients on time, leading to unnecessary anxiety and loss of trust on the customer's part. When you've worked so hard to procure your clients, it's important to follow up and respond to their texts, phone calls, and emails on time. 
Remember, your current clients are your future advertisers! Word of mouth is the magnet between loan officers and new clients. Be patient as you will be dealing with clients who require regular assurance about the process and have a ton of questions along the way.
Top Paid Qualifications For Loan Officers in Florida
To gain a competitive edge as a loan officer, you could also become a licensed real estate agent and open yourself to a wider pool of clients. Indeed suggests that this move could boost your salary by as much as 51.72%. 
The main caveat with a dual license is, legally, you cannot originate FHA, USDA or VA loans to your real estate clients. You're still free to sell commercial, portfolio, or conventional lending products to those clients. 
According to Salary Expert: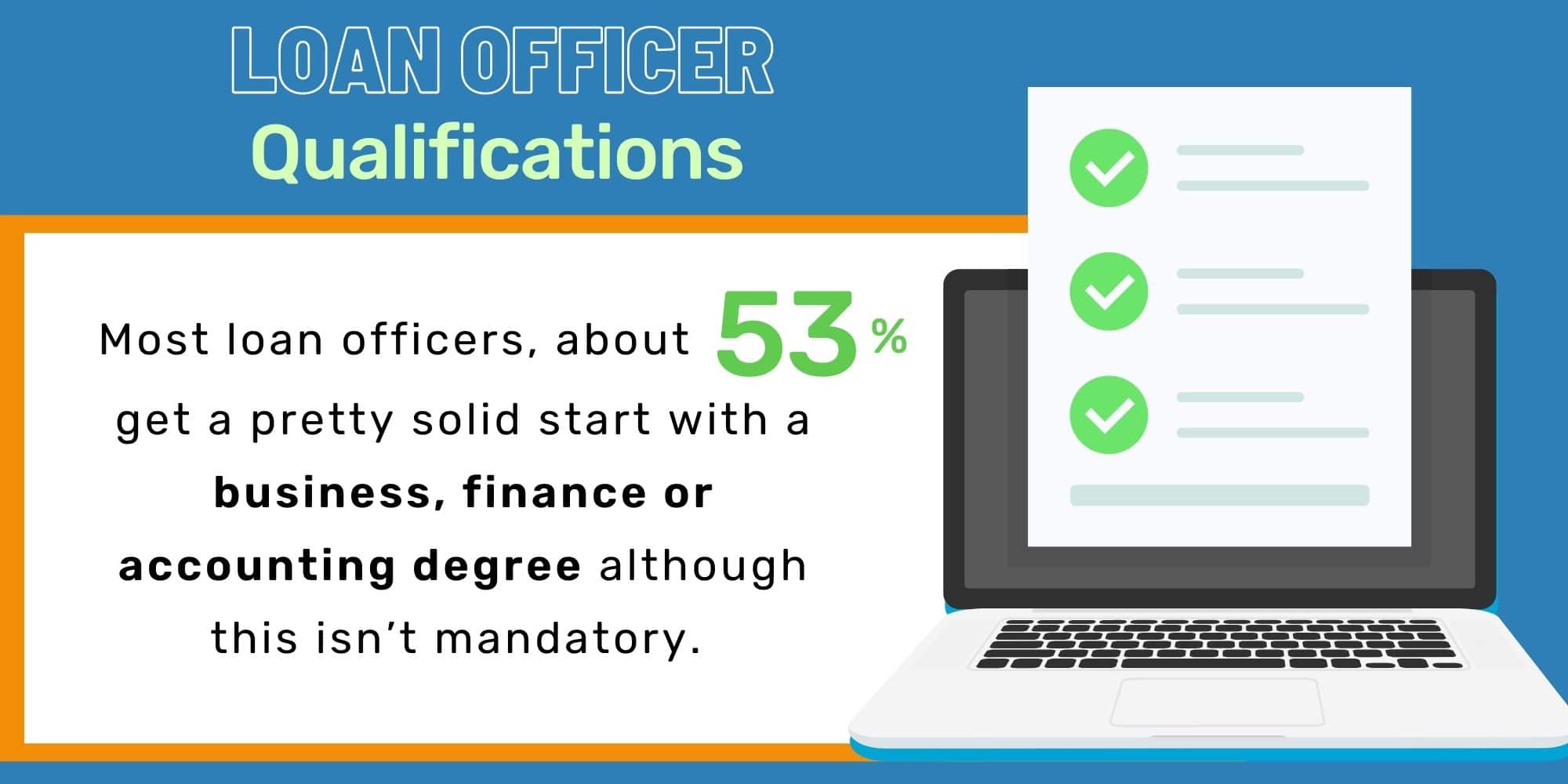 Even relevant work experience could carry you to a top-paying position. At the heart of it, you should be adept at reading and interpreting financial statements, and be extremely well-versed in personal and commercial lending products.
To that end, Indeed found that 'Pricing' or the ability to accurately estimate interest rates, down payments, and closing costs, could see a salary boost of 63.92% on that skill alone.
Mandatory Education For Loan Officers in Florida
To obtain your Mortgage Loan Officer license in Florida, you must complete the mandatory 20-hour S.A.F.E. course from a school that is recognized by the Nationwide Mortgage Licensing System (NMLS).
In fact, loan officers in all 50 states are required to complete this course. In addition, you'll also have to complete 2 hours of Florida state-specific law.
To find the right school, we strongly recommend our article on the top 3 NMLS-approved schools in Florida.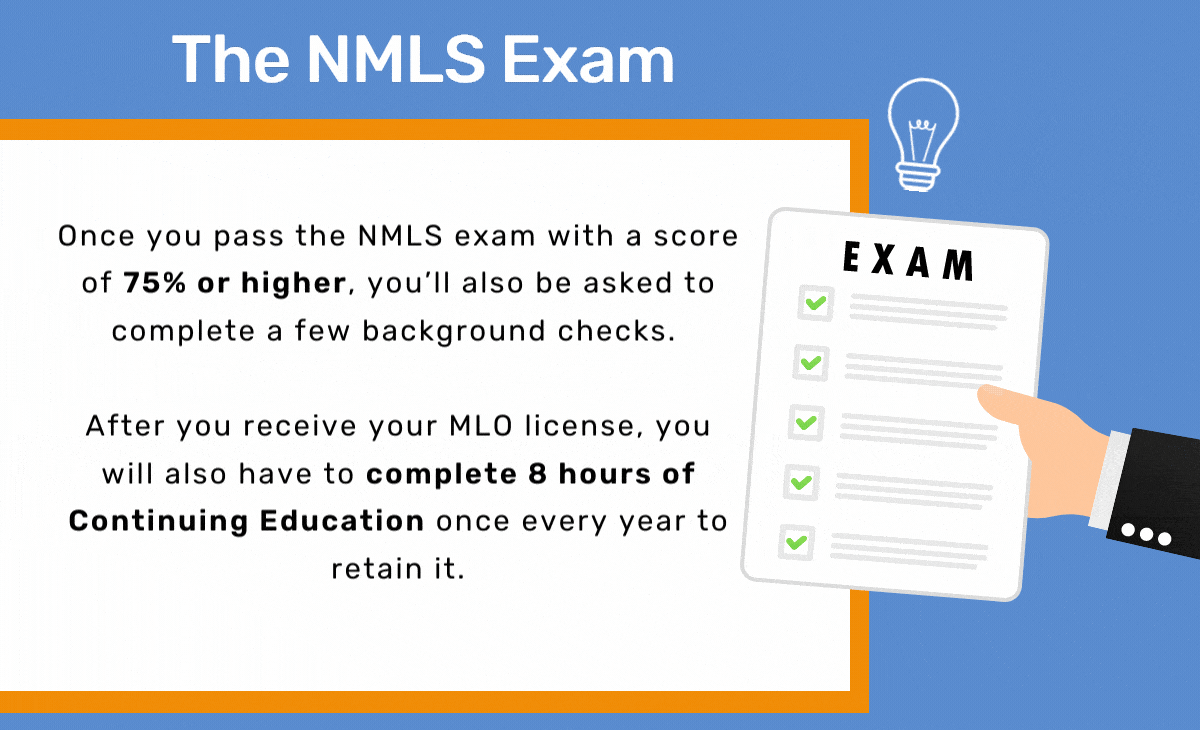 Curious to know more? Check out the full list of requirements on How to Become a Loan Officer in Florida.
On that note, let's take a quick look at what your future in the field looks like.
A big paycheck, a steady stream of clients, the opportunity to start your own business, the real estate outlook in Florida, and more – we cover it all below!
chapter 5:
Your Future As a Loan Officer in Florida
It doesn't take a crystal ball to guess what the future holds!
Apart from flexible work hours and a six-figure paycheck, you'll also help so many people realize their homeownership dreams – it doesn't get more professionally fulfilling than that!
The Bureau of Labor Statistics estimates an 11% spike in the demand for loan officers between now and 2026. This is definitely one of the fastest-growing careers out there.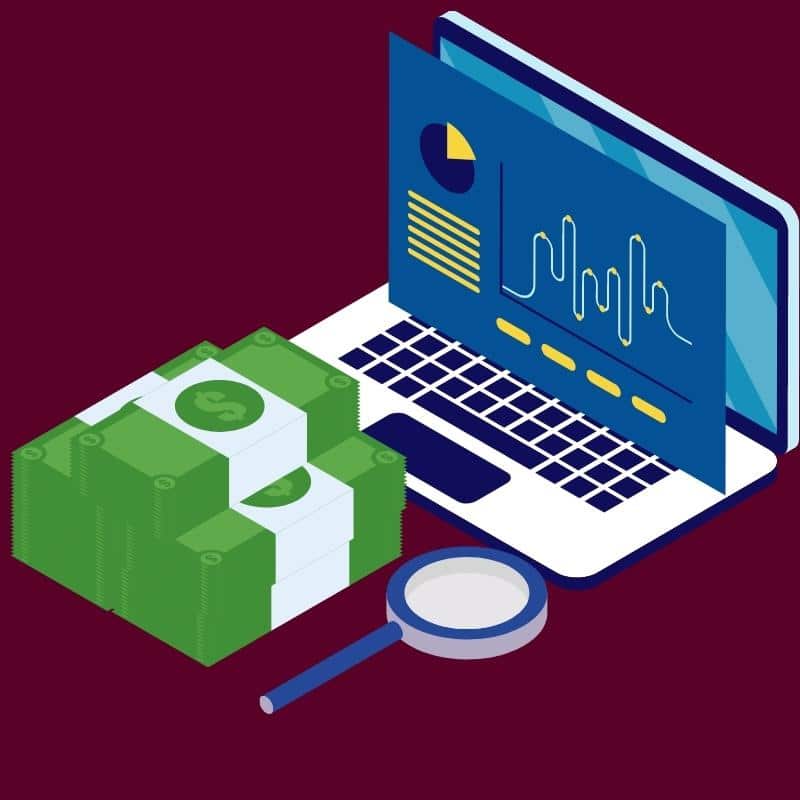 Your Career Prospects As a Loan Officer in Florida
As we've mentioned before, the state in which you work has a LOT to do with your earning capacity as a loan officer.
Florida's housing market is particularly lucrative because of the strong demand for condos and vacation homes.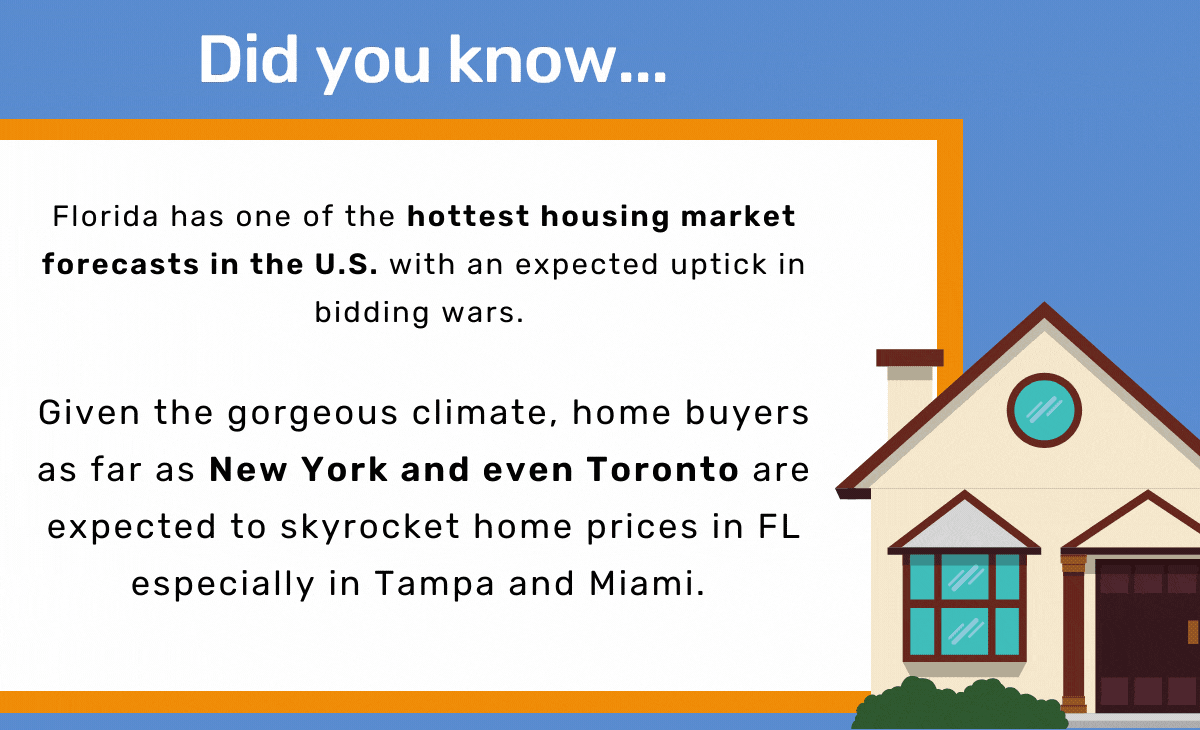 The bottom line?
Loan officers in Florida should have no problem acquiring new clients in the coming years. This surge in real estate purchasing presents some very attractive opportunities for your salary growth! 
Remember, even if you pull in a commission of 1% on a $600,000 mortgage, you're making $6,000 per loan. It's easy to see that your commission alone can take you from an average career to a very successful one. 
How to Boost Your Salary As an MLO in Florida
Becoming a top-paid loan officer is not only possible, it's very doable. Follow these good practices and soon you'll be leading the pack!
Create a Customer-First Mindset
Loan officers who have strong ethics are setting themselves up for big future rewards. Borrowers want to know that they are in good hands especially given the magnitude of this move. They need an officer who isn't looking to make a quick buck off of them. 
Make decisions that bode well for your clients first and foremost. Be very open, honest, and communicative about the different steps, timelines, and outcomes – and you'll have new prospects banging on your door, eager to work with you.
Increase Your Sphere of Influence
Handing out business cards to everyone you meet is one way to do it. But a more effective way is to start within your immediate circle.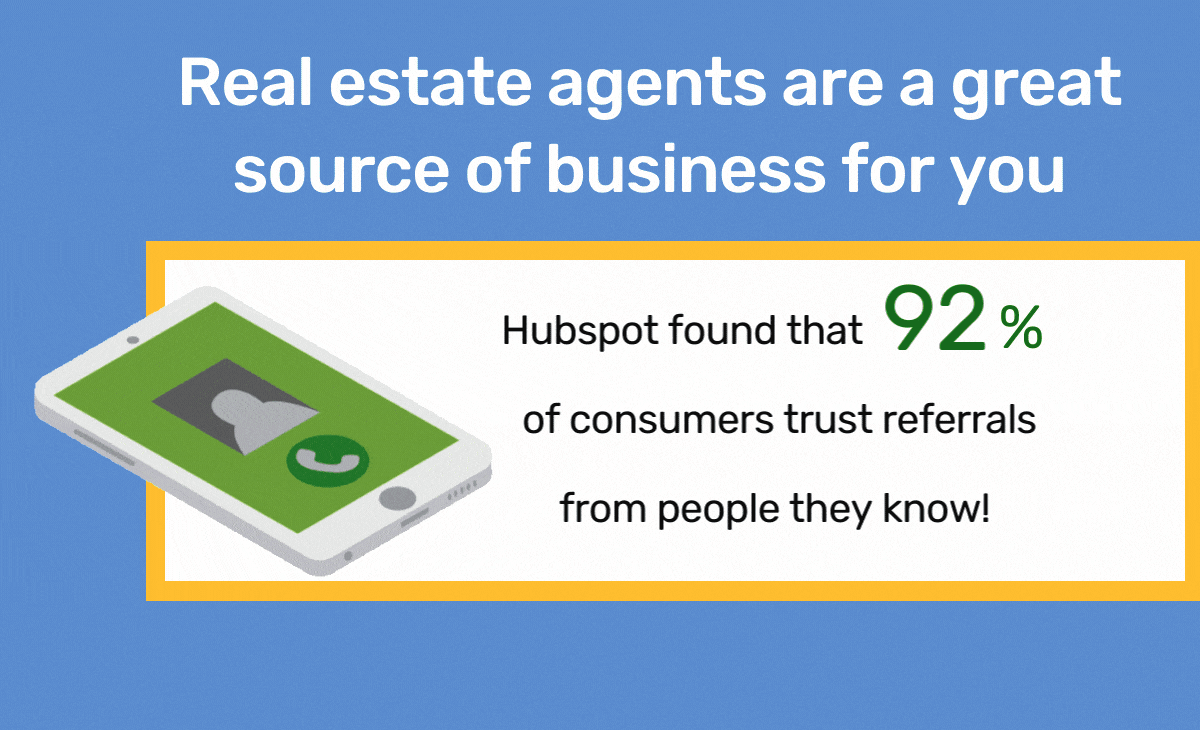 Talk to mortgage brokers, real estate attorneys, realtors, underwriters, and other industry experts. Sharing databases and social media contacts with these folks is a very powerful way to boost your own brand.
Look At The Bigger Picture
Do you often get caught up in a last-minute flurry to reach your monthly quotas? Start setting quarterly goals instead. That way, you can pace yourself to reach your revenue goals well in advance. 
If you set your mind on closing $200 million in mortgages next year, that would amount to 50 million every 90 days. Once you have a goal, outline a realizable strategy to reach it. Most importantly, track your progress regularly to ensure you're not falling behind. 
If you're dubious about a certain strategy, you'll still have plenty of time to test it and tweak your MO in order to blaze past your revenue benchmark!
Are You Ready To Embark On The Career Of a Lifetime?
Your MLO career could open the door to a very comfortable lifestyle, lifelong business relationships, and cement your status as a respected figure in the financial world. 
It doesn't get any better than that!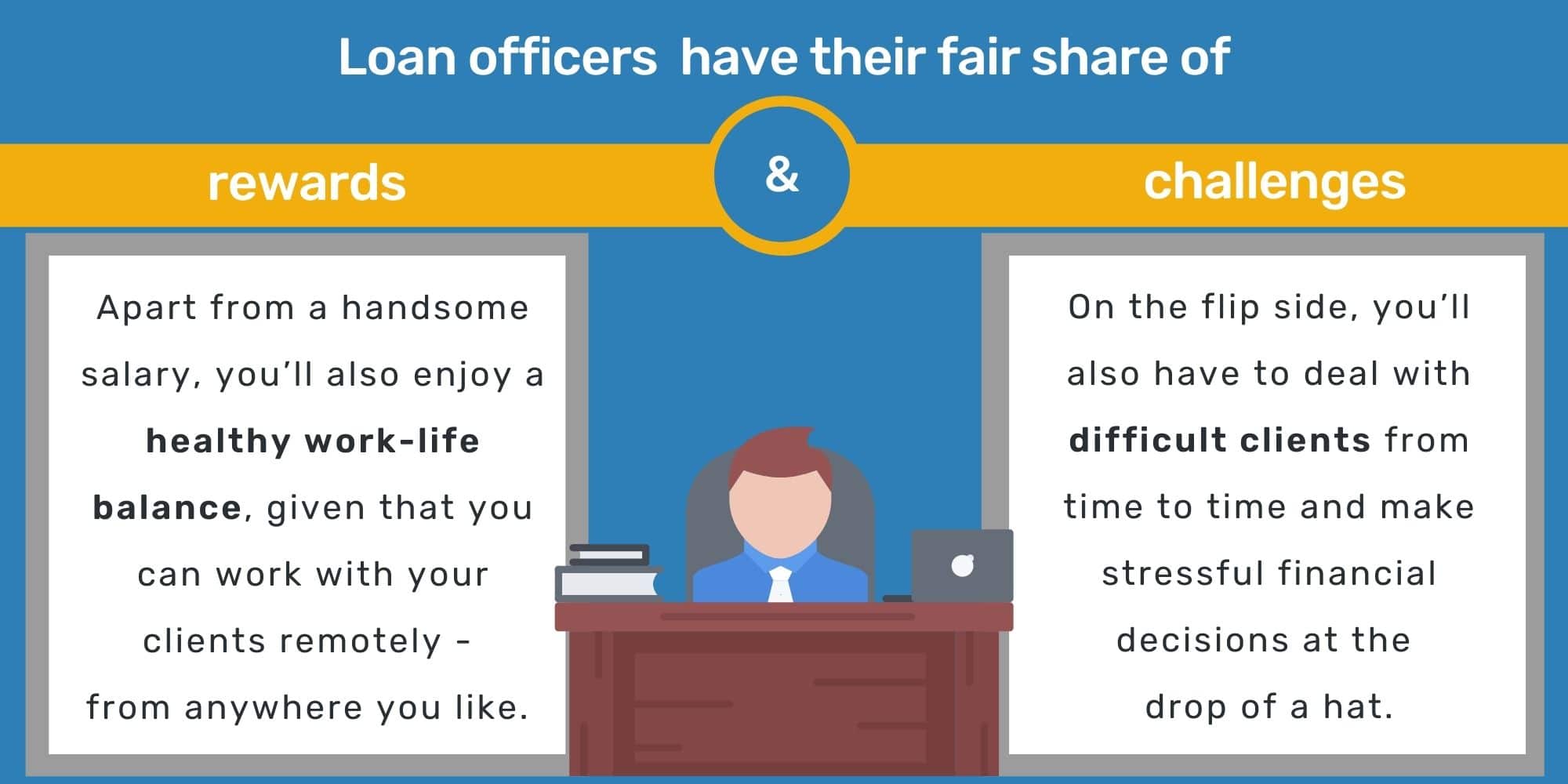 Cultivate a good work ethic using the tips we shared above and there should be nothing to worry about.
And remember, there are higher commissions to be enjoyed by officers who get creative and build their own book of business. 
We wish you the very best in your journey.
Was this article helpful? Do you have any tips of your own you'd love to share? Sound off in the comments below!